Get your Phantom Apparel at a discount! Use PHANTOMCATT15 and receive 15% off your next order!
Click on the Phantom logo to get started!

Guys we are off to a great start at Smith Mtn Lake, Va with 30 teams entering the 1st Fall Qualifiers! Remember you only have to enter 1 SML Qualifier to be eligible to enter the SML Final!
Next SML Fall Qualifier is November 18th! Click on Divisions at the top of the Page and you can view the rest of  the schedule.
You can also qualify to fish the June 1-2, 2019 CATT Championship on Kerr. Enter 3 CATT events total…Fall 2018 and Spring 2019….they all count. This past June 1st Place at the Championship took home $25,000.00! CATT offers Skeeter Real Money, Triton Gold, Phoenix First Flight and much more!
Tony Walker and Wayne Nidiffer weighed in a limit of SML bass weighing up at 18.98 lbs and took home $625.00!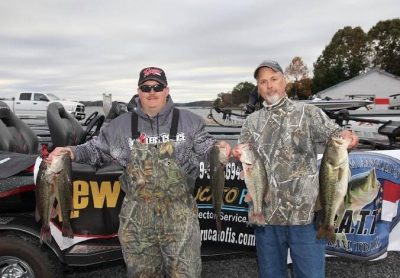 2nd Place went to Bryan Humphries & Maurice Oaks with 18.59 lbs! They earned $360.00!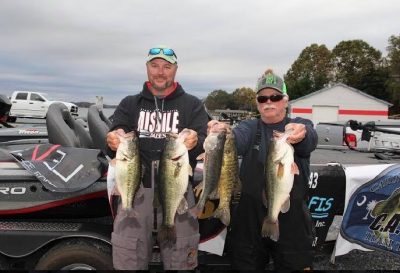 3rd and $595.00 went to Damien McMahon & Mike Toney with 17.37 lbs! They collected the 1st BONUS.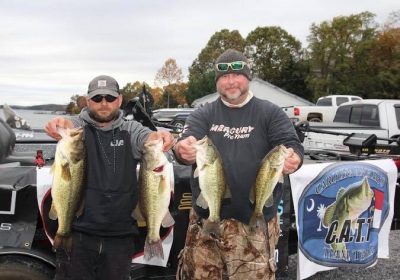 Tyler Farmer & Josh Dudley finished 4th with 17.33 and weighed in the BIG Largemouth at 5.87 lbs They received $480.00!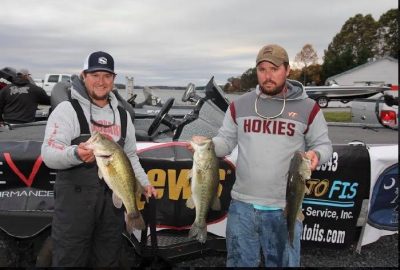 | | | | | | |
| --- | --- | --- | --- | --- | --- |
| | BIG | BIG | Total | Total | |
| 30 TEAMS | SM | LM | Weight | WINNINGS | POINTS |
| WAYNE NIDIFFER/TONY WALKER | 0.00 | 5.17 | 18.98 | $625.00 | 110 |
| MAURICE OAKES/BRYAN HUMPHREYS | 0.00 | 5.79 | 18.59 | $360.00 | 109 |
| DAMIEN MCMAHON/MIKE TONEY  1st BONUS | 0.00 | 5.34 | 17.37 | $595.00 | 108 |
| TYLER FARMER/JOSH DUDLEY  2nd BONUS | 0.00 | 5.87 | 17.33 | $480.00 | 107 |
| DONNIE WYATT/DYLAN GAULDIN | 3.97 | 0.00 | 17.28 | $110.00 | 106 |
| BRANDON REYNOLDS/BEN REYNOLDS | 0.00 | 4.40 | 17.24 | $100.00 | 105 |
| DENNIE GILBERT/LANDON SIGGERS | 4.12 | 0.00 | 16.43 | $150.00 | 104 |
| MATT POWERS/JUSTIN MEDEIROS | 0.00 | 4.69 | 16.03 | | 103 |
| CHAD PILSON/ELLIOTT PILSON | 0.00 | 4.05 | 15.60 | | 102 |
| CRAIG WRIGHT/MICKEY BERGERON | 0.00 | 4.35 | 14.43 | | 101 |
| STEVE ROBERTS/MARK COOPERS | 0.00 | 0.00 | 12.80 | | 100 |
| TYLER CALLOWAY/CHRIS SMOOT | 0.00 | 5.15 | 11.79 | | 99 |
| CHRIS DAWSON/JERAME EDWARDS | 0.00 | 0.00 | 11.67 | | 98 |
| BRYAN CALLOWAY/WILLIAM HUBBARD | 0.00 | 0.00 | 11.67 | | 97 |
| RUSS SIMPSON/CODY WALKER | 0.00 | 0.00 | 11.10 | | 96 |
| STANLEY COFFER/MATT KLUENDER | 0.00 | 0.00 | 10.30 | | 95 |
| RICK TILLEY JR./RICK TILLEY SR. | 0.00 | 0.00 | 8.91 | | 94 |
| JEREMY KENT/BRENDAN KENT | 0.00 | 2.09 | 2.09 | | 93 |
| RANDY ANDERSON/SEAN COOK | 0.00 | 0.00 | 0.00 | | 92 |
| DAVID LEONARD/BRIAN DAVIS | 0.00 | 0.00 | 0.00 | | 92 |
| JOHN WOODRUFF/DENNIS MIDDLETON | 0.00 | 0.00 | 0.00 | | 92 |
| ROBERT BARTON/BOBBY BARTON | 0.00 | 0.00 | 0.00 | | 92 |
| BEN DALTON/DEAN DALTON | 0.00 | 0.00 | 0.00 | | 92 |
| SCOTT STILTNER/JEFF DAVIS | 0.00 | 0.00 | 0.00 | | 92 |
| JOE DEHART/CHRIS DEHART | 0.00 | 0.00 | 0.00 | | 92 |
| BEN HUDSON/CHRIS BRUMMETT | 0.00 | 0.00 | 0.00 | | 92 |
| CHARLES FOCHTMAN/FIELDING FOCHTMAN | 0.00 | 0.00 | 0.00 | | 92 |
| IAN MCROY/JOSH INGRAM | 0.00 | 0.00 | 0.00 | | 92 |
| DAVID MARTIN | 0.00 | 0.00 | 0.00 | | 92 |
| JOEY DAWSON/KEVIN DAWSON | 0.00 | 0.00 | 0.00 | | 92 |
| Total Entrys | | | | $2,400.00 | |
| BONUS $ | | | | $540.00 | |
| Total Paid At Ramp | | | | $2,420.00 | |
| SML 2018 Fall Final Fund | | | | $475.00 | |
| 2019 CATT Championship Fund | | | | $50.00 | |
| 2018 SML Fall Final Fund Total | | | | $475.00 | |
| 2019 CATT Championship Fund Total | | | | $1,925.00 | |