Next up on Smith Mtn Lake is the 2020 CATT Fall Final Dec 13th at Parkway Marina! You only had to enter 1 SML Fall Qualifier to be eligible to enter!
We had another great crowd at Smith Mtn with 48 teams entering! The colder it gets the hotter Billy Kohls and Will Petty gets! They weighed in 5 bass at 24.02 lbs! In their bag was the Big Largemouth of the tournament and it was BIG! 8.21 lbs! All total they collected $1,910.00!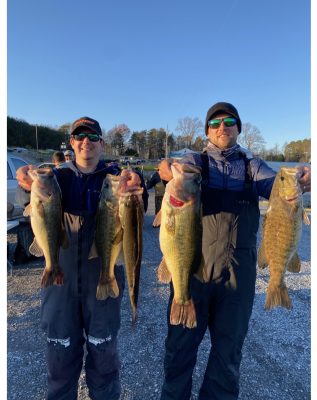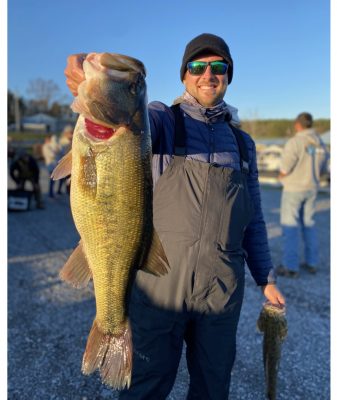 The Big Smallmouth at 4.75 lbs brought in by Brian Meyers/Tommy Morgan!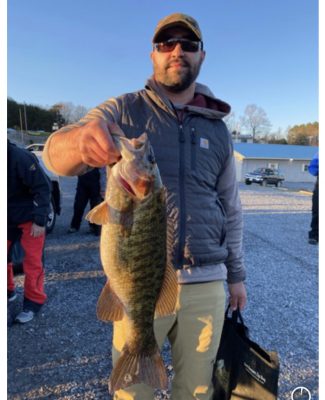 David Mills & Hunter Townsend finished 2nd with 5 bass weighing 19.53 lbs!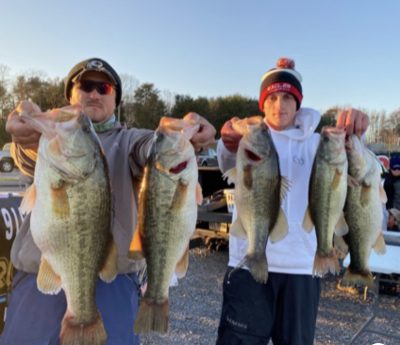 3rd Place went to Scotty Howard & Zach Cassell with 17.14 lbs!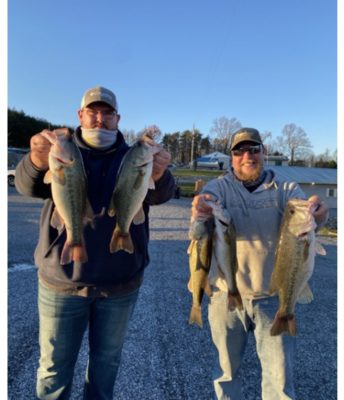 4th Place Dave Peters & Mike Bozeman 16.74 lbs!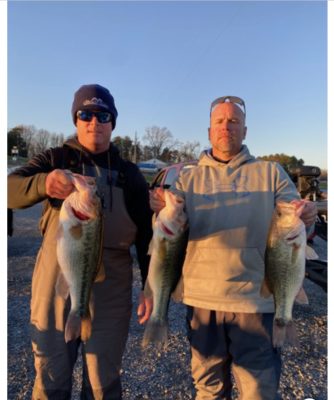 5th Brandon Pritcheet & Matt Foster 16.31 lbs!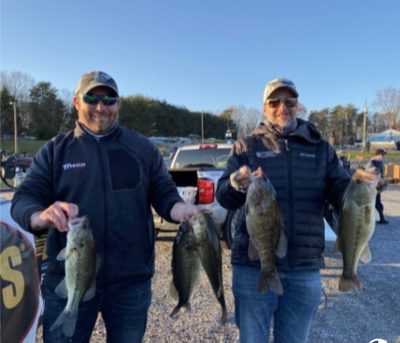 7th  Charlie Davis & Larry Witt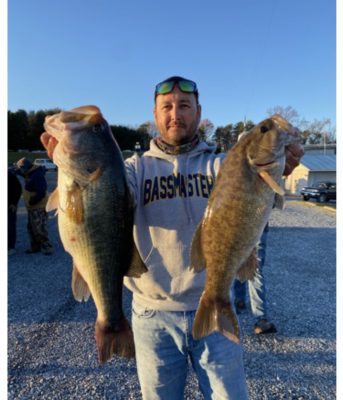 8th Place Bryant Copley & Steve Woodroof 15.68 lbs!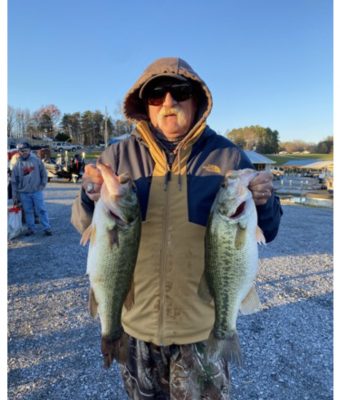 9th Place Brandon & Ben Reynolds 15.40 lbs!
| | | | | | |
| --- | --- | --- | --- | --- | --- |
| | BIG | BIG | | | |
| TEAM | SM | LM | Weight | Winnings | Points |
| Billy Kohls/Will Petty | 0.00 | 8.21 | 24.02 | $1,910.00 | 110 |
| David Mills/Hunter Townsend | 0.00 | 6.58 | 19.53 | $500.00 | 109 |
| Scotty Howard/Zach Cassell | 0.00 | 5.16 | 17.14 | $910.00 | 108 |
| Dave Peters/Mike Bozeman | 0.00 | 5.62 | 16.74 | $495.00 | 107 |
| Brandon Pritchett/Matt Foster | 3.72 | 4.55 | 16.31 | $175.00 | 106 |
| Dennie Gilbert/Landon Siggers | 4.00 | 0.00 | 15.99 | $130.00 | 105 |
| Charlie Davis/Larry Witt | 3.23 | 6.30 | 15.71 | $120.00 | 104 |
| Bryant Copley/Steve Woodroof | 0.00 | 5.49 | 15.68 | $115.00 | 103 |
| Ben Reynolds/Brandon Reynolds | 4.13 | 0.00 | 15.40 | $90.00 | 102 |
| Craig Blankenship/Susan Blankenship | 0.00 | 3.60 | 15.40 | | 101 |
| Mike Massie | 0.00 | 5.41 | 15.22 | | 100 |
| Daniel Smathers/Ryan Suhy | 0.00 | 4.70 | 14.89 | | 99 |
| William Hubbard/Jeff Newman | 0.00 | 3.74 | 14.58 | | 98 |
| Mark Weaver/Harry Townsend | 4.10 | 0.00 | 14.30 | | 97 |
| Jeff Ross/Clay Ross | 0.00 | 3.69 | 13.81 | | 96 |
| Jimmy Hale/Josh Hale | 0.00 | 4.78 | 13.35 | | 95 |
| Charles Fochtman/David Perdue | 4.27 | 4.81 | 13.15 | | 94 |
| Robert Barton Sr./Randy Smith Sub | 0.00 | 6.01 | 12.96 | | 93 |
| Dustin Guthrie/Chip Woody | 0.00 | 3.02 | 12.75 | | 92 |
| Jeoy Dawson/Kevin Dawson | 0.00 | 0.00 | 12.19 | | 91 |
| Tyler Calloway/Ben Dalton | 0.00 | 0.00 | 11.75 | | 90 |
| Brian Meyers/Tommy Morgan | 4.75 | 0.00 | 11.30 | $240.00 | 89 |
| Lewis Williams/Josh Long | 0.00 | 0.00 | 10.20 | | 88 |
| William Johnson/Robert Ford | 0.00 | 0.00 | 9.85 | | 87 |
| Daniel Eubank/Douglas Eubank | 0.00 | 3.14 | 8.42 | | 86 |
| Scott Stiltner/Tim Nichols | 0.00 | 0.00 | 0.00 | | 85 |
| Mark Winn/Mike Nichols | 0.00 | 0.00 | 0.00 | | 85 |
| Chad Green/Johnny Martin | 0.00 | 0.00 | 0.00 | | 85 |
| Adrian Moore/Matt Williamson | 0.00 | 0.00 | 0.00 | | 85 |
| Wayne Nidiffer/Tony Walker | 0.00 | 0.00 | 0.00 | | 85 |
| Steve Crist/Dennis Stump | 0.00 | 0.00 | 0.00 | | 85 |
| Jerame Edwards/Chris Dawson | 0.00 | 0.00 | 0.00 | | 85 |
| Rick Tilley Jr./Rick Tilley Sr. | 0.00 | 0.00 | 0.00 | | 85 |
| Donnie Wyatt/Dylan Gauldin | 0.00 | 0.00 | 0.00 | | 85 |
| Seth Brogan/Josh Ingram | 0.00 | 0.00 | 0.00 | | 85 |
| Tony Toombs/David Jones | 0.00 | 0.00 | 0.00 | | 85 |
| Kevin Lankford | 0.00 | 0.00 | 0.00 | | 85 |
| Wasena Muse/Cullen Cash | 0.00 | 0.00 | 0.00 | | 85 |
| Eric Catlett/Bryan Harlow | 0.00 | 0.00 | 0.00 | | 85 |
| Shannon Breeding/Mike Altizer | 0.00 | 0.00 | 0.00 | | 85 |
| Robert Hudson/Ben Hudson | 0.00 | 0.00 | 0.00 | | 85 |
| Bryan Humphreys/Jay Keyton | 0.00 | 0.00 | 0.00 | | 85 |
| Aaron Kirk/David Martin | 0.00 | 0.00 | 0.00 | | 85 |
| Justin Medeiros/Matt Powers | 0.00 | 0.00 | 0.00 | | 85 |
| Johnny Cole/Dallas Cole | 0.00 | 0.00 | 0.00 | | 85 |
| Zach LeMaster/Parker Brogan | 0.00 | 0.00 | 0.00 | | 85 |
| Matt Harmon/Joe Frank | 0.00 | 0.00 | 0.00 | | 85 |
| Connor Hardy/Nathan Damron | 0.00 | 0.00 | 0.00 | | 85 |
| Total Entrys | | | | $3,840.00 | |
| BONUS $ | | | | $1,400.00 | |
| Total Paid At Ramp | | | | $4,685.00 | |
| SML 2020 Fall Final Fund | | | | $455.00 | |
| 2021 CATT Championship/Phantom Fund | | | | $50.00 | |
| 2020 SML Fall Final Fund Total | | | | $1,335.00 | |
| 2021 CATT Champ/Phantom Fund Total | | | | $385.00 | |