We wrapped up 2020 on Smith Mtn Lake with 51 teams entering the 2020 SML Fall Final With what we faced Kevin & Joey Dawson got it done and handed out a lot of cash at SML this past season! Even with the delays and stoppages the total payback on SML was over $45,000.00! Thanks Kevin & Joey for a great year on Smith Mtn Lake!

Brett Will & Kenneth Sterne were our big winners at the SML Fall Final! They brought in a limit weighing 19.09 lbs and took home $3,440.00! Great job guys!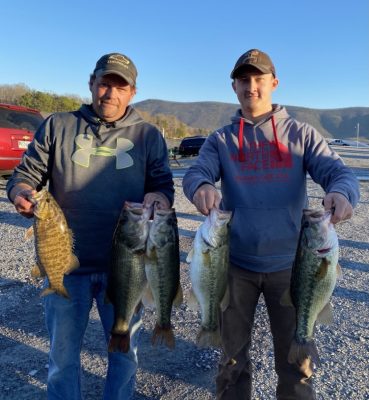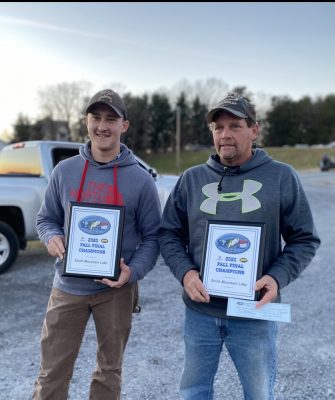 2nd Place went to Matt Atkins & Stephen Costa with a limit weighing 16.51 lbs! $1,400.00!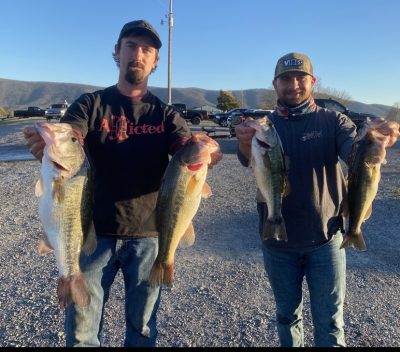 3rd with 16.37 lbs worth $1,530.00 was the tam of Dave Peters & Mike Bozeman!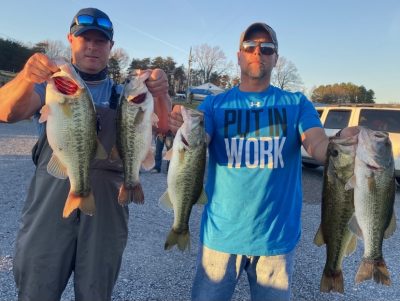 4th Place with 16.28 lbs! Justin Medeiros & Matt Powers!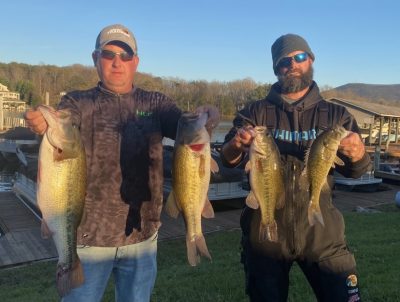 5th with 15.96 lbs! Will Petty & Billy Kohls and they also won the Points!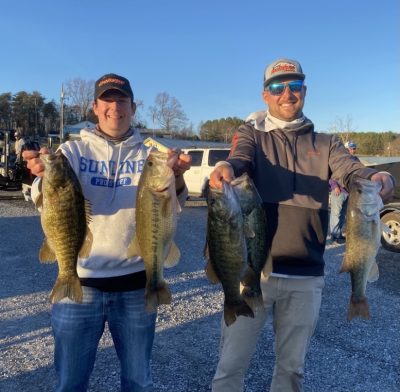 Will & Billy with their Plaques and Lews Baitcast Reel!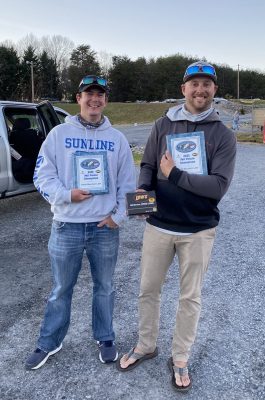 Clay & Jedd Ross 6th Place 15.58 lbs!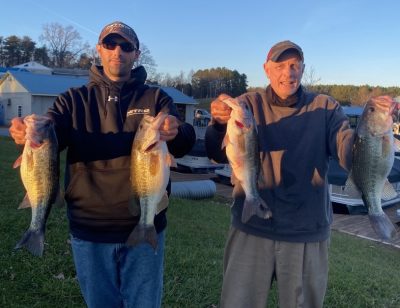 Kevin & Joey Dawson 7th 14.84 lbs! Also weighed the Big LM at 6.50 lbs!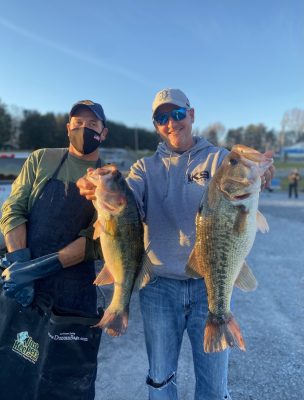 8th Tyler Trent with 14.49 lbs!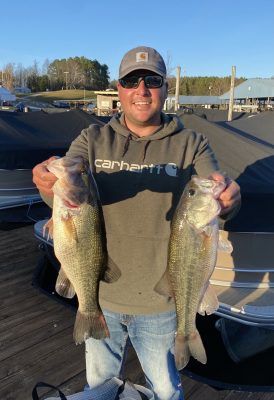 Daniel Smathers & Ryan Suhy 9th 14.25 lbs Big SM at 4.15 lbs!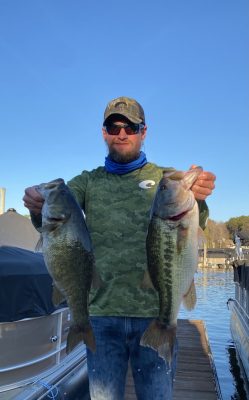 Landon Siggers & Dennie Gilbert 10th 14.05 lbs!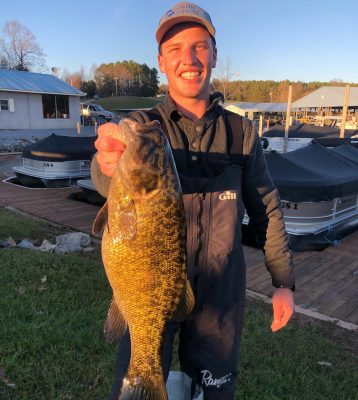 | | | | | |
| --- | --- | --- | --- | --- |
| | Big | Big | | |
| TEAM | SM | LM | Weight | Winnings |
| Kenneth Sterne/Brett Will | 0.00 | 6.49 | 19.09 | $3,440.00 |
| Matt Atkins/Stephen Costa | 0.00 | 5.71 | 16.51 | $1,400.00 |
| Dave Peters/Mike Bozeman | 0.00 | 4.96 | 16.37 | $1,530.00 |
| Justin Medeiros/Matt Powers | 0.00 | 5.59 | 16.28 | $730.00 |
| Billy Kohls/Will Petty | 3.68 | 4.67 | 15.96 | $350.00 |
| Jeff Ross/Clay Ross | 0.00 | 4.31 | 15.58 | $300.00 |
| Jeoy Dawson/Kevin Dawson | 0.00 | 6.50 | 14.84 | $500.00 |
| Tyler Trent | 0.00 | 3.58 | 14.49 | $200.00 |
| Daniel Smathers/Ryan Suhy | 4.15 | 5.68 | 14.25 | $425.00 |
| Dennie Gilbert/Landon Siggers | 4.01 | 0.00 | 14.05 | $125.00 |
| Daniel Eubank/Douglas Eubank | 3.74 | 4.17 | 12.15 | |
| Charles Fochtman/David Perdue | 0.00 | 0.00 | 11.98 | |
| Johnny Cole/Dallas Cole | 0.00 | 4.03 | 11.91 | |
| Ben Reynolds/Brandon Reynolds | 0.00 | 3.50 | 11.86 | |
| Rick Tilley Jr./Rick Tilley Sr. | 0.00 | 0.00 | 10.82 | |
| David Martin | 0.00 | 0.00 | 10.10 | |
| Robert Hudson/Ben Hudson | 0.00 | 5.70 | 10.05 | |
| Scotty Howard/Zach Cassell | 0.00 | 0.00 | 9.75 | |
| Eric Catlett/Bryan Harlow | 0.00 | 4.98 | 9.38 | |
| David Mills/Hunter Townsend | 0.00 | 3.10 | 8.70 | |
| Bryant Copley/Steve Woodroof | 0.00 | 0.00 | 6.09 | |
| Brandon Pritchett/Matt Foster | 0.00 | 0.00 | 0.00 | |
| Charlie Davis/Larry Witt | 0.00 | 0.00 | 0.00 | |
| Craig Blankenship/Susan Blankenship | 0.00 | 0.00 | 0.00 | |
| Mike Massie | 0.00 | 0.00 | 0.00 | |
| William Hubbard/Jeff Newman | 0.00 | 0.00 | 0.00 | |
| Mark Weaver/Harry Townsend | 0.00 | 0.00 | 0.00 | |
| Jimmy Hale/Josh Hale | 0.00 | 0.00 | 0.00 | |
| Robert Barton Sr./Robert Barton Jr. | 0.00 | 0.00 | 0.00 | |
| Dustin Guthrie/Chip Woody | 0.00 | 0.00 | 0.00 | |
| Brian Meyers/Tommy Morgan | 0.00 | 0.00 | 0.00 | |
| Lewis Williams/Josh Long | 0.00 | 0.00 | 0.00 | |
| William Johnson/Robert Ford | 0.00 | 0.00 | 0.00 | |
| Scott Stiltner/Tim Nichols | 0.00 | 0.00 | 0.00 | |
| Mark Winn/Mike Nichols | 0.00 | 0.00 | 0.00 | |
| Chad Green/Johnny Martin | 0.00 | 0.00 | 0.00 | |
| Greg Chestnutt/Phillip Ragland | 0.00 | 0.00 | 0.00 | |
| Wayne Nidiffer/Tony Walker | 0.00 | 0.00 | 0.00 | |
| Steve Crist/Dennis Stump | 0.00 | 0.00 | 0.00 | |
| Jerame Edwards/Chris Dawson | 0.00 | 0.00 | 0.00 | |
| Donnie Wyatt/Dylan Gauldin | 0.00 | 0.00 | 0.00 | |
| Seth Brogan/Josh Ingram | 0.00 | 0.00 | 0.00 | |
| Tony Toombs/David Jones | 0.00 | 0.00 | 0.00 | |
| Kevin Lankford | 0.00 | 0.00 | 0.00 | |
| Geoff Tuck/Mark Tuck | 0.00 | 0.00 | 0.00 | |
| Shannon Breeding/Mike Altizer | 0.00 | 0.00 | 0.00 | |
| Bryan Humphreys/Jay Keyton | 0.00 | 0.00 | 0.00 | |
| Mike Toney | 0.00 | 0.00 | 0.00 | |
| Connor Hardy/Aaron Scott | 0.00 | 0.00 | 0.00 | |
| Daryl Wyatt | 0.00 | 0.00 | 0.00 | |