Next Smith Mtn Lake Spring CATT Qualifier is March 5th! Blast off is 8 am weigh in is at 4 pm! Smith Mtn Lake State Park!

Check out the basscast.com to view tournament results and much more! Tap on THEBASSCAST.COm logo to visit their site!
We had our largest crowd ever at the Feb 19th SML Qualifier with 60 teams entering! Thanks for the support guys and thanks to Kevin Dawson and his cast for putting on the show!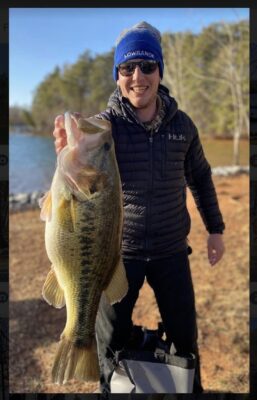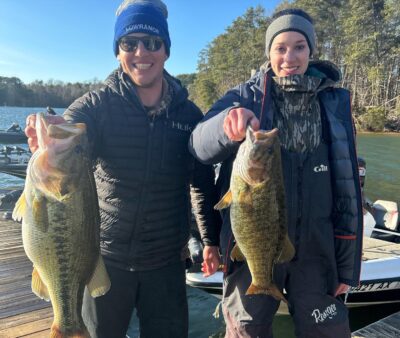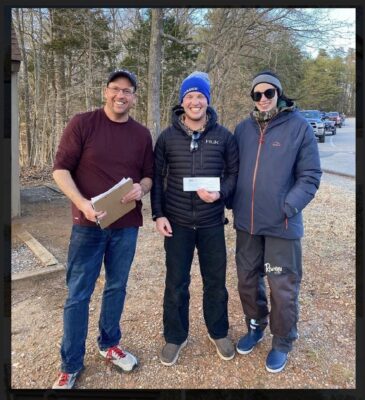 Landon Siggers & Brittany Weston had a day on the water they will not forget! Landon & Brittnay brought in 5 bass weighing up at 23.74 lbs taking 1st place at the 1st Smith Mtn Lake CATT Spring Qualifier! They also weighed in the BIG Largemouth at 7.83 lbs and the BG Smallmouth at 4.20 lbs total up to $2,310.00 PLUS kick in the Ranger Cup Money $8,000.00! All total Landon and Brittany cashed in
$10,310.00!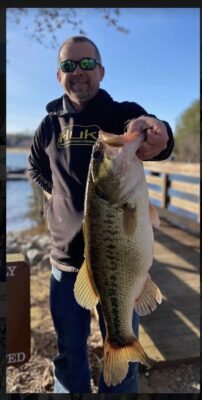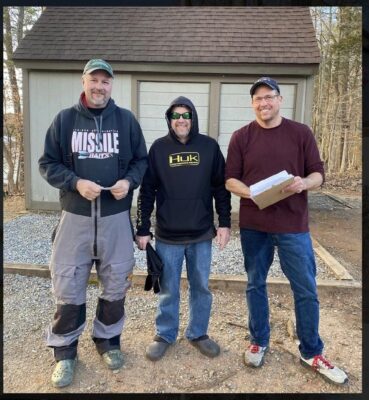 The 2nd Place team of Bryan Humphreys & Jay Keaton brought in a limit weighing 20.45 lbs and took home $1,150.00!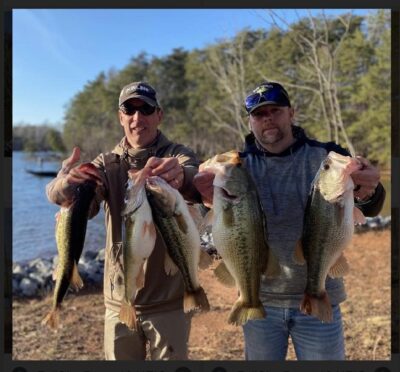 Steve Crist & Dennis Stump claimed 3rd with 18.97 lbs!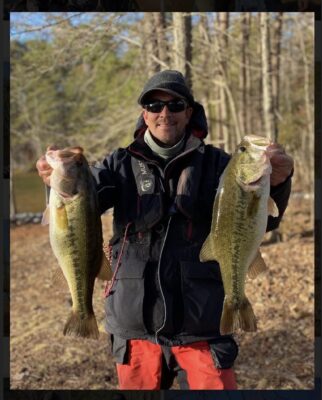 Ben & Brandon Reynolds 4th place with 18.52 lbs!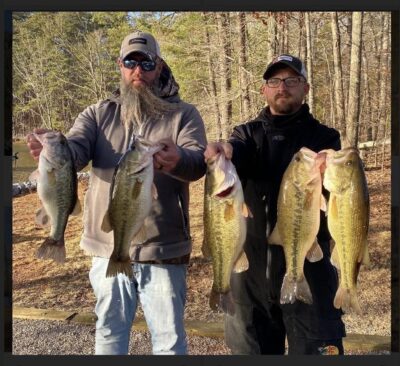 Bryan Harlow & Greg Chestnut took 5th with 17.25 lbs!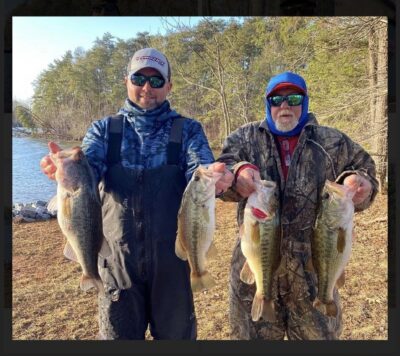 Tyler Calloway & Dean Dalton finished 6th with 16.83 lbs!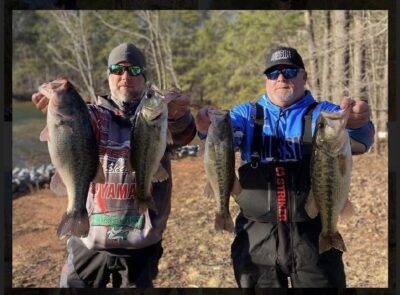 Chad Green & Johnny Martin 7th with 16.80 lbs!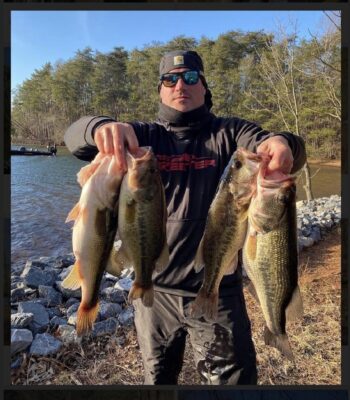 8th Place Dustin Guthrie & Chip Woody 16.73 lbs!
| | | | | | |
| --- | --- | --- | --- | --- | --- |
| | BIG | BIG | | | |
| TEAM | LM | SM | Weight | Winnings | Points |
| Landon Siggers/Brittany Weston | 7.83 | 4.20 | 23.74 | $10,310.00 | 110 |
| Bryan Humphreys/Jay Keaton | 7.10 | 0.00 | 20.45 | $1,150.00 | 109 |
| Steve Crist/Dennis Stump | 6.03 | 0.00 | 18.97 | $740.00 | 108 |
| Ben Reynolds/Brandon Reynolds | 4.84 | 0.00 | 18.52 | $380.00 | 107 |
| Bryan Harlow/Greg Chesnut | 4.02 | 0.00 | 17.25 | $260.00 | 106 |
| Tyler Calloway/Dean Dalton | 5.34 | 0.00 | 16.83 | $200.00 | 105 |
| Chad Green/Johnny Martin | 5.24 | 0.00 | 16.80 | $150.00 | 104 |
| Dustin Guthrie/Chip Woody | 4.22 | 0.00 | 16.73 | $130.00 | 103 |
| Ryan Mace/Wayne Mace | 6.50 | 0.00 | 16.15 | $120.00 | 102 |
| Michael Toney | 4.11 | 2.84 | 15.73 | $110.00 | 101 |
| Rodney Rice/Daryl Wright | 4.69 | 0.00 | 15.72 | $100.00 | 100 |
| Shannon Breeding/Jake Flournoy | 3.86 | 0.00 | 15.61 | $95.00 | 99 |
| Shane Mills/David Mills | 4.28 | 0.00 | 15.17 | | 98 |
| Jeff Newman/William Hubbard | 3.61 | 0.00 | 14.70 | | 97 |
| Clay Ross/Jeff Ross | 0.00 | 0.00 | 14.43 | | 96 |
| Josh Ashley | 4.47 | 0.00 | 14.32 | | 95 |
| Shawn Holland/Aaron Scott | 5.53 | 0.00 | 14.29 | | 94 |
| Johnny Cole/Dallas Cole | 7.65 | 0.00 | 14.18 | | 93 |
| Brian Myers/Tommy Morgan | 3.17 | 0.00 | 13.88 | | 92 |
| Charlie Davis/Scotty Howard | 0.00 | 0.00 | 13.76 | | 91 |
| Mike Nichols | 4.16 | 0.00 | 13.67 | | 90 |
| Monte Atkins/Boogie Atkins | 5.67 | 0.00 | 13.52 | | 89 |
| Tony Walker/Shaun Hunter | 3.21 | 0.00 | 13.21 | | 88 |
| Chris Eads/Ben Eads | 3.39 | 2.49 | 13.05 | | 87 |
| Matt Atkins/Matt Foster | 3.32 | 0.00 | 13.03 | | 86 |
| Hunter Weikle/Alex Watts | 3.58 | 0.00 | 13.01 | | 85 |
| Marty Warren/Bryan Calloway | 0.00 | 3.67 | 12.44 | | 84 |
| Jody Thompson/Keith Allen | 4.14 | 0.00 | 11.72 | | 83 |
| Justin Medeiros/Aaron Pickett | 0.00 | 0.00 | 11.62 | | 82 |
| William Johnson/Robert Ford | 0.00 | 0.00 | 11.37 | | 81 |
| Aaron Falwell/Steven Coleman | 0.00 | 0.00 | 11.25 | | 80 |
| Scott Stiltner/Wayne Nidiffer | 0.00 | 0.00 | 10.64 | | 79 |
| Mike Bozeman/Dave Peters | 0.00 | 0.00 | 10.34 | | 78 |
| Dustin Wilhelm/Bech Garrett | 0.00 | 0.00 | 10.22 | | 77 |
| Craig Blankenship/Jimmy Blankenship | 0.00 | 0.00 | 9.99 | | 76 |
| Adrian Moore/Matt Williamson | 0.00 | 0.00 | 9.21 | | 75 |
| Daniel Smathers/Ryan Suhy | 0.00 | 0.00 | 8.44 | | 74 |
| Jacob Lee/Tim Lee | 0.00 | 0.00 | 8.24 | | 73 |
| Chris Dawson/Jerame Edwards | 0.00 | 0.00 | 5.21 | | 72 |
| Jeff Martin/Bob Raymond | 0.00 | 0.00 | 0.00 | | 62 |
| Robert Barton/Bobby Barton | 0.00 | 0.00 | 0.00 | | 62 |
| Tim Thurman/Thomas Jarrell | 0.00 | 0.00 | 0.00 | | 62 |
| Mark Weaver/Harry Townsend | 0.00 | 0.00 | 0.00 | | 62 |
| Jesse Dalton/Ian Hall | 0.00 | 0.00 | 0.00 | | 62 |
| Dennis Holland/Matt Hall | 0.00 | 0.00 | 0.00 | | 62 |
| Nelson Troyer | 0.00 | 0.00 | 0.00 | | 62 |
| Lenny Wallace/Rich Simino | 0.00 | 0.00 | 0.00 | | 62 |
| Tyler Webb/Chris Ellis | 0.00 | 0.00 | 0.00 | | 62 |
| Bryant Copley/Steve Woodroof | 0.00 | 0.00 | 0.00 | | 62 |
| Chad Bowman/Neil Phillips | 0.00 | 0.00 | 0.00 | | 62 |
| Billy Cockrell/Hayden Cockrell | 0.00 | 0.00 | 0.00 | | 62 |
| Jordan Hardin | 0.00 | 0.00 | 0.00 | | 62 |
| Danny Towe/Trevis Towe | 0.00 | 0.00 | 0.00 | | 62 |
| Bert Smith/Russell Headley | 0.00 | 0.00 | 0.00 | | 62 |
| Randy Rose/Kyle Smith | 0.00 | 0.00 | 0.00 | | 62 |
| Nick Barrell/Corey Armentrout | 0.00 | 0.00 | 0.00 | | 62 |
| Ben Hudson/Robert Hudson | 0.00 | 0.00 | 0.00 | | 62 |
| Kenny Reynolds/Ryan Reynolds | 0.00 | 0.00 | 0.00 | | 62 |
| Greg Stallings/Ricky Grant | 0.00 | 0.00 | 0.00 | | 62 |
| Joey Dawson/Kevin Dawson | 0.00 | 0.00 | 0.00 | | 62 |
| Total Entrys | | | | $4,800.00 | |
| BONUS $ | | | | $1,500.00 | |
| Total Paid At Ramp | | | | $5,745.00 | |
| CATT | | | | $50.00 | |
| SML 2022 Spring Final Fund | | | | $455.00 | |
| 2022 CATT Championship | | | | $50.00 | |
| 2022 SML Spring Point Fund | | | | $600.00 | |
| 2022 SML Spring Final Fund Total | | | | $455.00 | |