2019 Academy Sports CATT Championship June 1-2 Kerr Lake!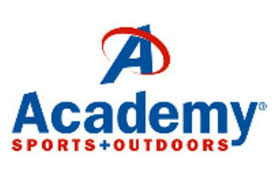 $10,000.00 1st Place GUARANTEED!
(2018 1st Place took home $25,000.00)
New Nutbush Ramp – Kerr State Park!
A team or solo angler must fish 3 CATT events to Qualify!
You can get in your 3 events by fishing any CATT Fall 2018 and CATT Spring 2019!
The 2018  Fall SML Final that will count toward 2019 Championship Qualification are below
The 3 events do not have to be in the same CATT Trail!
$200 Per Team Entry
Optional Platinum BONUS $100
Optional BONUS $50
Next CATT SML Qualifier is Mar 2 at Parkway Marine!
Elliot & Chad Pilson weighed in a fat sack of Smith Mtn bass toaling up to 23.14 lbs! Add i the BF at 6.45 lbs and they took home $930.00!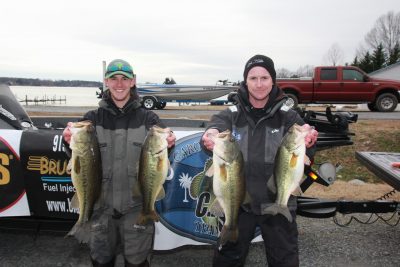 2nd went to Mike Bozeman & David Peters with 20.04 lbs!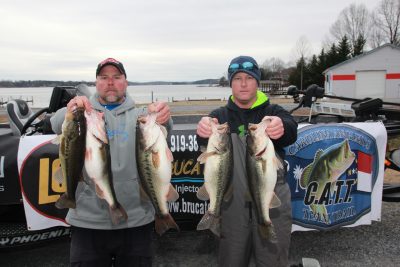 3rd Brandon & Ben Reynolds! 18.79 lbs!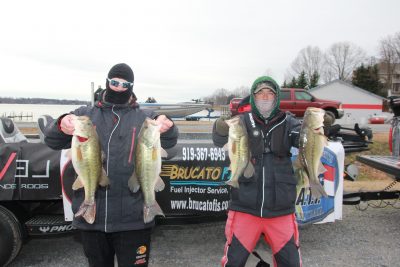 Jeff & Clay Ross 4th 18.02 lbs!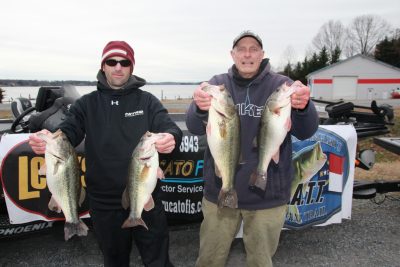 | | | | | |
| --- | --- | --- | --- | --- |
| | | | TOTAL | |
| 24 TEAMS | BIG SM | BIG LM | WINNINGS | Points |
| Chad Pilson / Elliot Pilson | 6.45 | 23.14 | $930.00 | 110 |
| David Peters / Mike Bozeman | 5.47 | 20.04 | $300.00 | 109 |
| Ben Reynolds / Brandon Reynolds | 4.96 | 18.79 | $440.00 | 108 |
| Jeff Ross / Clay Ross | 4.87 | 18.02 | $120.00 | 107 |
| Eric Catlett / Bryan Harlow | 4.80 | 15.84 | | 106 |
| David Mills / Shane Mills | 4.16 | 15.67 | | 105 |
| Dustin Guthrie / Ryan Parnell | 0.00 | 14.26 | | 104 |
| Mike Toney / Damien McMahon | 4.39 | 14.18 | | 103 |
| Larry Witt / Tim Goff | 4.10 | 12.75 | | 102 |
| Brian Meyers / Tommy Morgan | 3.89 | 7.83 | $120.00 | 101 |
| Bryan Calloway / William Hubbard | 0.00 | 6.14 | | 100 |
| Jacob Lee / Sam Terry | 3.83 | 6.10 | | 99 |
| Jerame Edwards / Chris Dawson | 0.00 | 1.98 | | 98 |
| James Freeland / Chad Child | 0.00 | 0.00 | | 97 |
| Doug Eubank / Daniel Eubank | 0.00 | 0.00 | | 97 |
| Nelson Troyer | 0.00 | 0.00 | | 97 |
| Ian Mcroy / Josh Ingram | 0.00 | 0.00 | | 97 |
| Scott Stiltner / Jeff Davis | 0.00 | 0.00 | | 97 |
| TJ Christian / Shawn Christian | 0.00 | 0.00 | | 97 |
| Matt Powers / Justin Medeiros | 0.00 | 0.00 | | 97 |
| Tyler Calloway / Zach France | 0.00 | 0.00 | | 97 |
| Ben Dalton | 0.00 | 0.00 | | 97 |
| Greg Stallings / Jesse Flack | 0.00 | 0.00 | | 97 |
| Joey Dawson / Kevin Dawson | 0.00 | 0.00 | | 97 |
| Total Entrys | | | $1,920.00 | |
| BONUS $ | | | $500.00 | |
| Total Paid At Ramp | | | $1,910.00 | |
| SML 2019 Spring Final Fund | | | $430.00 | |
| 2019 CATT Championship Fund | | | $50.00 | |
| 2019 SML SpringFinal Fund Total | | | $430.00 | |
| 2019 CATT Championship Fund Total | | | $2,805.00 | |