Next CATT Spring 2023 Smith Mtn Lake Spring Qualifier is March 19th 8am-4pm at the Smith Mtn Lake State Park! They're bitin! Top 5 teams weighed in 20 lbs bags!
We had 60 teams again this past weekend and added another $600.00 to the SML Point Fund! With 2 Qualifiers left we are up to $1,200.00! Come on out and join us! You only have to enter 1 SML Spring Qualifier to be eligible to enter the SML Spring Final!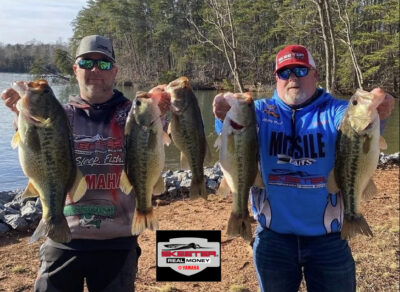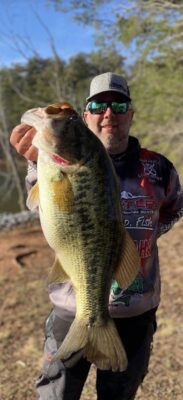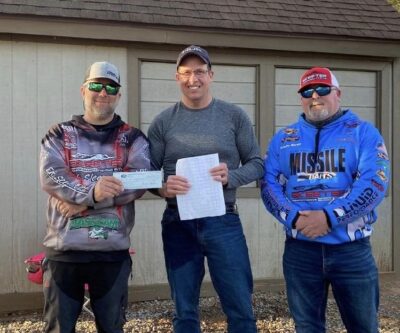 Chad Green & Johny Martin had a HUGE day on Smith Mtn Lake! They weighed in 5 bass at 24.99 lbs PLUS the Big Largemouth of the day at 8.45 lbs earning the win! To make a big day HUGE they collected the Skeeter Real Money Incentive of $5,000.00! Add in the 1st Place Side Pot and they took home $7,010.00! Great job guys!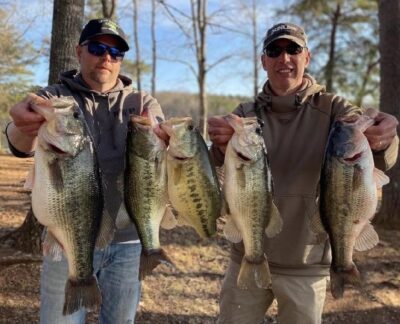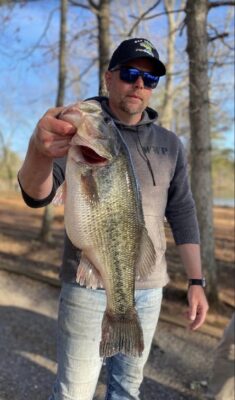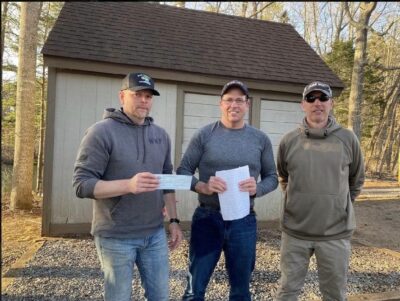 Steve Christ & Dennis Stump claimed 2nd place with a limit weighing 23.09 lbs for a $1,150.00 pay day!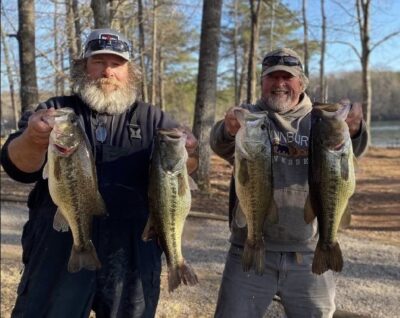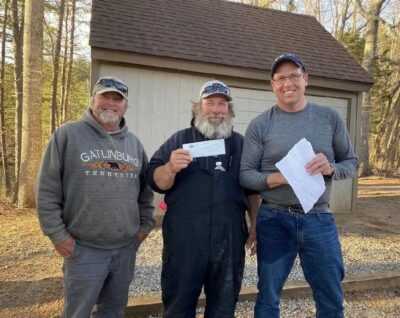 Greg Stallings & Ricky Grant took 3rd with a limit weighing 22.01 lbs worth $740.00!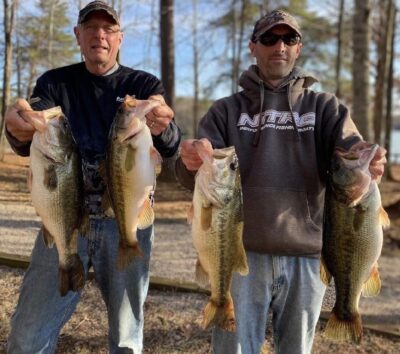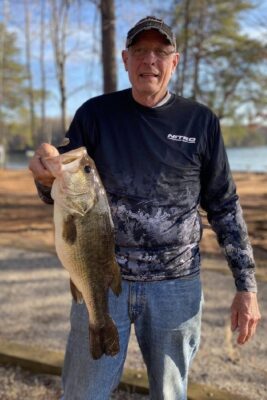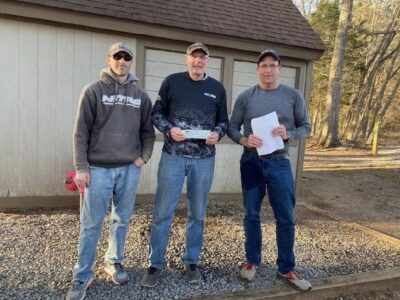 Clay & Jeff Ross 4th Place with 21.45 lbs! They earned $380.00 plus $500 Nitro Bonus!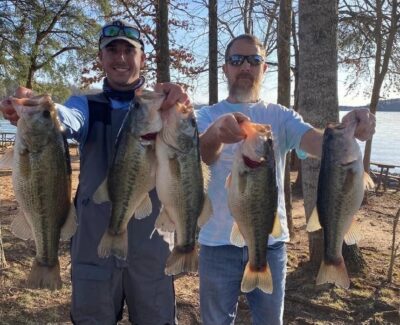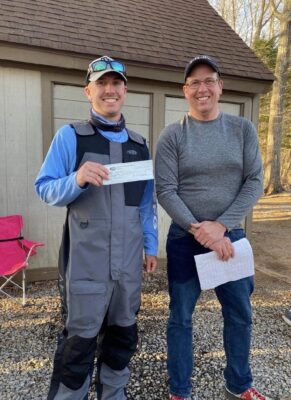 Wyatt Kelly took the 5th Place spot with 5 bass weighing 21.25 lbs!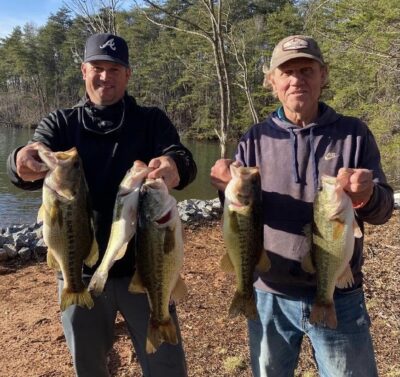 Ryan Mace & Wayne Mace with a limit weighing 17.96 lbs for a 6th Place finish!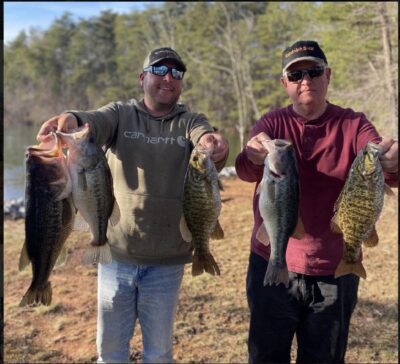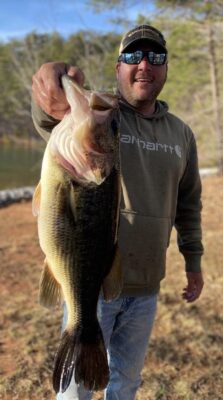 Tyler & Ricky Trent 7th with 16.99 lbs!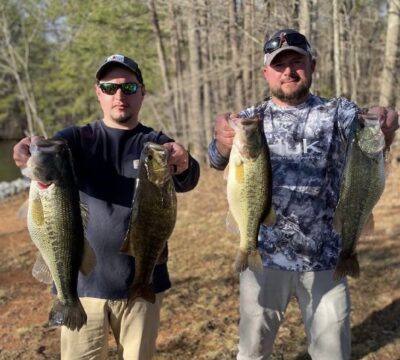 Seth Brogan & Josh Ingram 8th Place 16.72 lbs! Plus $500 Triton Incentive!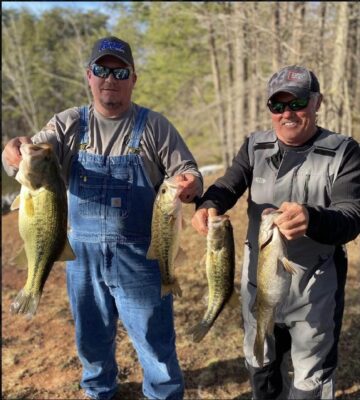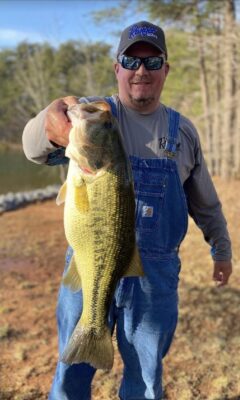 9th Place Tony Wlaker & Shaun Hunter 16.02 lbs with a 6 pound kicker!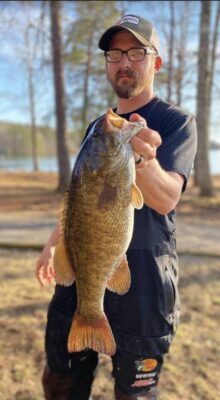 Bryan Harlow & Greg Chestnut took the 10th spot with 14.99 lb and weighed the Big SM at 4.30 lbs!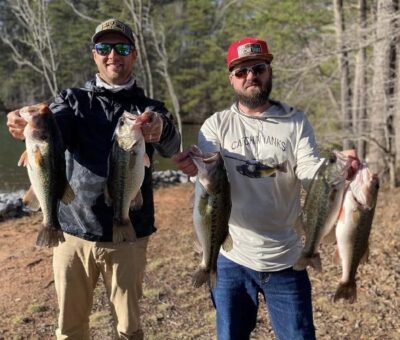 Last money spot went to Billy Khols & Matt Harmon with 13.47 lbs!
| | | | | | |
| --- | --- | --- | --- | --- | --- |
| TEAM | LM | SM | Weight | Winnings | Points |
| Chad Green/Johnny Martin | 8.45 | 0.00 | 24.99 | $7,010.00 | 110 |
| Steve Crist/Dennis Stump | 7.32 | 0.00 | 23.09 | $1,150.00 | 109 |
| Greg Stallings/Ricky Grant | 6.15 | 0.00 | 22.01 | $740.00 | 108 |
| Clay Ross/Jeff Ross | 5.05 | 0.00 | 21.45 | $880.00 | 107 |
| Wyatt Kelley | 4.82 | 0.00 | 21.25 | $260.00 | 106 |
| Ryan Mace/Wayne Mace | 4.48 | 0.00 | 17.96 | $200.00 | 105 |
| Tyler Trent/Ricky Trent | 5.77 | 0.00 | 16.99 | $150.00 | 104 |
| Seth Brogan/Josh Ingram | 5.53 | 3.65 | 16.72 | $630.00 | 103 |
| Tony Walker/Shaun Hunter | 6.15 | 4.14 | 16.02 | $120.00 | 102 |
| Bryan Harlow/Greg Chesnut | 0.00 | 4.30 | 14.99 | $410.00 | 101 |
| Ben Reynolds/Brandon Reynolds | 4.52 | 0.00 | 13.51 | $100.00 | 100 |
| Billy Kohls/Matt Harmon | 3.74 | 0.00 | 13.47 | $95.00 | 99 |
| Shane Mills/David Mills | 4.32 | 0.00 | 12.29 | | 98 |
| Daryl Wright/Bobby Pagan | 5.45 | 0.00 | 11.50 | | 97 |
| Adrian Moore/Matt Williamson | 0.00 | 0.00 | 10.77 | | 96 |
| Hunter Weikle/Alex Watts | 0.00 | 0.00 | 10.73 | | 95 |
| Michael Toney/Robert Rice | 0.00 | 0.00 | 10.52 | | 94 |
| Dustin Guthrie/Chip Woody | 6.14 | 0.00 | 10.44 | | 93 |
| Bryan Humphreys/Jay Keyton | 0.00 | 2.95 | 9.07 | | 92 |
| Brian Myers/Tommy Morgan | 0.00 | 0.00 | 8.73 | | 91 |
| Craig Blankenship/Jimmy Blankenship | 0.00 | 0.00 | 8.16 | | 90 |
| Nick Barrell/Corey Armentrout | 4.54 | 0.00 | 7.06 | | 89 |
| Josh Ashley/Cam Johnson | 0.00 | 0.00 | 2.38 | | 88 |
| Landon Siggers/Jacob Johnson | 0.00 | 0.00 | 0.00 | | 78 |
| Tyler Calloway/Dean Dalton | 0.00 | 0.00 | 0.00 | | 78 |
| Jeff Newman/William Hubbard | 0.00 | 0.00 | 0.00 | | 78 |
| Shawn Holland/Aaron Scott | 0.00 | 0.00 | 0.00 | | 78 |
| Johnny Cole/Dallas Cole | 0.00 | 0.00 | 0.00 | | 78 |
| Mike Nichols | 0.00 | 0.00 | 0.00 | | 78 |
| Monte Atkins/Boogie Atkins | 0.00 | 0.00 | 0.00 | | 78 |
| Chris Eads/Ben Eads | 0.00 | 0.00 | 0.00 | | 78 |
| Devin Paige/Hunter Barrow | 0.00 | 0.00 | 0.00 | | 78 |
| Chad Pilson/Elliot Pilson | 0.00 | 0.00 | 0.00 | | 78 |
| Keith Allen/Ronnie Mitchell | 0.00 | 0.00 | 0.00 | | 78 |
| Justin Medeiros/Aaron Pickett | 0.00 | 0.00 | 0.00 | | 78 |
| William Johnson/Robert Ford | 0.00 | 0.00 | 0.00 | | 78 |
| Scott Stiltner/Wayne Nidiffer | 0.00 | 0.00 | 0.00 | | 78 |
| AJ Lester/Kristin Phillips | 0.00 | 0.00 | 0.00 | | 78 |
| Dustin Wilhelm/Bech Garrett | 0.00 | 0.00 | 0.00 | | 78 |
| Daniel Smathers/Ryan Suhy | 0.00 | 0.00 | 0.00 | | 78 |
| Jacob Lee/Sam Terry | 0.00 | 0.00 | 0.00 | | 78 |
| Chris Dawson/Jerame Edwards | 0.00 | 0.00 | 0.00 | | 78 |
| Jeff Martin/Bob Raymond | 0.00 | 0.00 | 0.00 | | 78 |
| Robert Barton/Bobby Barton | 0.00 | 0.00 | 0.00 | | 78 |
| Wesley Olinger/Cole Collins | 0.00 | 0.00 | 0.00 | | 78 |
| Mark Weaver/Harry Townsend | 0.00 | 0.00 | 0.00 | | 78 |
| Terry Jones/Keith Chrisley | 0.00 | 0.00 | 0.00 | | 78 |
| Michael Hale/Brian Shelton | 0.00 | 0.00 | 0.00 | | 78 |
| Billy Orr/Jon Parson | 0.00 | 0.00 | 0.00 | | 78 |
| Lenny Wallace/Rich Simino | 0.00 | 0.00 | 0.00 | | 78 |
| John Reed | 0.00 | 0.00 | 0.00 | | 78 |
| Chad Bowman/Neil Phillips | 0.00 | 0.00 | 0.00 | | 78 |
| Billy Cockrell/Hayden Cockrell | 0.00 | 0.00 | 0.00 | | 78 |
| Jordan Hardin | 0.00 | 0.00 | 0.00 | | 78 |
| Chris Passmore/Ben Dalton | 0.00 | 0.00 | 0.00 | | 78 |
| Bert Smith/Russell Headley | 0.00 | 0.00 | 0.00 | | 78 |
| Randy Rose/Kyle Smith | 0.00 | 0.00 | 0.00 | | 78 |
| Robert Hudson/Forest Taylor | 0.00 | 0.00 | 0.00 | | 78 |
| Tim Scott/Caleb Naff | 0.00 | 0.00 | 0.00 | | 78 |
| Joey Dawson/Kevin Dawson | 0.00 | 0.00 | 0.00 | | 78 |
| Total Entrys | | | | $4,800.00 | |
| BONUS $ | | | | $1,500.00 | |
| Total Paid At Ramp | | | | $5,745.00 | |
| CATT | | | | $50.00 | |
| SML 2022 Spring Final Fund | | | | $455.00 | |
| 2022 CATT Championship | | | | $50.00 | |
| 2022 SML Spring Point Fund | | | | $1,200.00 | |
| 2022 SML Spring Final Fund Total | | | | $910.00 | |