Next up is the CATT 2021 Smith Mtn Lake Spring Final April 3rd! We have 81 teams qualified and the payback for the Final is looking good! Look for some more big weights coming to the scales!
Greg Stallings & Ricky Grant weighed in a big ole sack of SML Bass totaling up to 28.60 lbs topping the 55 boat field! Their 1st Place finish was worth $1,730.00! PLUS they win the Spring SML Points and will fish the SML Final Free launching form the #1 position!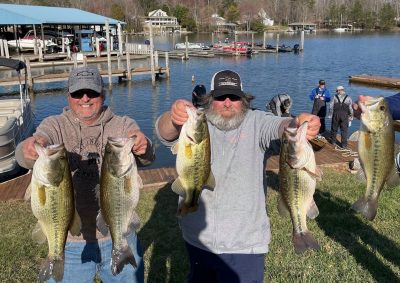 2nd Place went to Bryan Harlow & Phillip Ragland with another great bag of bass weighing 25.65 lbs!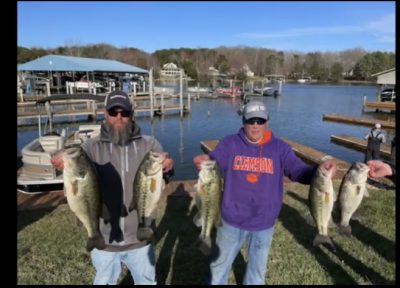 Coming 3rd with yet another fat sack weighing 25.02 lbs was the team of Jeff & Clay Ross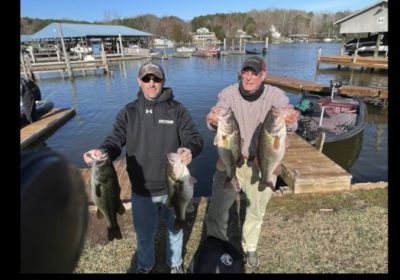 4th Matt Powers & Justin Medeiros 24.21 lbs!

Ricky Tilley Jr & Rick Tilley Sr claimed 5th with 23.77 lbs!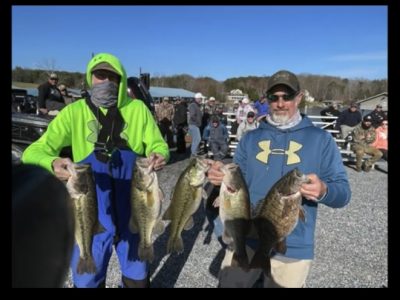 Chris Brummett finished 6th with 22.61  lbs and had the 1st BF at 8.21 lbs!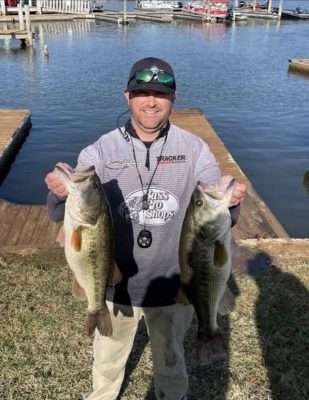 Ben Hudson & Robert Hudson weighed in 21.42 lbs good enough for 7th and they had the 2nd BF at 8.18 lbs!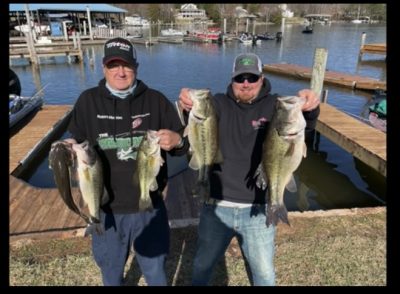 8th Steve Manzingo & Dylan Gray 21.28 lbs!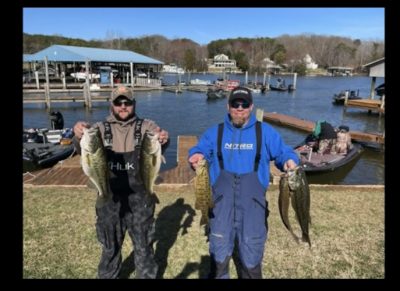 9th Michael Toney 21.01 lbs!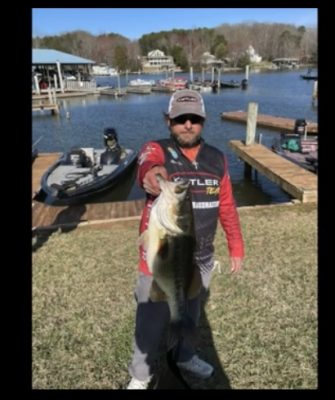 Trevis & Danny Towe 10th 20.22 lbs!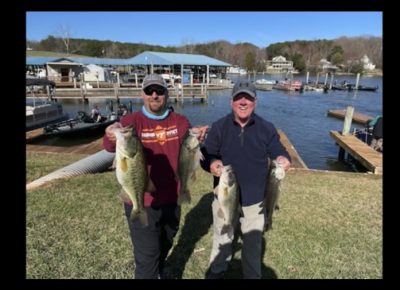 11th Chad Green & Johnny MArtin 19.71 lbs!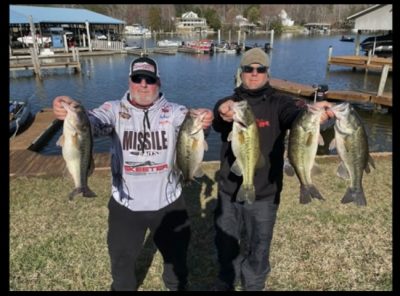 | | | | | | |
| --- | --- | --- | --- | --- | --- |
| | BIG | BIG | | | |
| TEAM | SM | LM | Weight | Winnings | Points |
| Greg Stallings/Ricky Grant | 0.00 | 6.96 | 28.60 | $1,730.00 | 110 |
| Eric Catlett(Phillip Ragland Sub)/Bryan Harlow | 0.00 | 6.96 | 25.65 | $1,120.00 | 109 |
| Jeff Ross/Clay Ross | 0.00 | 6.37 | 25.02 | $730.00 | 108 |
| Matt Powers/Justin Medeiros | 0.00 | 6.05 | 24.21 | $330.00 | 107 |
| Rick Tilley Jr./Rick Tilley Sr. | 5.24 | 5.68 | 23.77 | $495.00 | 106 |
| Chris Brummett | 0.00 | 8.21 | 22.61 | $445.00 | 105 |
| Ben Hudson/Robert Hudson | 0.00 | 8.18 | 21.42 | $130.00 | 104 |
| Steve Manzingo/Dylan Gray | 0.00 | 6.01 | 21.28 | $120.00 | 103 |
| Michael Toney | 0.00 | 7.20 | 21.01 | $110.00 | 102 |
| Trevis Towe/Danny Towe | 0.00 | 7.00 | 20.22 | $100.00 | 101 |
| Chad Green/Johnny Martin | 0.00 | 4.92 | 19.71 | $80.00 | 100 |
| Scott Stiltner/Tim Nichols(Tony Walker sub) | 0.00 | 6.02 | 19.31 | | 99 |
| Chad Pilson/Elliot Pilson | 0.00 | 4.76 | 19.29 | | 98 |
| Ken Lackey/Kenneth Haley | 0.00 | 6.67 | 19.12 | | 97 |
| Matt Kleunder/Dennie Gilbert | 4.03 | 5.26 | 19.00 | | 96 |
| Shannon Breeding/Mike Altizer | 3.75 | 5.21 | 18.63 | | 95 |
| Jeff Newman/William Hubbard | 0.00 | 5.62 | 18.04 | | 94 |
| Josh Hale/Todd Langford(Rob Grike sub) | 0.00 | 4.65 | 17.71 | | 93 |
| Tim Thurman/Thomas Jarrell | 0.00 | 5.61 | 17.57 | | 92 |
| Steve Roberts/Mark Cooper | 0.00 | 4.89 | 17.41 | | 91 |
| Billy Kohls/Will Petty | 0.00 | 5.26 | 17.15 | | 90 |
| Joey Dawson/Kevin Dawson | 0.00 | 0.00 | 17.03 | | 89 |
| Billy Ohr/Jon Parson | 0.00 | 0.00 | 16.90 | | 88 |
| Mike Nichols/Mark Winn | 0.00 | 4.32 | 16.52 | | 87 |
| Moe Musser/Brody Musser | 0.00 | 4.49 | 16.17 | | 86 |
| Donnie Wyatt/Dylan Gauldin | 0.00 | 4.30 | 15.98 | | 85 |
| Craig Blankenship/Jimmy Blankenship | 0.00 | 4.08 | 15.90 | | 84 |
| Kenny Reynolds(Lee White sub)/Ryan Reynolds | 0.00 | 6.68 | 15.79 | | 83 |
| Cameron Lane/Chase Shumate | 0.00 | 4.43 | 15.59 | | 82 |
| Brian Bailey/Steven Brady | 0.00 | 4.92 | 15.40 | | 81 |
| Rodney Rice/Robert Rice | 0.00 | 4.35 | 15.35 | | 80 |
| Adrian Moore/Matt Williamson | 0.00 | 4.33 | 14.67 | | 79 |
| Dustin Guthrie/Chip Woody | 0.00 | 0.00 | 13.57 | | 78 |
| Dustin Wilhelm/Bryan Canterbury | 0.00 | 0.00 | 13.53 | | 77 |
| Jerame Edwards/Chris Dawson | 0.00 | 4.13 | 13.28 | | 76 |
| Daniel Eubank/Douglas Eubank | 0.00 | 0.00 | 13.25 | | 75 |
| Doug Hawkins/Robert Stephens | 3.27 | 4.87 | 13.25 | | 74 |
| Matt Harmon/Ryan Clark | 0.00 | 0.00 | 12.88 | | 73 |
| Billy Cockrell/Chuck Dudding(Haden Cockrell) | 0.00 | 4.90 | 12.65 | | 72 |
| Shawn Christian/TJ Christian | 0.00 | 0.00 | 11.61 | | 71 |
| AJ Lester/Kristin Phillips | 0.00 | 0.00 | 11.50 | | 70 |
| Mark Weaver/Harry Townsend | 0.00 | 5.59 | 10.96 | | 69 |
| Bill Johnson/Greg Chestnutt | 0.00 | 0.00 | 10.09 | | 68 |
| Greg Basham/Mike McKeag(Nic Basham sub) | 0.00 | 6.30 | 9.28 | | 67 |
| James Carnley/Johnathan Arrington | 0.00 | 4.42 | 8.49 | | 66 |
| Scotty Howard/Charlie Davis | 0.00 | 0.00 | 0.00 | | 56 |
| Darrel Wright/Larry Horton | 0.00 | 0.00 | 0.00 | | 56 |
| Michael Williams/Luke Mitchell | 0.00 | 0.00 | 0.00 | | 56 |
| Shane Mills/David Mills (Timmy Martin sub) | 0.00 | 0.00 | 0.00 | | 56 |
| Hunter Townsend/Trey Thomasson | 0.00 | 0.00 | 0.00 | | 56 |
| Lewis Williams/Josh Long | 0.00 | 0.00 | 0.00 | | 56 |
| Mike Massie | 0.00 | 0.00 | 0.00 | | 56 |
| Mike Myers/Chuck Lyon | 0.00 | 0.00 | 0.00 | | 56 |
| Ryan Payne/Roslyn Payne | 0.00 | 0.00 | 0.00 | | 56 |
| Donald Sheffey Jr./Donald Sheffey Sr. | 0.00 | 0.00 | 0.00 | | 56 |
| Total Entrys | | | | $4,400.00 | |
| BONUS $ | | | | $1,550.00 | |
| Total Paid At Ramp | | | | $5,390.00 | |
| SML 2021 Spring Final Fund | | | | $455.00 | |
| 2021 CATT Championship/Phantom Fund | | | | $50.00 | |
| 2021 SML Spring Final Fund Total | | | | $1,415.00 | |
| 2021 CATT Championship/Phantom Fund Total | | | | $1,940.00 | |