Next Smith Mtn CATT Qualifier is Dec 6 at Parkway Marine! This is the last Fall Qualifier and you only have to enter 1 Qualifier to be eligible to enter the SML Fall Final Dec 13th!
William Hubbard & Jeff Newman brought in a fat sack of SML bass weighing 24.20 lbs! They collected $1,690.0! Great job guys!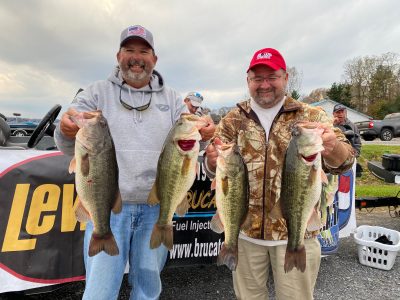 Billy Kohls & Will Petty claimed 2nd place with another big bag weighing 20.97 lbs! They took home $1,045.00!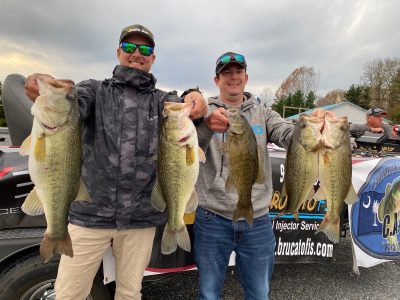 Kevin & Joey Dawson pocketed $650.00 with 5 bass weighing 19.88 lbs good enough for 3rd!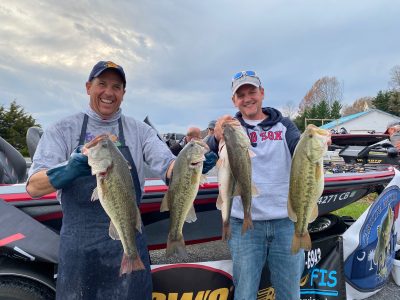 Robert Barton Sr & Robert Barton Jr brought in 19.69 lbs to take 4th and weighed in the Big Largemouth at 6.39 lbs!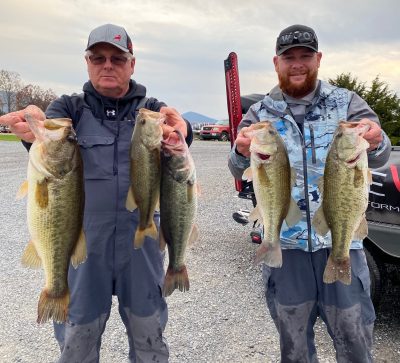 Scott Stiltner & Tim Nichols 5th with 18.81 lbs!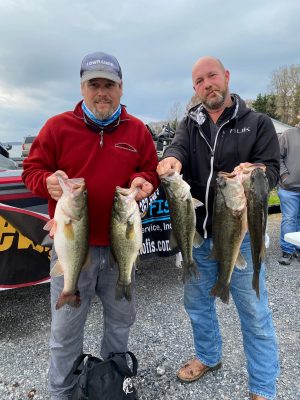 David Mills & Hunter Townsend 6th 17.87 lbs!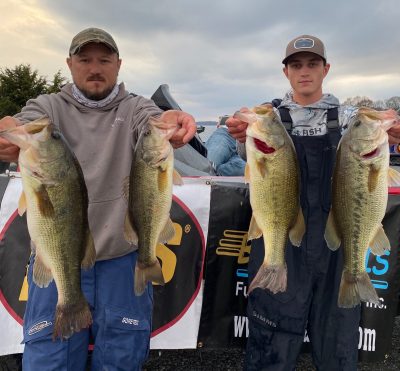 7th went to Clay & Jeff Ross with 16.86 lbs!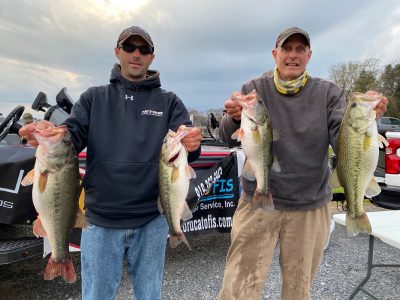 Mark Winn & Mike Nichols took 8th with 16.69 lbs!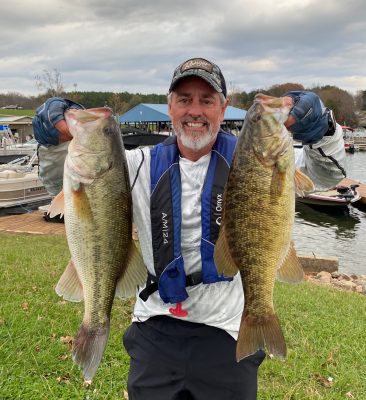 Chad Green & Johnny Martin 9th 16.23 lbs!
Michael Toney 10th Place 15.58 lbs!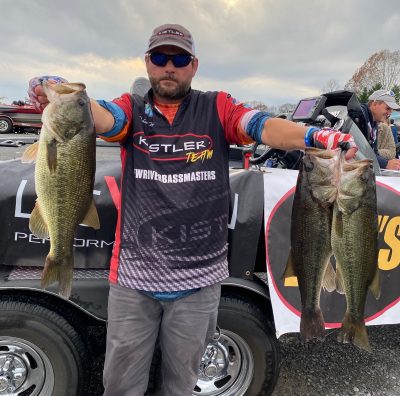 Big Smallmouth was brought in by Brian Myers & Tommy Morgan 4.66 lbs!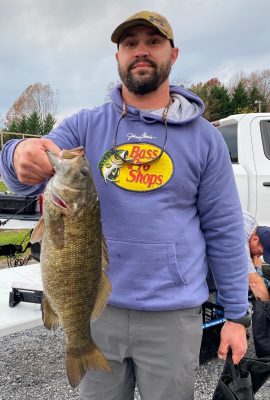 | | | | | | |
| --- | --- | --- | --- | --- | --- |
| | BIG | BIG | | | |
| 51 TEAMS | SM | LM | Weight | Winnings | Points |
| William Hubbard/Jeff Newman | 0.00 | 5.84 | 24.20 | $1,690.00 | 110 |
| Billy Kohls/Will Petty | 0.00 | 6.07 | 20.97 | $1,045.00 | 109 |
| Jeoy Dawson/Kevin Dawson | 0.00 | 5.80 | 19.88 | $650.00 | 108 |
| Robert Barton Sr./Robert Barton Jr. | 0.00 | 6.39 | 19.69 | $555.00 | 107 |
| Scott Stiltner/Tim Nichols | 0.00 | 5.38 | 18.81 | $200.00 | 106 |
| David Mills/Hunter Townsend | 0.00 | 4.80 | 17.87 | $150.00 | 105 |
| Jeff Ross/Clay Ross | 0.00 | 5.25 | 16.86 | $125.00 | 104 |
| Mark Winn/Mike Nichols | 3.34 | 3.88 | 16.69 | $110.00 | 103 |
| Chad Green/Johnny Martin | 0.00 | 4.74 | 16.23 | $100.00 | 102 |
| Michael Toney | 0.00 | 4.91 | 15.58 | $100.00 | 101 |
| Mike Massie | 0.00 | 4.20 | 15.40 | | 100 |
| Tyler Trent/Ricky Trent | 0.00 | 4.28 | 15.10 | | 99 |
| Wayne Nidiffer/Tony Walker | 0.00 | 4.66 | 14.84 | | 98 |
| William Johnson/Robert Ford | 0.00 | 3.90 | 12.77 | | 97 |
| Kenneth Sterne/Brett Will | 0.00 | 5.51 | 12.74 | | 96 |
| Nelson Troyer | 0.00 | 5.64 | 12.00 | | 95 |
| Jerame Edwards/Chris Dawson | 0.00 | 4.73 | 11.76 | | 94 |
| Geoff Tuck/Mark Tuck | 3.95 | 4.37 | 11.24 | | 93 |
| Rick Tilley Jr./Rick Tilley Sr. | 0.00 | 0.00 | 10.89 | | 92 |
| Cameron Lane/Chase Shumate | 0.00 | 6.03 | 10.49 | | 91 |
| Brian Meyers/Tommy Morgan | 4.66 | 0.00 | 10.27 | $255.00 | 90 |
| Donnie Wyatt/Dylan Gauldin | 0.00 | 5.59 | 10.20 | | 89 |
| Phillip Ragland/Greg Chestnutt | 0.00 | 4.62 | 9.87 | | 88 |
| Tyler Calloway/Kevin Powell | 0.00 | 5.33 | 9.23 | | 87 |
| Seth Brogan/Josh Ingram | 0.00 | 0.00 | 8.63 | | 86 |
| Tony Toombs/David Jones | 3.78 | 0.00 | 6.36 | | 85 |
| Kevin Lankford | 0.00 | 0.00 | 5.84 | | 84 |
| Ben Reynolds/Brandon Reynolds | 0.00 | 0.00 | 0.00 | | 83 |
| Dustin Guthrie/Chip Woody | 0.00 | 0.00 | 0.00 | | 83 |
| Wasena Muse/Cullen Cash | 0.00 | 0.00 | 0.00 | | 83 |
| Eric Catlett/Bryan Harlow | 0.00 | 0.00 | 0.00 | | 83 |
| Paul Watson/Melissa Watson | 0.00 | 0.00 | 0.00 | | 83 |
| Shannon Breeding/Mike Altizer | 0.00 | 0.00 | 0.00 | | 83 |
| Robert Hudson/Ben Hudson | 0.00 | 0.00 | 0.00 | | 83 |
| Daniel Smathers/Ryan Suhy | 0.00 | 0.00 | 0.00 | | 83 |
| Daniel Eubank/Douglas Eubank | 0.00 | 0.00 | 0.00 | | 83 |
| Mark Weaver/Harry Townsend | 0.00 | 0.00 | 0.00 | | 83 |
| Bryan Humphreys/Jay Keyton | 0.00 | 0.00 | 0.00 | | 83 |
| Taylor St. Clair/Ian Branson | 0.00 | 0.00 | 0.00 | | 83 |
| Justin Medeiros/Matt Powers | 0.00 | 0.00 | 0.00 | | 83 |
| Johnny Cole/Dallas Cole | 0.00 | 0.00 | 0.00 | | 83 |
| Charles Fochtman/David Perdue | 0.00 | 0.00 | 0.00 | | 83 |
| Craig Blankenship/Susan Blankenship | 0.00 | 0.00 | 0.00 | | 83 |
| Scotty Howard/Zach Cassell | 0.00 | 0.00 | 0.00 | | 83 |
| Aaron Kirk/David Martin | 0.00 | 0.00 | 0.00 | | 83 |
| Jimmy Pack | 0.00 | 0.00 | 0.00 | | 83 |
| Matt Harmon/Joe Frank | 0.00 | 0.00 | 0.00 | | 83 |
| Tyler Farmer/Josh Dudley | 0.00 | 0.00 | 0.00 | | 83 |
| Bryan Calloway | 0.00 | 0.00 | 0.00 | | 83 |
| Dave Peters/Mike Bozeman | 0.00 | 0.00 | 0.00 | | 83 |
| Connor Hardy/Aaron Scott | 0.00 | 0.00 | 0.00 | | 83 |
| Total Entrys | | | | $4,080.00 | |
| BONUS $ | | | | | |
| Total Paid At Ramp | | | | $4,980.00 | |
| SML 2020 Fall Final Fund | | | | $450.00 | |
| 2021 CATT Championship/Phantom Fund | | | | $50.00 | |
| 2020 SML Fall Final Fund Total | | | | $880.00 | |
| 2021 CATT Champ/Phantom Fund Total | | | | $320.00 | |