Next Smith Mtn Lake Fall Qualifier is November 19 (8-4)! Smith Mtn Lake State Park!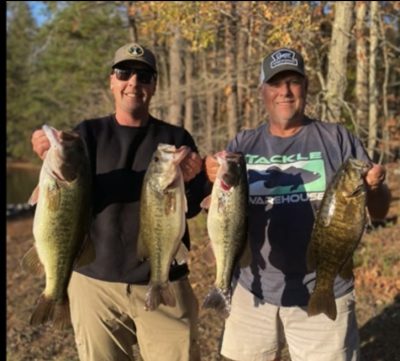 Mike Nichols & Mark Winn WINN Smith Mtn with 5 bass weighing 21.37 lbs worth $1,910.00!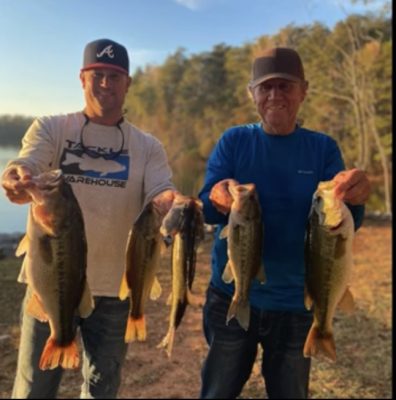 Ryan Mace/Wayne Mace 2nd Place with 16.57 lbs! $1,050.00!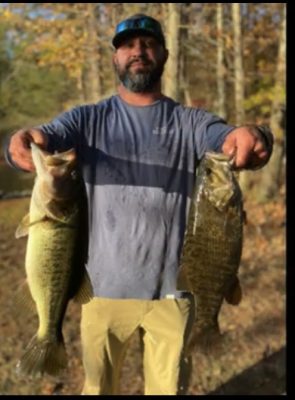 3rd Place with 15.32 lbs! Brian Myers/Tommy Morgan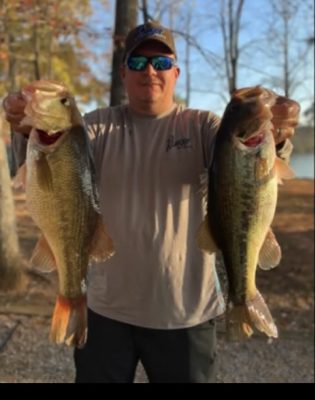 Tony Walker/Shaun Hunter claimed 4th with 14.28 lbs!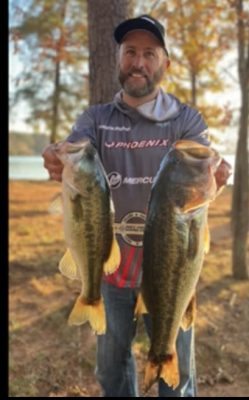 Taking 5th Place with 13.79 lbs! Shannon Breeding/Ricky Bomar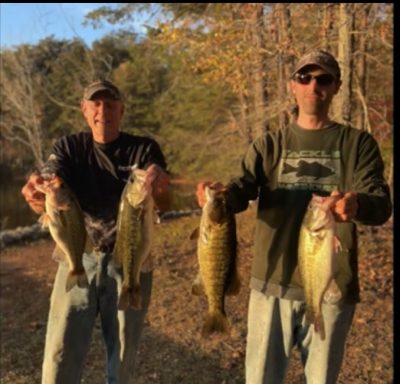 Jeff & Clay Ross 6th Place 13.75 lbs!
| | | | | | |
| --- | --- | --- | --- | --- | --- |
| | BIG | BIG | | | |
| TEAM | LM | SM | WEIGHT | WINNERS | POINTS |
| Mike Nichols/Mark Winn (Michael Nichols sub) | 6.29 | 3.88 | 21.37 | $1,910.00 | 100 |
| Ryan Mace/Wayne Mace | 6.28 | 0.00 | 16.57 | $1,050.00 | 99 |
| Brian Myers/Tommy Morgan | 5.24 | 3.54 | 15.32 | $670.00 | 98 |
| Tony Walker/Shaun Hunter | 4.86 | 0.00 | 14.28 | $330.00 | 97 |
| Shannon Breeding/Ricky Bomar | 4.97 | 0.00 | 13.79 | $210.00 | 96 |
| Jeff Ross/Clay Ross | 0.00 | 3.87 | 13.75 | $160.00 | 95 |
| Brody Luckey/Mike Luckey | 5.04 | 0.00 | 12.93 | $125.00 | 94 |
| Larry Witt/Danny Williams | 0.00 | 0.00 | 12.66 | $110.00 | 93 |
| Mike Bozeman/David Peters | 0.00 | 0.00 | 12.30 | $100.00 | 92 |
| Matt Atkins(Marty Howard sub)/Matt Foster(Chris Atkins sub) | 4.08 | 0.00 | 11.79 | $100.00 | 91 |
| Greg Basham/Nic Basham | 3.85 | 0.00 | 11.66 | | 90 |
| Kevin Jackson/Zack Clifford | 5.46 | 0.00 | 11.35 | | 89 |
| Colin Bennett/Dusty Bennett | 0.00 | 0.00 | 10.82 | | 88 |
| Curtis Talbott/Joey Talbott | 4.75 | 4.08 | 10.76 | $270.00 | 87 |
| Trey Thomasson/Stefan Ward (Parker Brogan) | 0.00 | 0.00 | 10.57 | | 86 |
| Charlie Davis/Scotty Howard | 0.00 | 0.00 | 10.37 | | 85 |
| Dylan Gray/Steve Mazingo | 0.00 | 0.00 | 10.28 | | 84 |
| Craig Blankenship/James Blankenship | 0.00 | 0.00 | 9.85 | | 83 |
| Justin Medeiros/Aaron Pickett | 0.00 | 0.00 | 9.64 | | 82 |
| Scott Stiltner/Wayne Nidiffer | 0.00 | 0.00 | 9.32 | | 81 |
| Zack LeMaster/Mike LeMaster | 0.00 | 0.00 | 8.89 | | 80 |
| Dustin Guthrie/Chip Woody | 0.00 | 0.00 | 8.83 | | 79 |
| Chris Dawson/Jerame Edwards | 0.00 | 0.00 | 7.48 | | 78 |
| Stanley Coffer/Anthony Whitley | 0.00 | 0.00 | 7.43 | | 77 |
| Ben Ashlock | 0.00 | 2.24 | 6.49 | | 76 |
| David Truslow/Mike Hayes | 0.00 | 0.00 | 5.53 | | 75 |
| Kent Clark/Dustin Wilhelm | 0.00 | 0.00 | 5.16 | | 74 |
| Joey Dawson/Kevin Dawson | 0.00 | 0.00 | 4.96 | | 73 |
| Robert Hudson/Ben Hudson | 0.00 | 0.00 | 4.31 | | 72 |
| Brandon Mcallister/Codie Nettles | 0.00 | 0.00 | 4.20 | | 71 |
| Bryan Harlow/Greg Chesnut | 0.00 | 0.00 | 2.16 | | 70 |
| Tyler Farmer/Josh Dudley | 0.00 | 0.00 | 0.00 | | 60 |
| Matt Powers/David Mills(Maurice Oakes sub) | 0.00 | 0.00 | 0.00 | | 60 |
| Ryan Suhy/Daniel Smathers(Dylan Gray sub) | 0.00 | 0.00 | 0.00 | | 60 |
| Aaron Scott(Lenny Wallace)/Shawn Holland | 0.00 | 0.00 | 0.00 | | 60 |
| Greg Stallings/Ricky Grant | 0.00 | 0.00 | 0.00 | | 60 |
| William Johnson/Robert Ford | 0.00 | 0.00 | 0.00 | | 60 |
| Kevin Lankford/Reno Mayberry | 0.00 | 0.00 | 0.00 | | 60 |
| Skye Riggleman | 0.00 | 0.00 | 0.00 | | 60 |
| Phillip Ragland/Bech Garrett | 0.00 | 0.00 | 0.00 | | 60 |
| Chris Hylton/Griffin Gibson | 0.00 | 0.00 | 0.00 | | 60 |
| Billy Orr/Jon Parsons | 0.00 | 0.00 | 0.00 | | 60 |
| Bert Smith/Kyle Smith | 0.00 | 0.00 | 0.00 | | 60 |
| Harry Townsend/Mark Weaver | 0.00 | 0.00 | 0.00 | | 60 |
| Terry Jones/Chris Eads | 0.00 | 0.00 | 0.00 | | 60 |
| Steve Roberts/Mark Cooper | 0.00 | 0.00 | 0.00 | | 60 |
| Mickey Bergeron/Craig Wright | 0.00 | 0.00 | 0.00 | | 60 |
| Jim Adamczak/Henry Camper | 0.00 | 0.00 | 0.00 | | 60 |
| Brandon Reynolds | 0.00 | 0.00 | 0.00 | | 60 |
| Adrian Moore/Matt Williamson | 0.00 | 0.00 | 0.00 | | 60 |
| Tyler Calloway/Ben Dalton(Chris Passmore) | 0.00 | 0.00 | 0.00 | | 60 |
| Josh Kidd | 0.00 | 0.00 | 0.00 | | 60 |
| Hunter Weikle/Alex Watts | 0.00 | 0.00 | 0.00 | | 60 |
| Dennis Lambert/Jacob Lambert | 0.00 | 0.00 | 0.00 | | 60 |
| Total Entrys | | | | $4,320.00 | |
| BONUS $ | | | | $1,350.00 | |
| Total Paid At Ramp | | | | $5,035.00 | |
| CATT | | | | $50.00 | |
| SML 2023 Fall Final Fund | | | | $535.00 | |
| 2024 CATT Championship | | | | $50.00 | |
| 2023 SML Fall Point Fund | | | | $1,030.00 | |
| 2023 SML Fall Final Fund Total | | | | $940.00 | |