Next up on Smith Mtn Lake is the Phantom Outdoor Invitational Nov 13 at Parkway Marina!
NO MEMBERSHIP REQUIRED!
NO OFF LIMITS!
Normal CATT Rules Apply!
Pre Pay on Line or at Ramp Morning of!
Tap on "Shop" then "Tournaments"
$5,000 1st Place based on 50 teams entering!
Entry Fee: $200 ($210 at the ramp)
Enter 1 or more side pots or none! Optional!
Platinum BONUS $100 (Paying 3 Places)
Gold BONUS $50 (Paying up to 3 Places)
Silver BONUS $25 (Paying up to 2 Places)
Blastoff # Determined by Order of Payment!
Safe light – 3 PM weigh in.
Paying 2 Big Fish Places and 1 Place for Every 7 Teams Entered!
No Pros!
Robert Smith & Russell Headley win Smith Mtn with 5 bass weighing 17.82 lbs PLUS they weighed in the Big Largemouth at 5.97 lbs!! They took home $1,275.00!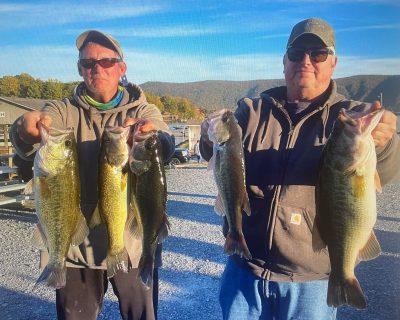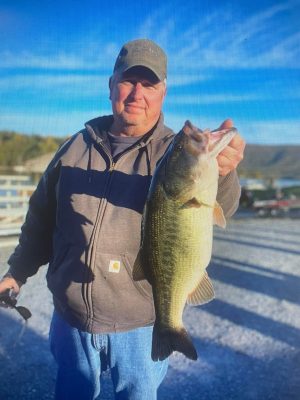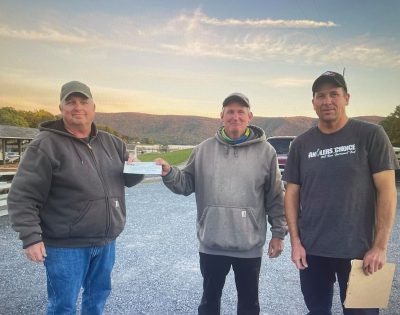 Tyler Jordan & Jackson Norton claimed 2nd with 5 bass weighing 16.06 lbs worth $1,260.00!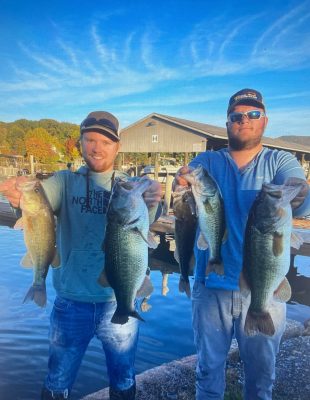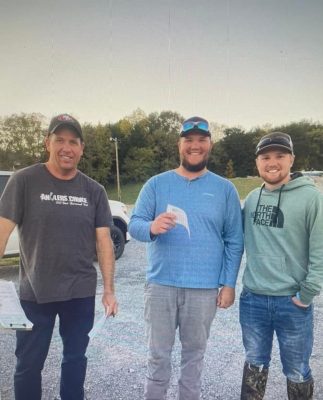 3rd went to Landon Siggers & Jacob Johnson with 15.84 lbs. They collected $1,030.00!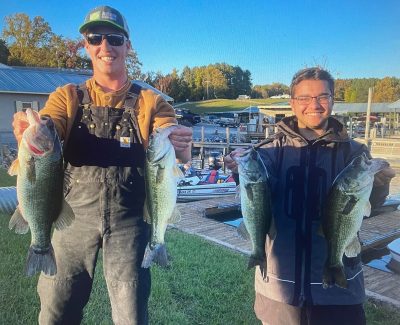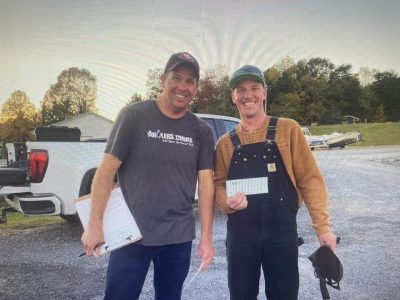 | | | | | | |
| --- | --- | --- | --- | --- | --- |
| 54 Teams | BIG | BIG | | | |
| TEAM | SM | LM | Weight | Winnings | Points |
| Robert Smith/Russell Headley | 0.00 | 5.97 | 17.82 | $1,275.00 | 110 |
| Tyler Jordan/Jackson Norton | 0.00 | 5.89 | 16.06 | $1,260.00 | 109 |
| Landon Siggers/Jacob Johnson | 0.00 | 3.87 | 15.84 | $1,030.00 | 108 |
| David Peters/Mike Bozeman | 0.00 | 0.00 | 15.52 | $570.00 | 107 |
| Conner Hardy/Aaron Scott | 0.00 | 5.72 | 15.03 | $220.00 | 106 |
| Charlie Davis/Scotty Howard | 0.00 | 4.27 | 14.83 | $170.00 | 105 |
| John Woodroof/Steve Woodroof | 0.00 | 4.78 | 14.52 | $130.00 | 104 |
| Greg Basham | 0.00 | 5.06 | 14.33 | $120.00 | 103 |
| Bryant Copley | 0.00 | 3.93 | 14.21 | $110.00 | 102 |
| Johnny Cole/Jay Nicely | 0.00 | 5.26 | 13.22 | $100.00 | 101 |
| Geoff Tuck/Mark Tuck | 0.00 | 3.44 | 12.97 | $80.00 | 100 |
| Shaun Hunter/Tony Walker | 0.00 | 3.71 | 12.85 | | 99 |
| Brandon Reynolds/Ben Reynolds | 0.00 | 0.00 | 12.65 | | 98 |
| Tommy Morgan/Brian Myers | 0.00 | 3.95 | 12.41 | | 97 |
| Robert Barton Sr./Robert Barton Jr. | 0.00 | 4.00 | 12.36 | | 96 |
| Craig Blankenship/Jimmy Blankenship | 0.00 | 4.64 | 12.02 | | 95 |
| Donnie Wyatt/Matt Kleunder | 0.00 | 3.91 | 11.84 | | 94 |
| Ryan Mace/Wayne Mace | 0.00 | 0.00 | 11.72 | | 93 |
| Collin Bennett/Chase Bennett | 0.00 | 0.00 | 11.53 | | 92 |
| Jeff Ross/Clay Ross | 0.00 | 0.00 | 11.47 | | 91 |
| Scott Stiltner/Lewis Williams | 0.00 | 5.94 | 11.22 | | 90 |
| Bryan Calloway/Tony Toombs | 0.00 | 4.60 | 10.96 | | 89 |
| Mike Toney/Robert Rice | 0.00 | 0.00 | 10.76 | | 88 |
| Jeff Newman/William Hubbard | 0.00 | 0.00 | 10.46 | | 87 |
| Ryan Parnell/CJ Hagerty | 0.00 | 0.00 | 10.24 | | 86 |
| Mike Hayes/David Truslow | 0.00 | 0.00 | 10.10 | | 85 |
| Joey Dawson/Kevin Dawson | 0.00 | 0.00 | 10.08 | | 84 |
| Nelson Troyer | 0.00 | 0.00 | 10.01 | | 83 |
| John Robinson/Kenneth Haley | 3.63 | 0.00 | 9.63 | | 82 |
| Steve Mazingo/Dylan Gray | 0.00 | 0.00 | 9.33 | | 81 |
| Zach LeMaster/Parker Brogan | 0.00 | 3.13 | 9.07 | | 80 |
| Billy Kohls/Will Petty | 0.00 | 0.00 | 9.02 | | 79 |
| Larry Witt | 0.00 | 5.73 | 8.79 | | 78 |
| Matt Harmon/Jesse Argenbright | 0.00 | 5.37 | 8.78 | | 77 |
| Daniel Smathers/Ryan Suhy | 4.03 | 0.00 | 7.66 | $275.00 | 76 |
| Jerame Edwards/Chris Dawson | 0.00 | 4.27 | 7.02 | | 75 |
| Greg Stallings/Ricky Grant | 0.00 | 0.00 | 4.30 | | 74 |
| Mark Winn/Mike Nichols | 0.00 | 0.00 | 0.00 | | 64 |
| Randy Rose/Tim Rose | 0.00 | 0.00 | 0.00 | | 64 |
| Paul Watson/Melissa Watson | 0.00 | 0.00 | 0.00 | | 64 |
| Mackenzie Mabe | 0.00 | 0.00 | 0.00 | | 64 |
| Mike Massie | 0.00 | 0.00 | 0.00 | | 64 |
| Adrian Moore/Matt Williamson | 0.00 | 0.00 | 0.00 | | 64 |
| Zach Cassell/Mason Knick | 0.00 | 0.00 | 0.00 | | 64 |
| Brad Markin/Chris Markin | 0.00 | 0.00 | 0.00 | | 64 |
| Harry Townsend/Mark Weaver | 0.00 | 0.00 | 0.00 | | 64 |
| Terry Jones/Keith Chrisley | 0.00 | 0.00 | 0.00 | | 64 |
| Roy Morgan/Zack Hall | 0.00 | 0.00 | 0.00 | | 64 |
| Joey Talbott/Fisher Talbott | 0.00 | 0.00 | 0.00 | | 64 |
| Billy Cockrell/Hayden Cockrell | 0.00 | 0.00 | 0.00 | | 64 |
| Shannon Breeding/Mike Altizer | 0.00 | 0.00 | 0.00 | | 64 |
| Rick Tilley Jr./Rick Tilley Sr. | 0.00 | 0.00 | 0.00 | | 64 |
| Bryan Harlow/Greg Chestnutt | 0.00 | 0.00 | 0.00 | | 64 |
| Matt Powers/Justin Medeiros | 0.00 | 0.00 | 0.00 | | 64 |
| Total Entrys | | | | $4,320.00 | |
| BONUS $ | | | | $1,650.00 | |
| Total Paid At Ramp | | | | $5,340.00 | |
| SML 2021 Fall Final Fund | | | | $465.00 | |
| 2022 CATT Championship/Phantom Fund | | | | $50.00 | |
| 2021 SML Fall Final Fund Total | | | | $465.00 | |