Next SML Fall CATT is Nov 3rd at Parkway Marina!'
We're off to another great start this fall with 32 teams entering! The weather stopped some from coming! With a nice day we may have 50 teams at the next one November 3rd! Come join us!
Luke Nichols & Matt Powers collected $1,180.00 and 1st Place with a fine bag weighing up at 18.23 lbs!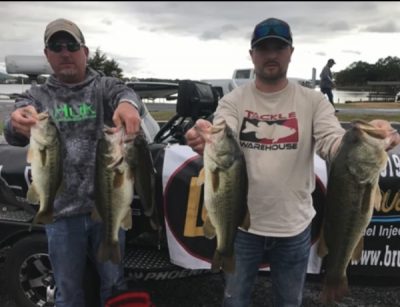 Donnie Wyatt & Daryl Wyatt claimed the runner up spot with 15.85 lbs!
3rd went to Eric Catlett & Bryan Harlow with 14.67 lbs!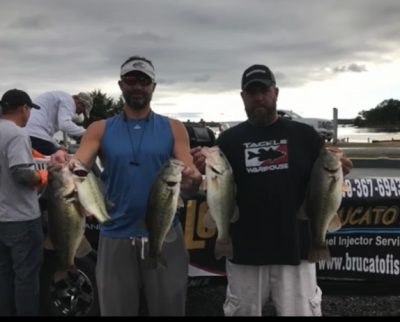 4th went to Brian Meyers & Tommy Morgan!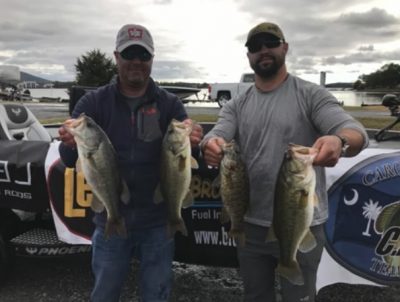 Scotty Howard & Charlie Davis 5th!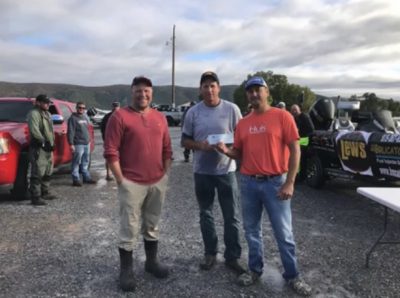 Joey & Kevin Dawson 6th Place!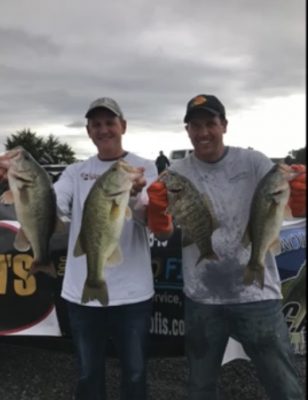 | | | | | | |
| --- | --- | --- | --- | --- | --- |
| 32 TEAMS | Big SM | Big LM | Weight | Winnings | Points |
| Luke Nichols/Matt Powers | 0.00 | 5.42 | 18.23 | $1,180.00 | 110 |
| Donnie Wyatt/Daryl Wyatt | 3.44 | 3.97 | 15.85 | $875.00 | 109 |
| Eric Catlett / Bryan Harlow | 0.00 | 4.20 | 14.67 | $275.00 | 108 |
| Brian Meyers / Tommy Morgan | 1.94 | 3.95 | 13.57 | $280.00 | 107 |
| Scotty Howard/Charlie Davis | 0.00 | 3.59 | 13.49 | $115.00 | 106 |
| Joey Dawson / Kevin Dawson | 0.00 | 4.11 | 13.17 | $100.00 | 105 |
| Shannon Breeding/Mike Altizer | 0.00 | 3.35 | 12.54 | | 104 |
| Justin Medeiros/Aaron Pickett | 0.00 | 3.81 | 12.17 | | 103 |
| Bryan Copley/Steve Woodroof | 0.00 | 4.25 | 12.00 | | 102 |
| Joey Talbott/Ryan Atkins | 0.00 | 4.44 | 11.98 | | 101 |
| Geoff Tuck/Devon Tuck (Mark Tuck Sub) | 0.00 | 3.40 | 10.29 | | 100 |
| Mike Toney / Damien McMahon | 0.00 | 3.49 | 9.75 | | 99 |
| Scott Stiltner / Jeff Davis | 0.00 | 0.00 | 9.20 | | 98 |
| Jerame Edwards/Chris Dawson | 3.36 | 0.00 | 9.00 | | 97 |
| Steve West/Jason Irby (Eddie Fore Sub) | 3.24 | 0.00 | 8.91 | | 96 |
| Tyler Farmer/Josh Dudley | 0.00 | 5.44 | 5.44 | $160.00 | 95 |
| Zack LeMaster/Josh Greenberg | 0.00 | 0.00 | 5.00 | | 94 |
| Josh Ashley | 0.00 | 0.00 | | | 94 |
| Ian Mcroy / Josh Ingram | 0.00 | 0.00 | | | 94 |
| Johnny Martin / Chad Green | 0.00 | 0.00 | | | 94 |
| David Mills / Shane Mills | 0.00 | 0.00 | | | 94 |
| Daniel Smathers(Craig Wright sub)/Ryan Suhy | 0.00 | 0.00 | | | 94 |
| Ben Reynolds / Brandon Reynolds | 0.00 | 0.00 | | | 94 |
| Bryan Calloway-Jeff Newman | 0.00 | 0.00 | | | 94 |
| Lewis Williams/Josh Long | 0.00 | 0.00 | | | 94 |
| Mark Weaver/Harry Townsend | 0.00 | 0.00 | | | 94 |
| Wayne Nidiffer/Charlie Gentry | 0.00 | 0.00 | | | 94 |
| Bryan Humphreys/Maurice Oakes | 0.00 | 0.00 | | | 94 |
| William Johnson/Robert Ford | 0.00 | 0.00 | | | 94 |
| Joe Dehart (Clifford Brown Sub)/Chris Dehart | 0.00 | 0.00 | | | 94 |
| Clay Ross/Jeff Ross | 0.00 | 0.00 | | | 94 |
| Jacob Johnson/Cantley Krafft | 0.00 | 0.00 | | | 94 |
| Total Entrys | | | | $2,560.00 | |
| BONUS $ | | | | $950.00 | |
| Total Paid At Ramp | | | | $2,985.00 | |
| SML 2019 Fall Final Fund | | | | $445.00 | |
| 2020CATT Championship/Phantom Fund | | | | $50.00 | |
| 2019 SML Fall Final Fund Total | | | | $445.00 | |
| 2020 CATT Championship/Phantom Fund Total | | | | $1,215.00 | |