We started out fast on Smith Mtn back in the Spring and finished up with a bang! Huge shout out to Kevin & Joey Dawson for running a great trail! Smith Mtn CATT has seen some huge growth since last Spring! The 2019 SML CATT Spring Trail paid back $9,240.00! The 2020 SML CATT Trail paid back $18,640.00! The 2020 payback would have been off the charts if the season hadn't been interrupted! We'll see you guys in the Fall! Mark your calendar – we will hold the SML Phantom Invitational Oct 17th! You don't want to miss it! For more info on the Phantom Invitational clock on  Divisions at the top of the CATT Home Page!

Use PHANTOMCATT15 and earn 15% off your order at check out!
Matt Powers & Luke Mitchell win the SML Spring Final with a limit weighing 21.58 lbs! Great bag guys! They took home $2,420.00!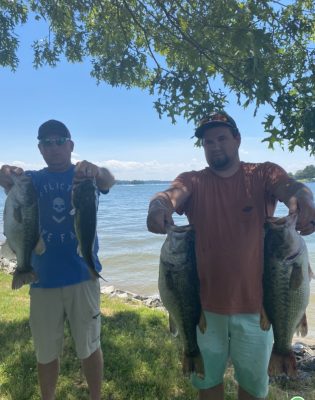 Trevis & Danny Towe finished 2nd and took home $1,280.00!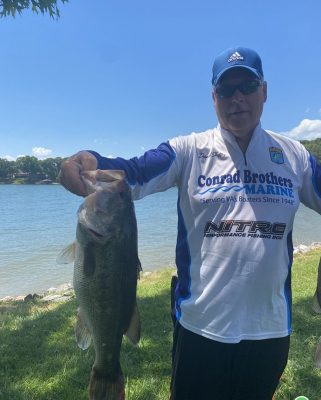 3rd went to Chad Bowman with 20.17 lbs!
Daniel Smathers received a Lews Baitcast Reel for weighing in the largest bass of the Spring Trail – 7.18 lbs!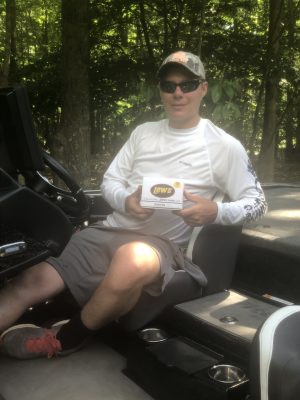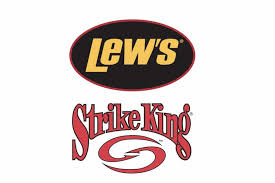 | | | | | |
| --- | --- | --- | --- | --- |
| 24 Teams | BSM | BLM | Weight | Winnings |
| Matt Powers/Luke Mitchell | 0.00 | 7.16 | 21.58 | $2,420.00 |
| Trevis Towe/Danny Towe | 5.66 | 6.34 | 20.41 | $1,280.00 |
| Chad Bowman | 0.00 | 6.96 | 20.17 | $555.00 |
| Jimmy Blankenship(Susan Blankenship)/Craig Blankenship | 0.00 | 6.98 | 18.98 | $350.00 |
| David Mills/Shane Mills | 0.00 | 6.32 | 18.65 | |
| Robert Barton/Bobby Barton | 5.15 | 6.90 | 18.25 | |
| Mike Nichols | 5.59 | 0.00 | 17.52 | |
| Mark Weaver/Harry Townsend | 0.00 | 6.48 | 16.82 | |
| Shannon Breeding/Mike Altizer | 0.00 | 6.76 | 16.66 | |
| Todd Mabry/Zach Mabry | 5.49 | 0.00 | 16.51 | |
| Johnny Cole/Jay Nicely | 0.00 | 8.35 | 16.29 | $120.00 |
| Michael Toney/Damien McMahon | 0.00 | 0.00 | 15.98 | |
| Jeff Ross/Clay Ross | 0.00 | 0.00 | 15.58 | |
| Bryant Copley/Steve Woodroof | 0.00 | 5.86 | 15.18 | |
| Connor Hardy | 0.00 | 5.55 | 14.90 | |
| Michael Massie | 0.00 | 0.00 | 14.06 | |
| Jeremy Kent/Brendan Kent | 0.00 | 0.00 | 13.44 | |
| Donald Sheffey/Donald Sheffey Jr. | 0.00 | 8.06 | 13.13 | |
| Dennis Siggers/Daryl Wyatt | 5.90 | 0.00 | 12.89 | $120.00 |
| Daniel Smathers/Ryan Suhy | 0.00 | 0.00 | 12.45 | |
| Joey Dawson/Kevin Dawson | 0.00 | 0.00 | 11.39 | |
| Chad Pilson/Elliott Pilson | 0.00 | 0.00 | 0.00 | |
| Eric Catlett/Bryan Harlow | 0.00 | 0.00 | 0.00 | |
| Charles Fochtman | 0.00 | 0.00 | 0.00 | |
| Total Entrys | | | | $2,760.00 |
| BONUS $ | | | | $700.00 |
| Smith Mtn Spring Final Fund | | | | $1,375.00 |
| Total Paid At Ramp | | | | $4,845.00 |
| Total Paid Spring 2019 Smith Mtn | | | | $18,640.00 |