For it still being hunting season we had a good crowd gather at Pack's Landing for the 1st ever Sparkleberry Swamp Quest CATT! Entry is only $60 at these so guys come on out January 19th to the #2 Swamp Quest at Packs! ONLY 60 HP engines and under for this Trail!
In the past we never publicized when we had a polygraph at a CATT events but with social media these days we'll let you know about some. This past Saturday we polygraphed 1 member of the top 2 teams. Everything was good!
On your next order use PHANTOMCATT15 and receive 15% off! They also have a hunting line! Great stuff!

1st Place belonged to Bucky DeBerry & Mike Kirby with 23.35 lbs!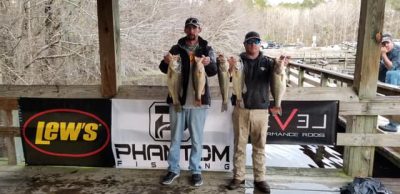 2nd went to Lee Morris and Robert Ross with 19.80 lbs!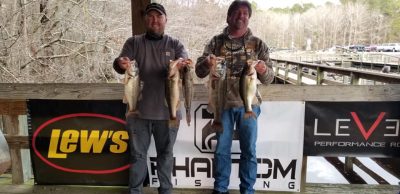 | | | | | |
| --- | --- | --- | --- | --- |
| | Big | Total | Total | |
| Team | Fish | Weight | Winnings | Points |
| Mike Kirby – Bucky DeBerry  BF | 6.75 | 23.35 | $695.00 | 110 |
| Lee Morris – Robert Ross | 6.01 | 19.80 | $170.00 | 109 |
| Brian Scott – Brad Beatson | 5.13 | 19.71 | | 108 |
| Paul Geddings – Bruce Peavy | 4.93 | 16.72 | | 107 |
| Buddy Holmes – Brandon Evans | 5.19 | 15.24 | | 106 |
| Sandy Oliver – Sam Hopkins | 4.36 | 13.49 | | 105 |
| Zack Hayes – Roddy Cross | 2.85 | 11.16 | | 104 |
| Jeremy Bradley – Steve Drummond | 0.00 | 7.56 | | 103 |
| Justin Johnson | 3.56 | 6.65 | | 102 |
| David Eargle – Reggie Hopkins | 0.00 | 5.38 | | 101 |
| Brent Waynick – Rodney Jordan | 0.00 | 0.00 | | 100 |
| Jason Bateman – Steve Phillips | 0.00 | 0.00 | | 100 |
| Todd Gaymon | 0.00 | 0.00 | | 100 |
| Wesley Bilton – Trez Wienges | 0.00 | 0.00 | | 100 |
| Total Entrys | | | $700.00 | |
| BONUS $ | | | $325.00 | |
| Total Paid At Ramp | | | $865.00 | |
| Norman Fall 2018 Final Fund | | | $160.00 | |
| 2019 CATT Championship Fund | | | $0.00 | |
| 2018 Norman Fall Final Fund Total | | | $160.00 | |
| 2019  CATT Championship Fund Total | | | $2,390.00 | |