Next Tidewater CATT is April 27 at North River Landing – Pungo Ferry! Tell your friends and lets build up the Tidewater Division!
Remember guys the CATT Championship is coming in June!

2019 Academy CATT Championship June 1-2 Kerr Lake!
$10,000.00 1st Place GUARANTEED!
(Stay Tuned – 1st Place $$ May be Increased!)
New Nutbush Ramp – Kerr State Park!
A team or solo angler must fish 3 CATT events to Qualify!
You can get in your 3 events by fishing any CATT Fall 2018 and CATT Spring 2019!
Qualifying is simple!
Enter 1 CATT event as a team – Entering solo or with a Sub also counts toward your teams Championship Qualification!
The 3 events do not have to be in the same CATT Trail!
$200 Per Team Entry
Optional Platinum BONUS $100
Optional BONUS $50
Shawn Hammock & Larry Freeman laid it to the rest of the field with 5 bass weighing 21.03 lbs wth a BF at 6.03 lbs! They took home $1,005.00!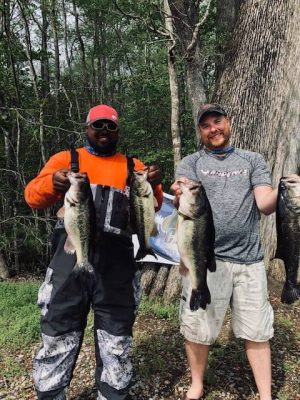 Bobby & Dawson Dunlow grabbed 2nd with 16.02 lbs!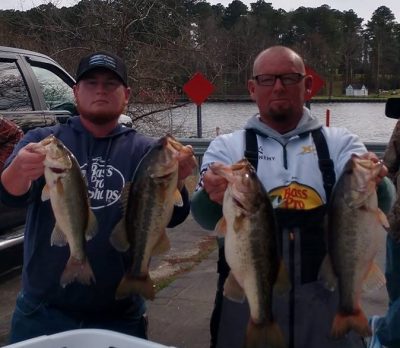 Powell Kemp & Mike Chlomodis finished 3rd with 15.12 lbs and a BF at 7.12 lbs!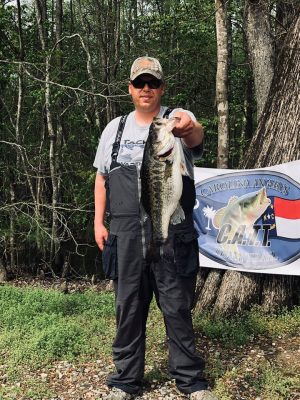 Clay Powers with some good ones!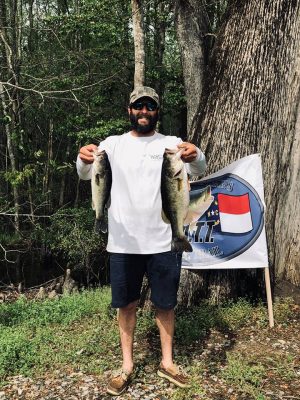 Joe Glazebrook & Mike Evans looking good!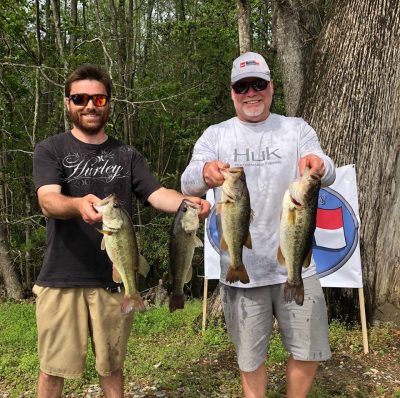 Jonathan Cobb with a couple of nice Chowan River Bass!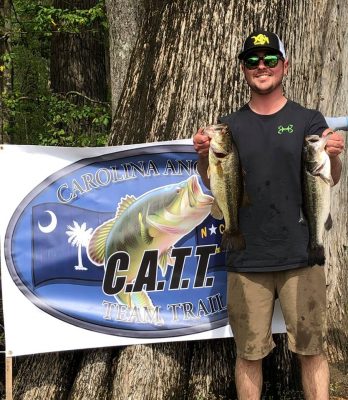 | | | | | |
| --- | --- | --- | --- | --- |
| | Big | Total | Total | |
| 15 Teams | Fish | Weight | Winnings | Points |
| Shawn Hammock – Larry Freeman | 6.08 | 21.03 | $1,005.00 | 110 |
| Bobby Dunlow – Dawson Dunlow | 3.01 | 16.02 | $350.00 | 109 |
| Powell Kemp – Mike Chlomodis | 7.12 | 15.12 | $165.00 | 108 |
| Jeremy Gatewood – Jarred Allbritten | 0.00 | 12.10 | | 107 |
| Clay Powers | 0.00 | 12.09 | | 106 |
| Joe Glazebrook – Mike Evans | 0.00 | 12.02 | | 105 |
| Ronnie Ketchum – Benny Hendricks | 0.00 | 10.09 | | 104 |
| David Dozier – Richard Hall | 0.00 | 9.08 | | 103 |
| Russell Gammon – John Lane | 0.00 | 9.07 | | 102 |
| Ken Kipler – Shawn Dunlap | 0.00 | 8.01 | | 101 |
| Jonathan Cobb – Joe Cobb | 3.08 | 6.14 | | 100 |
| Larry Barefoot – Charles Small | 0.00 | 6.01 | | 99 |
| Stacy Light – Mike Askew | 0.00 | 0.00 | | 98 |
| Jeff Hayden – Benny Cannon | 0.00 | 0.00 | | 98 |
| Matt Jennings – Mark London | 0.00 | 0.00 | | 98 |
| Total Entrys | | | $1,800.00 | |
| BONUS $ | | | $125.00 | |
| Total Paid At Ramp | | | $1,520.00 | |
| 2019 Tidewater Final Fund | | | $330.00 | |
| 2019 CATT Championship Fund | | | $75.00 | |
| 2019 Tidewater Final Fund Total | | | $830.00 | |
| 2019 CATT Championship Fund Total | | | $4,890.00 | |