The

CATT Tidewater Division

second tournament of the year went out of Pembroke creek today and we were rewarded with a whole lot better weather this weekend then what we were dealt last Saturday. We appreciate the patience with the cancellation of last weekend's tournament due to inclement weather and the 46 teams that showed up today. Those teams were rewarded with good conditions and some impressive bags as the results proved once again that we are fortunate to have a great fishery! No one proved that better than the team of Ryan Broughman and Caleb Copeland who brought a giant bag of bass to the scales weighing 27.46 lbs with an 8.81lb lunker to anchor there winning bag and take home a $2625 payday! After their winning bag things got much tighter. The team of Michael Kellet and Bobby Dunlow took home $1080 for a impressive second place bag weighing 22.31lbs with another 8.81 lunker. The rest of the teams placing in the money were as follows.
3rd Keith Jennings/ Jerry Murray 21.76 lbs
4th Quintin Chappell 20.90 lbs
5th Hunter Holloway/Bryan Hendricks 20.07 lbs
6th Michael Evans/ Brian Meadows 19.53 lbs
7th Michael Lassiter/Justin Brittenham 19.50 lbs
8th Brian Cooper/Heath Parker 18.15 lbs
9th Bubba Banks/Tommy Banks 16.38 lbs
 Our next tournament will be next Saturday April 22nd out of new ramp on Perquimans.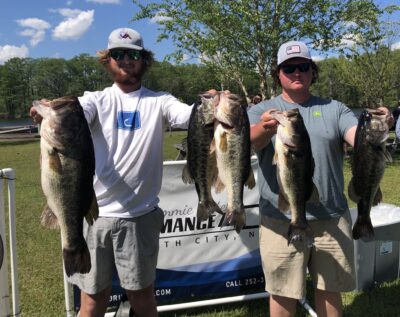 Ryan Broughman and Caleb Copeland with a SACK! 27.46 lbs! $2,625.00!
| | | | | |
| --- | --- | --- | --- | --- |
| Team | BF | Weight | Winnings | Points |
| Ryan Broughman – Caleb Copeland | 8.81 | 27.46 | $2,625.00 | 110 |
| Michael Kellett – Bobby Dunlow | 8.81 | 22.31 | $1,080.00 | 109 |
| Keith Jennings – Jerry Murray | 5.70 | 21.76 | $550.00 | 108 |
| Quinton Chappell | 7.01 | 20.90 | $425.00 | 107 |
| Hunter Holloman – Bryan Hendricks | 6.18 | 20.70 | $310.00 | 106 |
| Michael Evans – Brian Meadows | 4.63 | 19.53 | $225.00 | 105 |
| Michale Lassiter – Justin Brittanham | 6.98 | 19.50 | $180.00 | 104 |
| Brian Cooper – Heath Parker | 0.00 | 18.15 | $140.00 | 103 |
| Bubba Banks – Tommy Banks | 7.35 | 16.38 | $125.00 | 102 |
| JR Milligan | 0.00 | 15.89 | | 101 |
| Scott Rock – Jaden Rock | 6.47 | 15.69 | | 100 |
| Nathan Welch – Ethan Welch | 5.40 | 15.51 | | 99 |
| Jordan Sanderlin – Andrew George | 0.00 | 15.24 | | 98 |
| Eugene Foushee – Brandon Johnson | 5.90 | 15.22 | | 97 |
| Kirk Nixon – Trent Nixon | 0.00 | 15.16 | | 96 |
| Tommy Houlroyd | 0.00 | 15.03 | | 95 |
| Nick Meek – Kyle Verkullen | 0.00 | 15.00 | | 94 |
| Lloyd Sanderlin – John Sanderlin | 0.00 | 14.87 | | 93 |
| Jim Dick – Greg Dick | 4.25 | 14.12 | | 92 |
| Derek Goodman – Gary Dibrito | 0.00 | 13.23 | | 91 |
| JA Williford – Mike Layton | 0.00 | 13.15 | | 90 |
| Michael Williams – Kevin Ross | 0.00 | 12.98 | | 89 |
| Russell Gammon | 0.00 | 12.37 | | 88 |
| Steve Brickhouse – James Williams | 0.00 | 12.21 | | 87 |
| Kevin Jones – Tyler Jones | 0.00 | 11.81 | | 86 |
| Joe Glazebrook – Brad Higginbotham | 5.37 | 11.76 | | 85 |
| Charlie Reed – Jeremy Gatewood | 0.00 | 11.61 | | 84 |
| Eric Powell | 0.00 | 11.58 | | 83 |
| David Buchanan – Brian Richardson | 0.00 | 11.53 | | 82 |
| Larry Barefoot | 0.00 | 11.45 | | 81 |
| Brian Jackson – Billy Saunders | 0.00 | 10.92 | | 80 |
| Cody Mathews – Marty Mathews | 0.00 | 10.68 | | 79 |
| Al Biagioni – John LaRock | 0.00 | 10.32 | | 78 |
| Marshall Williford – Jacob Pierce | 0.00 | 10.26 | | 77 |
| Mike & Ben Knapp | 0.00 | 10.02 | | 76 |
| Mike Scott – JP Scott | 0.00 | 9.66 | | 75 |
| Brent Thomas – Ethan Thomas | 0.00 | 9.64 | | 74 |
| David Shaffer – Scott Shaffer | 0.00 | 9.52 | | 73 |
| Tony Baker – Edwin Johanees | 3.55 | 6.60 | | 72 |
| Rick Plemons – Chris Pike | 0.00 | 6.43 | | 71 |
| Matt Anderson | 0.00 | 1.22 | | 70 |
| Richard Browder – Brett Overton | 0.00 | 0.00 | | 60 |
| Kenneth Moore  – Joseph Eure | 0.00 | 0.00 | | 60 |
| Adam Britton – Riley Britton | 0.00 | 0.00 | | 60 |
| Mike Askew – Brandon Vaughan | 0.00 | 0.00 | | 60 |
| Powell Kemp | 0.00 | 0.00 | | 60 |
| Total Entrys | | | $5,400.00 | |
| BONUS $ | | | $675.00 | |
| Total Paid At Ramp | | | $5,660.00 | |
| CATT | | | $50.00 | |
| 2023 Tidewater Final Fund | | | $415.00 | |
| 2023 CATT Championship Fund | | | $75.00 | |
| 2023 Tidewater Final Fund Total | | | $800.00 | |