Next up is the Tidewater Final May 26th at the Pasquatank River launching from Waterfront Park! We have 32 teams eligible to enter the Tidewater Final and over $1,200.00 in the Tidewater Final Fund! If at least 25 of the 32 teams enter we'll have a purse over $5,000.00 up for grabs!
Guys for our 1st time being in the area the Trail has done great thanks to Matt & Dawn Jennings! Help up spread the word and let your friends know about the next CATT Trail in your area!
The North River did not disappoint this past Saturday! The morning blast off was met with clear conditions and a whole lot of mosquitos! I'm pretty sure after yesterday that the mosquito should be the official county bird. At the end of the day the North River showed out big time with everyone who came to the scales weighing a 5 fish limit. Multiple teams reported catching as many as 50 fish. Coming out at the top of the leaderboard at the end of the day were the team of Matt Jennings and Mark London with 23lbs 10oz anchored by a 6lb 10oz big fish. A very close second was the team of Anthony Shawler and Lloyd Sanderlin with 23lbs 7oz with the a 6lb 6oz lunker. Jeff and Derek Hayden brought in 18lbs 9oz to the scales for third place. The fourth place of Ian Vandyke and Larry Haywod had a healthy weight of 18lbs 7oz to finish out the payday. Congratulations to Jeremy Gatewood and Jared Allbritten for finishing the season as our points champion and earning a free entry to the division championship on the Pasquotank River May 26th. Anyone who has fished at least one of the CATT tidewater division tournaments this year is eligible to fish the division championship on the Pasquotank. We would like to say thanks to everyone who chose to come out and fish with us in our inaugural season. We would look forward to seeing you at the divisional championship! 
Mark London & Matt Jennings 1st Place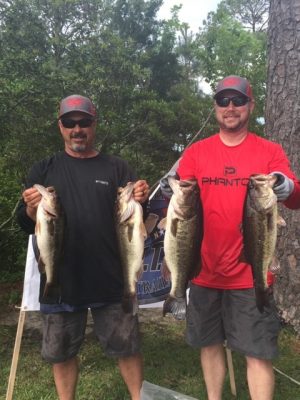 Matt with the 1st BF!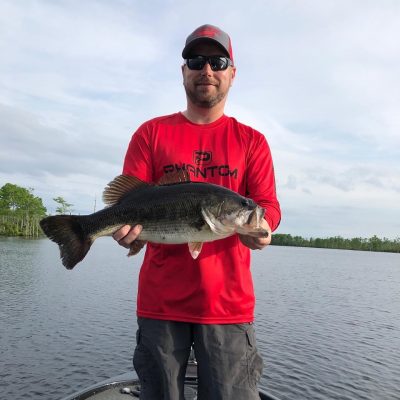 2nd Place Anthony Shawler & Lloyd Sanderlin!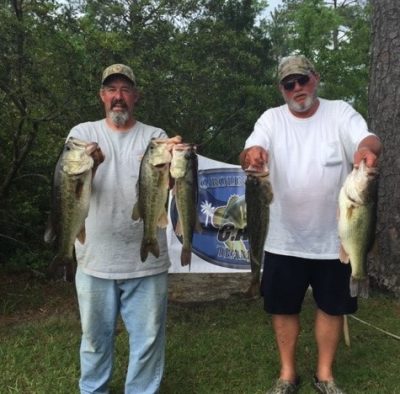 | | | | | |
| --- | --- | --- | --- | --- |
| | Big | Total | Total | |
| 20 Teams | Fish | Weight | Winnings | Points |
| Matt Jennings – Mark London | 6.10 | 23.10 | $1,315.00 | 110 |
| Anthony Shawler – Lloyd Sanderlin | 6.06 | 23.07 | $510.00 | 109 |
| Jeff Hayden – Derek Hayden | 5.04 | 18.09 | $200.00 | 108 |
| Ian Vandyke – Larry Haywood | 5.04 | 18.07 | $120.00 | 107 |
| JP Scott – Mike Scott | 0.00 | 17.11 | | 106 |
| Keith Jennings – Danny Murray | 5.06 | 17.00 | | 105 |
| Joe Cobb – Jonathan Cobb | 0.00 | 16.03 | | 104 |
| Jeremy Gatewood – Charlie Reed | 0.00 | 14.11 | | 103 |
| Ken Kipler – Shawn Dunlap | 0.00 | 14.02 | | 102 |
| Paul Nolan – Clay Powers | 0.00 | 14.00 | | 101 |
| Russell Gammons – John Lane | 0.00 | 13.14 | | 100 |
| Ronnie Ketchum – Benny Hendricks | 0.00 | 13.02 | | 99 |
| Kevin Jones – Gerald Murray | 0.00 | 11.12 | | 98 |
| Mark Moore – Ray Cobb | 4.08 | 11.04 | | 97 |
| Stacy Light – Mike Askew | 4.12 | 11.00 | | 96 |
| Jimmy Dick – Greg Dick | 4.08 | 10.05 | | 95 |
| Gill Burk – George Voght | 0.00 | 10.02 | | 94 |
| Chris Carmell – Jason Woodard | 0.00 | 0.00 | | 93 |
| David Dozier – Ricahrd Hall | 0.00 | 0.00 | | 93 |
| Heath Parker – Brain Cooper | 0.00 | 0.00 | | 93 |
| Total Entrys | | | $2,400.00 | |
| BONUS $ | | | $175.00 | |
| Total Paid At Ramp | | | $2,145.00 | |
| 2019 Tidewater Final Fund | | | $380.00 | |
| 2019 CATT Championship Fund | | | $50.00 | |
| 2019 Tidewater Final Fund Total | | | $1,210.00 | |
| 2019 CATT Championship Fund Total | | | $5,335.00 | |