Man oh man was it cold this morning when 35 diehard teams took off on the Paquotank river. Big thanks to ALL the teams that came out and fished with us today. I don't think we've figured out if they were all crazy or brave so I guess it was a little bit of both.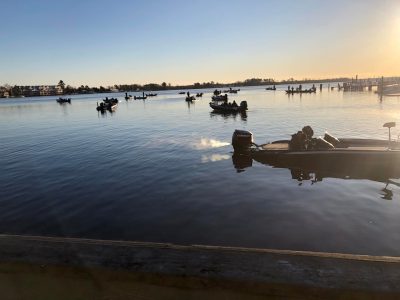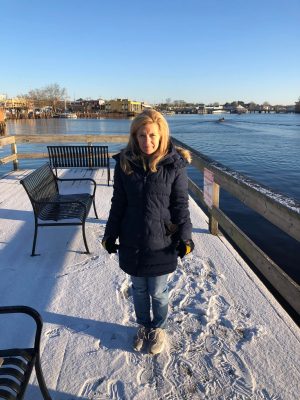 I thought it was gonna go down as a really tough day and it was for some of the teams. But quite a few teams surprised us and brought nice bags of fish to the scales. Today was a true testimony to how good the rivers are right now. We had 9 fish over six pounds come to the scales today led by a 8.61 lber caught by the team of Brandon Johnson and Eugene Foushee. Brian Cooper and Mike Evans took home a $2,025.00 payday for there winning bag weighing 22.02 lbs!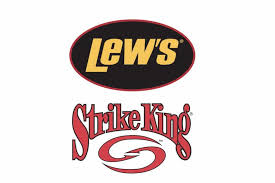 The top seven teams received checks today.
Our next tournament will be March 26th on the Perquimans river.
1.Brian Cooper/ Mike Evans 22.02 lbs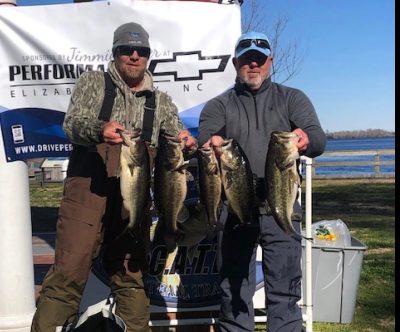 2.Ken Kipler/Shawn Dunlap 21.92 lbs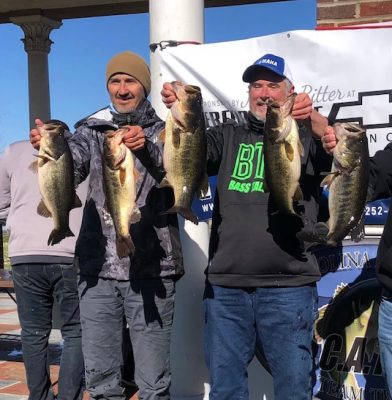 3.David Ward/Vern Townsend 21.91 lbs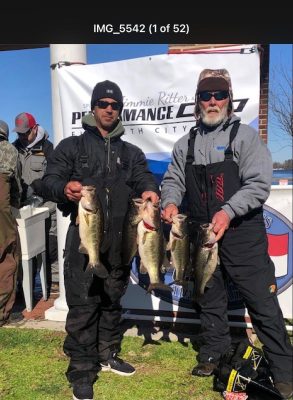 4.Gerald Murray/Spencer Murray 18.35 lbs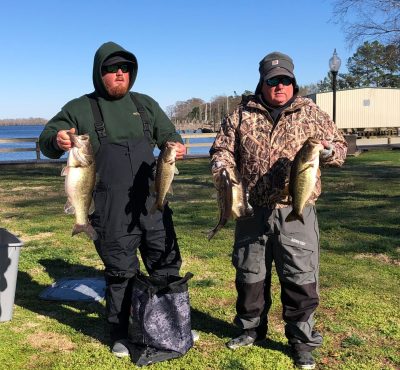 5.Jordan Sanderlin/Andrew George 17.98 lbs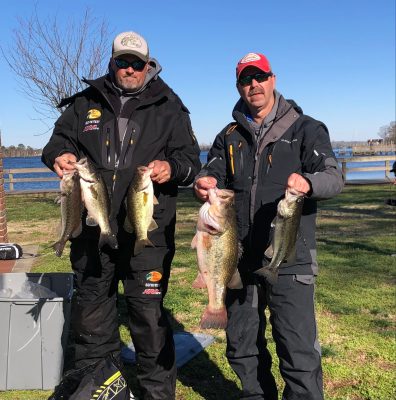 6.Andy Morath/Wayne Hayes 17.67 lbs
7. Branndon John/Eugene Foushee 17.12 lbs
Team
BF
Weight
Winnings
Points
Brian Cooper/ Mike Evans
6.64
22.02
$2,025.00
110
Ken Kipler/ Shawn Dunlap
6.77
21.92
$802.00
109
David Ward/ Vern Townsend
6.62
21.91
$400.00
108
Gerald Murray/ Spencer Murray
6.55
18.35
$300.00
107
Jordan Sanderlin/ Andrew George
17.98
$200.00
106
Andy Morath/ Wayne Hayes
4.78
17.67
$150.00
105
Brandon Johnson/ Eugene Foushee
8.61
17.12
$358.00
104
Jason Law/ Terry Lovell
16.94
103
William Sanders/ Brian Jackson
6.37
15.38
102
Keith Jennings/ Scott Hickman
5.53
14.69
101
Rick Plemmons/ Chris Pike
0.00
11.50
100
Zach Boslau/ Jimmie Ritter
6.66
11.46
99
Mike Askew/Brandon Vaughn
0.00
10.79
98
Jeremy Maye
0.00
10.76
97
Scott Rock/ Jaden Rock
0.00
9.89
96
Nick Meek/ Kyle Verkuilen
0.00
9.89
95
Kenneth Moore
0.00
9.10
94
Jeremy Gatewood/ Charlie Reed
8.70
93
Jim Dick/ Greg Dick
4.64
7.82
92
Scott Shaffer
0.00
7.73
91
Brad Higginbotham/ Nick Koenig
3.70
7.36
90
Tommy Banks/ Bubba Banks
2.58
5.29
89
Bob Gomez/ Eddie Tipton
4.66
4.66
88
Ronnie Ketchum/ Bennie Hendricks
4.55
87
Steve Brickhouse/ James Williams
2.28
3.87
86
Brent Thomas/ Ethan Thomas
3.31
3.31
85
Ray Cobb/ Mark Moritz
3.23
84
Briesemeinster Sr./ Briesemeinster Jr.
0.00
2.21
83
Mike Knapp/ Ben Knapp
0.00
2.13
82
James Leavis/ Joe Webb
0.00
0.00
72
Michael Evans/ Brian Meadows
0.00
0.00
72
Tony Baker
0.00
0.00
72
Al Biagioni/ John LaRock
0.00
0.00
72
Kirk Nixon/ Trent Nixon
0.00
0.00
72
Mike Scott/ JP Scott
0.00
0.00
72
Total Entrys
BONUS $
$525.00
Total Paid At Ramp
$4,235.00
2022 Tidewater Final Fund
$440.00
2022 CATT Championship Fund
$50.00
2022 Tidewater Final Fund Total
$440.00