The Tidewater Fall Final will be Dec 2 at the Perquimans River – New Wildlife Ramp! Thanks for fishing with us this Fall!
The

CATT Tidewater 

Division 's tournament on the Pasquotank River today was a classic example in the fishing game of the haves and the have nots!! While most teams struggled to put together a decent fall limit of five bass a couple teams figured them out in a big way. Leading the way and taking home a $1410 payday was the team of Kirk and Trenton Nixon with a monster sack of fall bass weighing 21.92 lbs that included the two biggest fish of the day weighing 6.64 lbs and 5.95 lbs. In second place with another huge bag for fall fishing was the team of Andrew George and Jordan Sanderlin with 20.02 lbs that included a 5.76 lb and 5.64 lb bass. Rounding out the top three was the team of Matt Greschak and Ricky Hodges with 12.81 lbs.
If you have fished any of our fall Tidewater tournaments you are eligible to compete in the fall division championship December 2nd on the Perquimans River.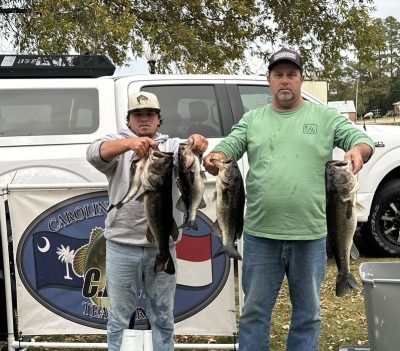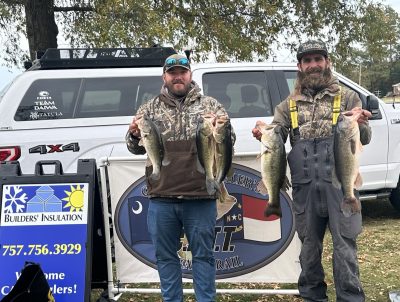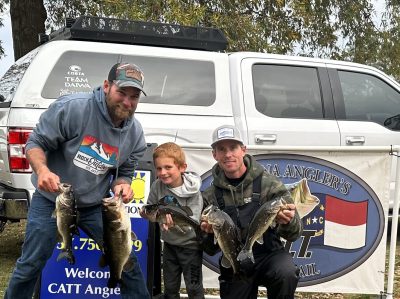 Team
BF
Team
Winnings
Points
Kirk Nixon – Trent Nixon

5.95/6.64

21.92
$1,410.00
110
Jordan Sanderlin-Andrew George
5.76
20.02
$425.00
109
Ricky Hodges – Matt Greschak
5.08
12.81
$200.00
108
Matt Holt
0.00
12.77
107
Derek Goodman – Gary DeBrito
4.05
12.56
106
Heath Parker-Brian Cooper
2.50
11.80
105
Scott Rock-Jayden Rock
4.33
11.75
104
Charlie Reed- Jeremy Gatewood
2.83
10.67
103
Bob Clarkson- Mark Ingram
0.00
10.26
102
Michael Kellett-Bobby Dunlow
3.10
10.12
101
Ben Knapp – Mike Knapp
2.97
9.65
100
Jim Dick – Greg Dick
2.59
9.14
99
Russell Gammon
0.00
8.87
98
Freddie Vance – Rick Plemons
0.00
7.68
97
Brian Jackson – Billy Saunders
0.00
2.61
96
Jacob Meyers
0.00
2.27
95
Nathan Welch-Ethan Welch
0.00
0.00
85
Ronnie Ketchum-Mike Watson
0.00
0.00
85
Total Entrys
$2,160.00
BONUS $
$300.00
Total Paid At Ramp
$2,035.00
CATT
$50.00
2023 Tidewater Fall Final Fund
$325.00
2024 CATT Championship Fund
$50.00
2023 Tidewater Fall Final Fund Total
$985.00