We're off to a great start with 17 teams entering the 1st Tidewater CATT event! Next Tidewater CATT is March 30th on the Nottoway River launching from the 258 Ramp! Point winners for the Tidewater Division will receive free entry at the Final and blast off #1 as well!
1st Place went to Jeremy Gatewood & Jarred Allbritten with a super 5 bass limit weighing 27.30 lbs! they had a 6.13 lb BF! All total Jeremy & Jarred collected $1.244.00!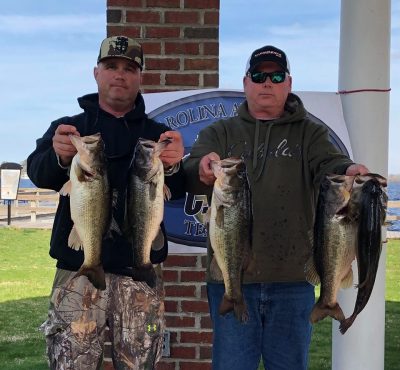 Mike Scott & JP Scott finished 2nd with 19.38 lbs and took home $400.00!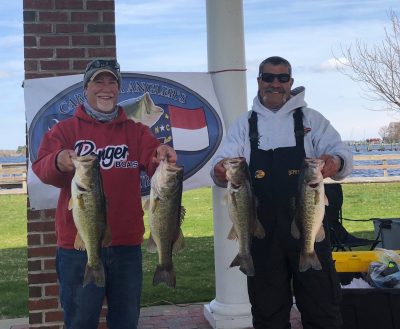 Kevin Jones & Gerald Murray took the last money paying place with 18.30 lbs and weighed in the 2nd BF at 5.72 lbs! They received $226.00!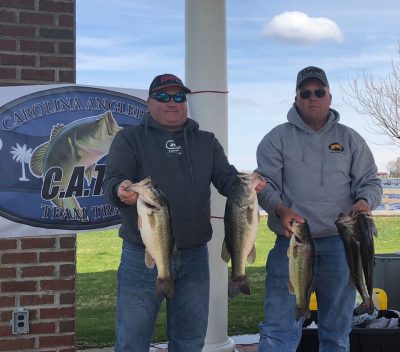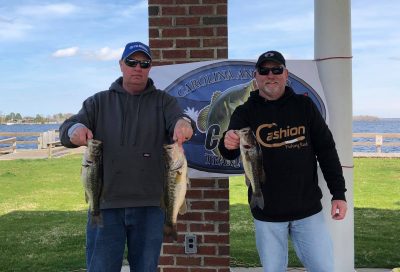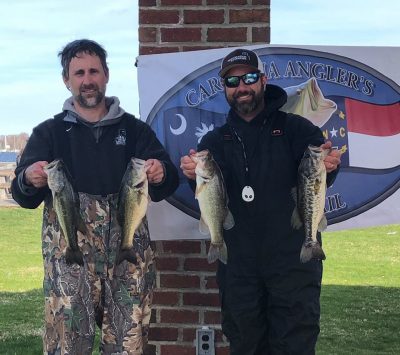 | | | | | |
| --- | --- | --- | --- | --- |
| | Big | Total | Total | |
| 17 Teams | Fish | Weight | Winnings | Points |
| Jeremy Gatewood – Jarred Allbritten | 6.13 | 27.30 | $1,244.00 | 110 |
| Mike Scott – JP Scott | 5.14 | 19.38 | $400.00 | 109 |
| Kevin Jones – Gerald Murray | 5.72 | 18.30 | $226.00 | 108 |
| Gil Burk – George Voyt | 0.00 | 14.80 | | 107 |
| Joe Glazebrook – Mike Evans | 0.00 | 12.78 | | 106 |
| Ken Kipler – Shawn Dunlap | 0.00 | 11.14 | | 105 |
| Matt Jennings – Mark London | 5.38 | 11.11 | | 104 |
| David Dozier – Richard Hall | 0.00 | 10.70 | $51.00 | 103 |
| TE Jones – Brad Higginbotham | 0.00 | 10.34 | | 102 |
| Russell Gammon – John Lane | 0.00 | 10.14 | | 101 |
| Jeff Hayden – Benny Cannon | 0.00 | 9.12 | | 100 |
| Ronnie Ketcham – Benny Hendricks | 0.00 | 8.14 | | 99 |
| Steve Brickhouse – Mills Riddick | 0.00 | 6.13 | | 98 |
| Brian Skeens – Kevin Love | 0.00 | 3.12 | | 97 |
| Anthony Shawler – Lloyd Sanderlin | 0.00 | 0.00 | | 96 |
| Jimmy Dick – Greg Dick | 0.00 | 0.00 | | 96 |
| Stacy Light – Mike Askew | 0.00 | 0.00 | | 96 |
| Total Entrys | | | $2,040.00 | |
| BONUS $ | | | $225.00 | |
| Total Paid At Ramp | | | $1,870.00 | |
| 2019 Tidewater Final Fund | | | $325.00 | |
| 2019 CATT Championship Fund | | | $70.00 | |
| 2019 Tidewater Final Fund Total | | | $325.00 | |
| 2019 CATT Championship Fund Total | | | $3,945.00 | |