We wrapped up The CATT Tidewater division with the championship on the Perquimans river today. We have had some challenging weather this year to say the least but the anglers were rewarded with light winds and sunny skies for most of the day. Reflecting on the weights from this season I just cant help but think how lucky we are as anglers to have these incredible fisheries to compete on. The sheer numbers of bass over 5lbs brought to the scales week in and week out is pretty amazing. A great example of that was the 1st place team today of Richard Griswold and Tim Fallon with 23.24lbs that earned them a $3,125.00 payday. Coming in 2nd with 21.64lbs and taking home $1,611.00 was Wayne Hayes and Andy Morath. JA Williford and Mike Layton came in a very close third with 21.52 lbs good for a $1,000.00 check. The rest of the anglers in the money were as follows.
4th Brian Jackson/ Billy Saunders 20.44 lbs
5th Darren Saunders/ Dave Parker 19.36 lbs Big Fish 6.94 lbs
6th Ken Kipler/Shawn Dunlap 19.07 lbs
7th Steve Brickhouse/James Williams 18.52 lbs
Brian Richardson- David Buchanan received a $100 Strike King/Lews Gift Card!
Huge thanks to Steve Brickhouse at Joes Marine for sponsoring the $500 AOY prize won by Mike Evans/Brian Cooper and the $200 2nd place AOY team of Brian Jackson/Billy Saunders.
Also a big thanks to Zach Boslau/Jimmie Ritter at Performance Chevrolet for there support this year. Most of all we want to thank each one of the teams that came out and fished the Tidewater division!!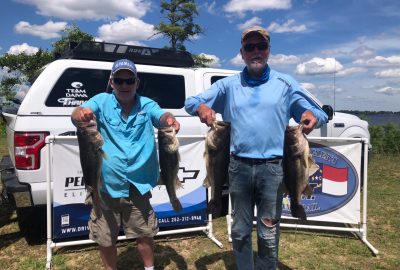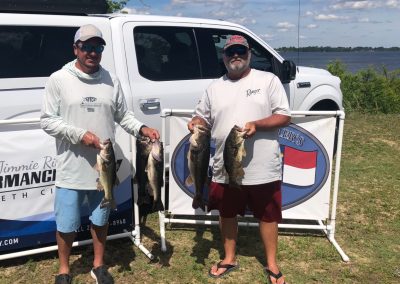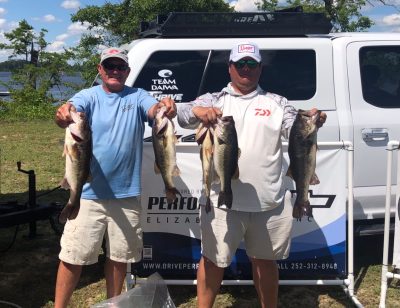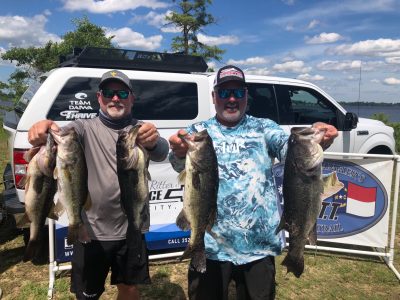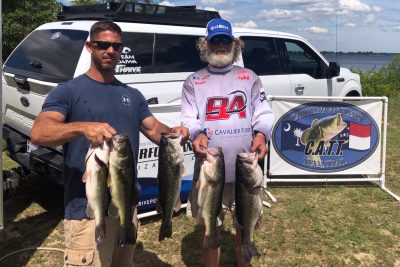 | | | | |
| --- | --- | --- | --- |
| Team | BF | Weight | Winnings |
| Richard Griswold-Tim Fallon | 5.15 | 23.24 | $3,125.00 |
| Wayne Hayes – Andy Morath | | 21.64 | $1,611.00 |
| JA Williford/Mike Layton | 0.00 | 21.52 | $1,000.00 |
| William Sanders – Brian Jackson | 6.72 | 20.44 | $500.00 |
| Darren Saunders-Dave Parker | 6.94 | | $559.00 |
| Shawn Dunlap-Ken Kiplar | 6.23 | 19.07 | $250.00 |
| Steve Brickhouse – James Williams | | 18.52 | $125.00 |
| Bob Clarkson | 4.74 | 18.44 | |
| Kevin Jones – Tyler Jones | 0.00 | 18.02 | |
| Ronnie Ketchum – Benny Hendricks | | | |
| Brian Richardson- David Buchanan | 0.00 | 17.23 | |
| David Shaffer – Scott Shaffer | 0.00 | 15.23 | |
| Jason Law-Terry Lovell | | 15.16 | |
| Spencer Murray/ Gerald Murray | 0.00 | 14.62 | |
| Al Biagioni-John LaRock | 0.00 | 14.59 | |
| Jim Dick – Greg Dick | 0.00 | 14.58 | |
| Tommy Banks – Bubba Banks | 4.38 | 14.32 | |
| Chris Turner – Quintin Chappell | 5.77 | 13.78 | |
| Brian Cooper – Mike Evans | 0.00 | 13.77 | |
| Keith Jennings- Scott Hickman | 5.69 | 13.69 | |
| Charlie Reed- Jeremy Gatewood | 5.83 | 13.60 | |
| Mike Scott-JP Scott | | 13.19 | |
| Kenneth Moore- Joseph Eure | 0.00 | 12.92 | |
| Mike Askew/Sam Doorman | 5.52 | 12.46 | |
| Josh Powell-Eric Rountree | | 12.20 | |
| Ray Cobb/ Mark Moretz | 0.00 | 11.32 | |
| Brandon Johnson – Eugene Foushee | 0.00 | 10.80 | |
| Mike Knapp – Ben Knapp | 5.61 | 10.42 | |
| Rick Plemons – Chris Pike | | 9.80 | |
| Roy Acer/Larry Barefoot | 0.00 | | |
| Bob Gomez – Eddie Tipton | 0.00 | 8.09 | |
| Zach Boslau – Jimmie Ritter | | 6.86 | |
| Tony Baker- Amber Johannes | 0.00 | | |
| Matt Anderson-Tommy Dewitt | 0.00 | 4.40 | |
| Derek Gloodman | 0.00 | 0.00 | |
| Tommy Houlroyd-Brandon Overton | 0.00 | 0.00 | |
| Kirk Nixon – Trent Nixon | 0.00 | 0.00 | |
| Nick Meek – Kyle Verkuilen | 0.00 | 0.00 | |
| Total Entrys | | | $4,440.00 |
| BONUS $ | | | $625.00 |
| Tidewater Spring Final Fund | | | $2,095.00 |
| Total Paid At Ramp | | | $7,270.00 |
| Grand Total Paid Spring 2022 Tidewater | | | $31,945.00 |