Next Waccamaw River CATT is July 21st at Bucksport and will be a double point Qualifier!
We had 34 teams show for the CATT Gold this past Saturday on the Waccamaw with Timmy Squires & Marshall Sasser taking 1st Place with 5 bass weighing 16.32 lbs! Great catch guys! They took home $2,043.00!
Marshall is pictured here with some nice uns!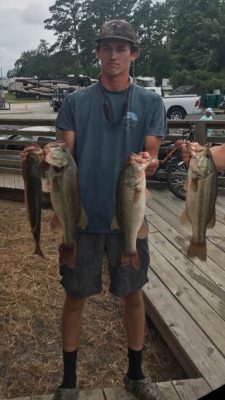 2nd Place Mark Gallup & Nick Gant! $700.00!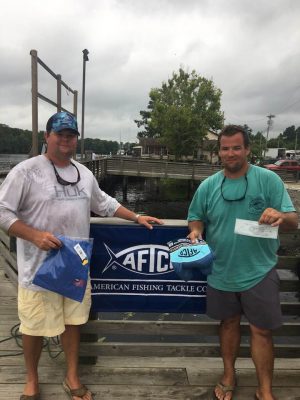 3rd Josh Medlin & Ryan Thompson!
4th Wade & Brian Cook!
2nd Bf and Academy Gift Card Winners Patrick Cook & Wayne Marlow!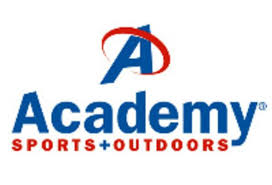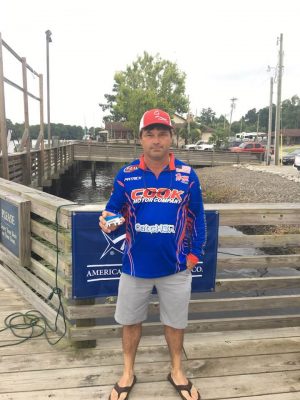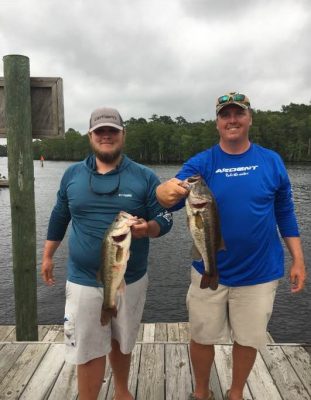 | | | | | |
| --- | --- | --- | --- | --- |
| | Big | Total | Total | |
| 34 Teams | Fish | Weight | Winnings | Points |
| Timmy Squirers & Marshall Sasser 1st BF & Bonus $100 AFTCO Gift Card | 4.50 | 16.32 | $2,043.00 | 110 |
| Nick Gant & Mark Gallup | 3.76 | 13.74 | $700.00 | 109 |
| Ryan Thompson & Josh Medlin | 3.03 | 13.34 | $400.00 | 108 |
| Wade Cook & Brian Howard | 3.45 | 12.65 | $300.00 | 107 |
| Patrick Cook & Wayne Marlow. 3rd BF Academy Gift Card | 4.20 | 12.49 | $210.00 | 106 |
| Wayne & Ryan Marsh | 3.93 | 12.25 | $150.00 | 105 |
| Corey Singleton & Brian Hughes 2nd BF | 4.35 | 11.86 | $102.00 | 104 |
| Sammie Grier & Cleo Strickland | 3.07 | 11.39 | | 103 |
| Ron & Sonya Terwilliger | 3.30 | 10.77 | | 102 |
| Alex Cribb & Roddy Cross | 2.22 | 9.93 | | 101 |
| Danny Allen & Reid McDowell | 2.35 | 9.32 | | 100 |
| Mark Johnson & Gary Pope | 3.12 | 9.31 | | 99 |
| Chris Jones & Ed Owens | 2.44 | 9.19 | | 98 |
| Charles Fryer | 3.62 | 9.11 | | 97 |
| Lee Turberville & Lucas Williams | 2.89 | 9.11 | | 96 |
| Kaleb Gerald & Adam Lewis | 2.48 | 9.09 | | 95 |
| Richard & Gavin Porter | 2.59 | 8.87 | | 94 |
| John Proctor & Johnny Duarte | 3.33 | 8.83 | | 93 |
| Andy & Wesley Howell | 2.84 | 8.84 | | 92 |
| Anthony Lee & Jason Owens | 0.00 | 8.30 | | 91 |
| Nathan & Winston Martin | 2.40 | 8.12 | | 90 |
| Les & Johan Jordan | 2.49 | 7.62 | | 89 |
| Timmy Williamson & James Walters | 0.00 | 5.75 | | 88 |
| Andrew Vereen & Jordan Weaver | 0.00 | 3.52 | | 87 |
| Don McLaud & Shawn Tackett | 0.00 | 0.00 | | 86 |
| River & Cody Squirers | 0.00 | 0.00 | | 86 |
| Keaton Capps & Seth Rabon | 0.00 | 0.00 | | 86 |
| Kyle Chestnut & Cristin Windner | 0.00 | 0.00 | | 86 |
| J D Farrand | 0.00 | 0.00 | | 86 |
| Matthew Gohen & Will Howard | 0.00 | 0.00 | | 86 |
| Grayson Brewster & Jaqueese Moss | 0.00 | 0.00 | | 86 |
| Michael Dennis & Bill Moore | 0.00 | 0.00 | | 86 |
| Chad Pennell & Casey Warren | 0.00 | 0.00 | | 86 |
| Ben Cox & Ernie Wallace | 0.00 | 0.00 | | 86 |
| Total Entrys | | | $4,080.00 | |
| BONUS $ | | | $380.00 | |
| Total Paid At Ramp | | | $3,905.00 | |
| Waccamaw River 2018 Summer Final Fund | | | $475.00 | |
| 2019 CATT Championship Fund | | | $80.00 | |
| 2018 Waccamaw River Summer Final Fund Total | | | $1,310.00 | |
| 2019 CATT Championship Fund Total | | | $615.00 | |