Next Wacccamaw River CATT is July 7 at Bucksport! This is another Gold so the payout will be awesome!
Wade Cook & Brian Howard made it 2 in a row with 5 bass weighing 13.45 lbs! They took home $1,323.00 and an $100 Aftco Gift Card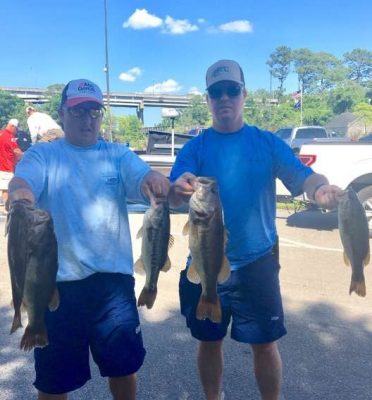 Casey Waren & Chad Pennell finished 2nd with 5 bass weighing 13.15 lbs and took home $622.00! They weighed the BF at 4.51 lbs!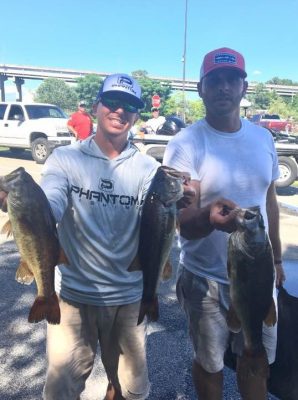 Chris Jones & Rd Owens took 3rd with 11.24 lbs earning $250.00!
Timmy Williamson & James Walters claimed 4th with 11.15 lbs! They collected $140.00!
Alex Cribb weighed the 3rd BF and took home an Academy Gift Card!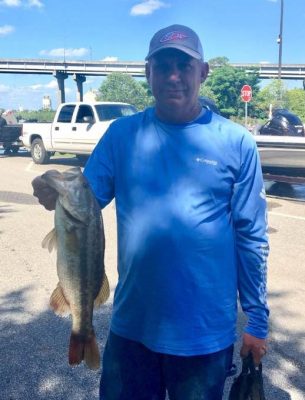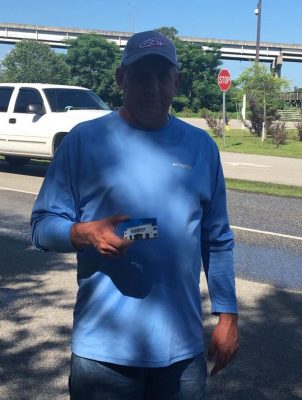 | | | | | |
| --- | --- | --- | --- | --- |
| | Big | Total | Total | |
| 21 Teams | Fish | Weight | Winnings | Points |
| Wade Cook & Brian Howard   Aftco Giift Card   2nd BF | 4.44 | 13.45 | $1,323.00 | 110 |
| Casey Warren – Chad Pennell   1st BF | 4.51 | 13.15 | $622.00 | 109 |
| Chris Jones & Ed Owens | 3.13 | 11.24 | $250.00 | 108 |
| Timmy Williamson & James Walters | 2.99 | 11.15 | $140.00 | 107 |
|  Mark Johnson & Gary Pope | 2.54 | 10.72 | | 106 |
| Anthony Lee & Jason Owens | 3.13 | 9.79 | | 105 |
| Lin Fore | 3.28 | 9.51 | | 104 |
| Winston & Nathan Martin | 2.26 | 9.50 | | 103 |
| Nick Gant & Mark Gallup | 3.53 | 9.02 | | 102 |
| Jonathan Hammond & Hagen Garrison | 2.40 | 8.17 | | 101 |
| Coy Watts & David Hutcherson | 3.00 | 8.12 | | 100 |
| Kaleb Gerald & Adam Lewis | 0.00 | 7.49 | | 99 |
| Mitch Avant | 2.57 | 6.93 | | 98 |
| Greg & Logan Benton | 0.00 | 6.73 | | 97 |
| Richard & Gavin Porter | 0.00 | 6.70 | | 96 |
| Alex Cribb                      Academy Gift Card | 3.75 | 6.67 | | 95 |
| Grayson Brewster & Jaqueese Moss | 0.00 | 4.99 | | 94 |
| Ryan Thompson & Josh Medlin | 0.00 | 3.10 | | 94 |
| Reid McDowell & Danny Allen | 0.00 | 0.00 | | 94 |
| Kyle Chestnut & Kristin Widner | 0.00 | 0.00 | | 94 |
| Sammie Patterson & Robbie Buyrum | 0.00 | 0.00 | | 94 |
| Total Entrys | | | $2,520.00 | |
| BONUS $ | | | $200.00 | |
| Total Paid At Ramp | | | $2,335.00 | |
| Waccamaw River 2018 Summer Final Fund | | | $360.00 | |
| 2019 CATT Championship Fund | | | $25.00 | |
| | | | | |
| 2018 Waccamaw River Summer Final Fund Total | | | $835.00 | |
| 2019 CATT Championship Fund Total | | | $45.00 | |