The Nov 17th Waccamaw River Qualifier will launch from Carroll Campbell Landing in Georgetown! The Waccamaw River Fall Final will also be at Georgetown Carroll Campbell Landing!
The Oct 20th Waccamaw River Fall Qualifier was held at Blacks Camp on Lake Moultrie because of flooding conditions on the Waccamaw River.
Jacob & Carlton Thompkins take 1st Place Oct 20th with 5 bass weighing 15.38 lbns! They also took home the 1st BF at 7.72 lbs for a total of $777.00!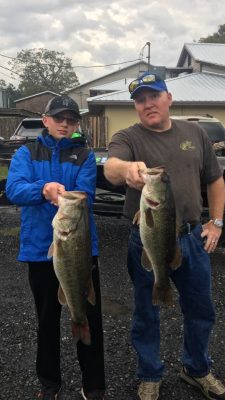 2nd Place went to River & Timmy Squires with a limit weighing 15.14 lbs worth $313.00!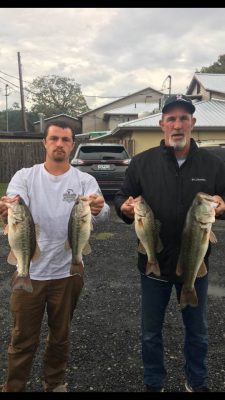 Reid McDowell was 3rd with 14.96 lbs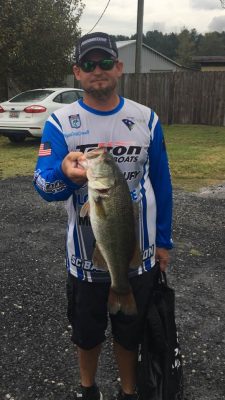 Casey Warren with a nice bag!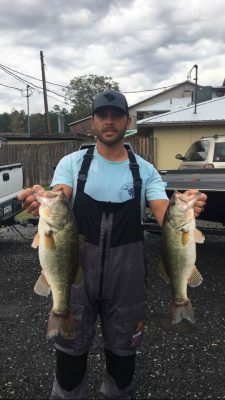 | | | | | |
| --- | --- | --- | --- | --- |
| | Big | Total | Total | |
| 11 Teams | Fish | Weight | Winnings | Points |
| Carlton & Jacob Thompkins.  Bonus $ | 7.72 | 15.38 | $777.00 | 110 |
| Timmy & River Squirers | 5.81 | 15.14 | $313.00 | 109 |
| Reid McDowell | 5.04 | 14.96 | | 108 |
| Chris Jones & Ed Owens | 3.20 | 12.03 | | 107 |
| Casey warren | 5.27 | 11.38 | | 106 |
| Cody Squires & Jess White | 0.00 | 9.10 | | 105 |
| Lee Glover &  Joey Hewitt | 3.82 | 8.66 | | 104 |
| Mike Edge | 0.00 | 8.07 | | 103 |
| Danny Mclain | 0.00 | 4.59 | | 102 |
| Don McLaud & Ray Inman | 0.00 | 0.00 | | 101 |
| Mark & Kyle Johnson | 0.00 | 0.00 | | 101 |
| Total Entrys | | | $1,320.00 | |
| BONUS $ | | | $140.00 | |
| Total Paid At Ramp | | | $1,090.00 | |
| Waccamaw River 2018 Fall Final Fund | | | $270.00 | |
| 2019 CATT Championship Fund | | | $75.00 | |
| 2018 Waccamaw River Fall Final Fund Total | | | $535.00 | |
| 2019 CATT Championship Fund Total | | | $1,605.00 | |