Next Waccamaw Summer CATT is the Summer Final August 17 at Bucksport! This has been a great Summer on the Waccamaw River! We have over 70 teams eligible to enter the Waccmaw River Final Aug 17th! If we can get them to show the total payback will be over $10,000.00! 
Chris Jones & Ed Owens took 1st Saturday with 5 bass weighing 16.80 lbs worth $900.00!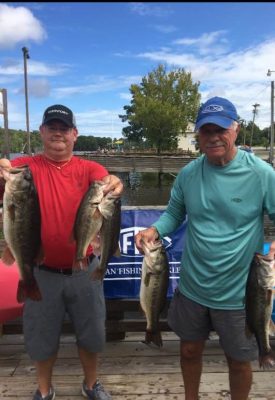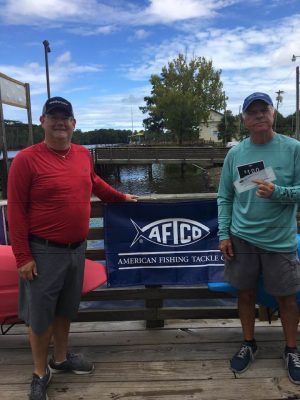 2nd Place went to Dan Martin & Britt Brown with 15.61 lbs and they also won the points! Dan & Britt will fish the Final Free and blast off #1!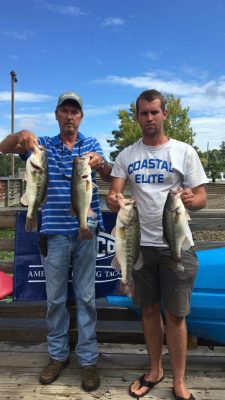 3rd went to River & Timmy Squires with 13.53 lbs and they weighed the BF at 5.06 lbs!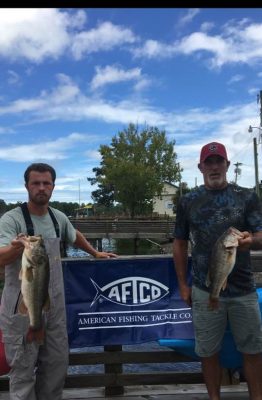 Kevin Alford & Gary Pope claimed 4th with 13.42 lbs!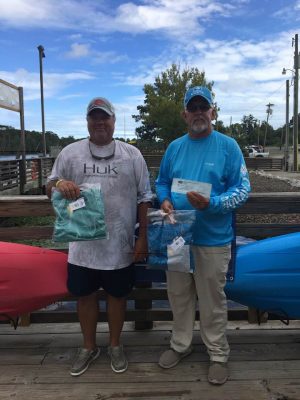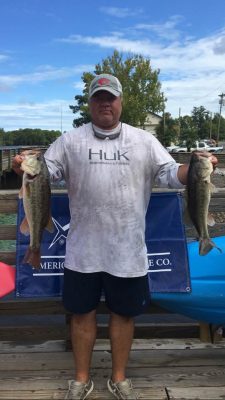 Adam Lewis & Zach Johnson brought in the 2nd BF at 5.34 lbs!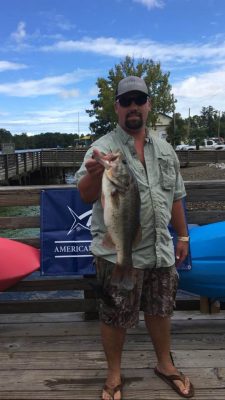 | | | | | |
| --- | --- | --- | --- | --- |
| 21 Teams | BF | Weight | Winnings | Points |
| Ed Owens & Chris Jones | 5.09 | 16.80 | $900.00 | 110 |
| Britt Brown & Dan Martin | 4.09 | 15.61 | $300.00 | 109 |
| Timmy & River Squirers | 5.60 | 13.53 | $297.00 | 108 |
| Gary Pope & Kevin Alford | 4.14 | 13.42 | $100.00 | 107 |
| Adam Lewis & Zach Johnson | 5.34 | 12.48 | $63.00 | 106 |
| Josh Medlin & Ryan Thompson | 3.48 | 12.22 | | 105 |
| Kaleb Gerald & Wesely Williamson | 3.15 | 11.03 | | 104 |
| Robby Byrum & Sammie Patterson | 3.49 | 10.96 | | 103 |
| Wayne Marlow & Patrick Cook | 3.89 | 10.13 | | 102 |
| Charles Fryer & Darren Williamson | 2.86 | 9.21 | | 101 |
| Jacob Barfield | 0.00 | 9.00 | | 100 |
| Danny $ Kaleb McLain | 2.51 | 8.96 | | 99 |
| Zach Fryer & Malaya Erdmann | 0.00 | 7.83 | | 98 |
| Andrew Vereen & Jordan Weaver | 0.00 | 7.55 | | 97 |
| Kyle & Kristin Chestnut | 0.00 | 7.36 | | 96 |
| Ashton & Daniel Culick | 0.00 | 7.35 | | 95 |
| Tommy Collins & Avery Williams | 0.00 | 6.89 | | 94 |
| Corey Singleton & Jesse Hopkins | 0.00 | 6.50 | | 93 |
| Don McLaud | 0.00 | 0.00 | | 92 |
| Jordan & Carlton Thompkins | 0.00 | 0.00 | | 92 |
| Casey & Logan Warren | 0.00 | 0.00 | | 92 |
| Total Entrys | | | $1,680.00 | |
| BONUS $ | | | $400.00 | |
| Total Paid At Ramp | | | $1,660.00 | |
| Waccamaw River 2019 Summer Final Fund | | | $330.00 | |
| 2019 CATT Championship Fund | | | $0.00 | |
| 2019 Waccamaw River Summer Final Fund Total | | | $1,975.00 | |
| 2019 CATT Championship Fund Total | | | $0.00 | |