We wrapped up another great year on the Waccamaw River! The 2023 Summer CATT schedule is posted, and the Waccamaw River Phantom is July 29th! New for 2023 is the CW Bass Nation Spring series on the Waccamaw River! Check out the schedule under Divisions/South Carolina!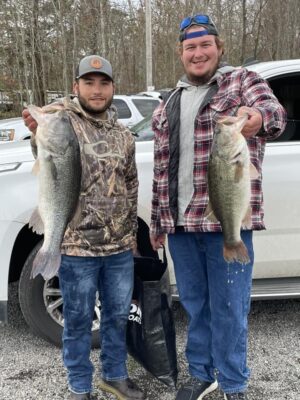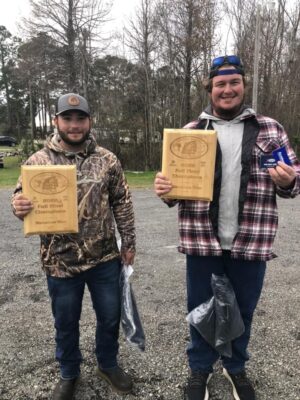 Johnny Duarte and Ricky Wood took 1st Place with 5 bass weighing 17.79 lbs and weighed in the Academy Sports 2nd BF at 6.83 lbs! They earned a $25 Academy Gift Card & $1,905.00!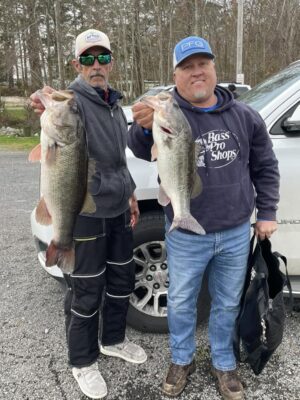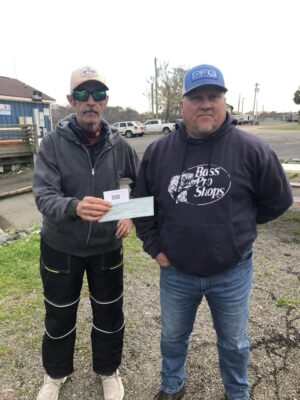 Danny & Joey McLean 2nd Place with 17.74 lbs and weighed in the 1st BF at 7.38 lbs! They received $840.00 plus a $100 Lews/Strike King Gift Card!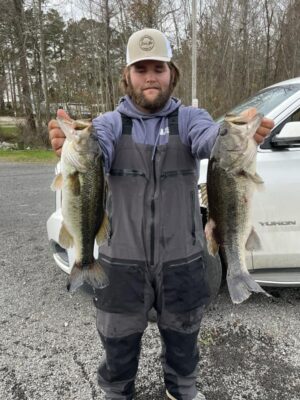 Jacob Barfield 3rd with 15.23 lbs!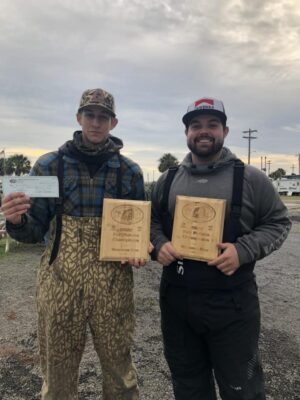 Charle Holmes & Kaleb Gerald 2022 Waccamaw River Fall Point Winners!
| | | | |
| --- | --- | --- | --- |
| Team | BF | Weight | Winnings |
| Johnny Duarte and Ricky Wood | 6.83 | 17.79 | $1,905.00 |
| Danny & Joey McLean  | 7.38 | 17.74 | $840.00 |
| Jacob Barfield | 4.93 | 15.23 | $540.00 |
| John & Charles Proctor | 0.00 | 13.65 | $400.00 |
| Danny Martin & Britt Brown | 4.80 | 12.58 | |
| Mike Gerald & Jesse Norris | 0.00 | 12.20 | |
| Casey Warren | 3.46 | 11.97 | |
| Chris Jones & Ed Owens | 6.52 | 11.86 | |
| Charles Fryer & Charlie Johnson | 4.38 | 11.22 | |
| Charlie Holmes & Kaleb Gerald | 0.00 | 9.14 | $75.00 |
| Matthew & Asher Goheen | 0.00 | 9.03 | |
| Cody & David Wilder | 2.86 | 8.81 | |
| Gary Pope & Brian Howard | 0.00 | 8.81 | |
| Don Mclaud & Calvin Clatterbuck | 0.00 | 8.64 | |
| Marion Humphrey & James Odom | 0.00 | 7.93 | |
| James Tierney | 0.00 | 1.08 | |
| Ryan Thompson & Brian Myers | 0.00 | 0.00 | |
| Ray Inman | 0.00 | 0.00 | |
| Ron Terwilliger & Mac Cooper | 0.00 | 0.00 | |
| Jesse Harold & Dalton Warren | 0.00 | 0.00 | |
| Robby Byrum & Eric Cox | 0.00 | 0.00 | |
| JD Farrand | 0.00 | 0.00 | |
| Dillon McConnell & Trey Cribb | 0.00 | 0.00 | |