2021 Waccamaw River Phantom Outdoors Invitational is coming up July 24th at Bucksport! $5,000 1st Place with a minimum of 50 teams entered! You will need to be a CATT member to be able to enter the Waccamaw Phantom Outdoors Invitational! You may pay the membership the morning of at the ramp if you have not entered a Waccamaw River Summer CATT! Tap on the link for more info!
Next Waccamaw River Summer CATT is the Summer Final August 14 at Bucksport!
Steve & Jacob Martin win the Waccamaw River Summer Points and will fish the Final Free!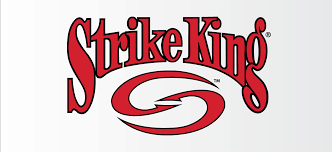 Hunter Dickerson & Mark Curry weighed in 5 bass at 18.55 lbs taking 1st Place and $1,773.00!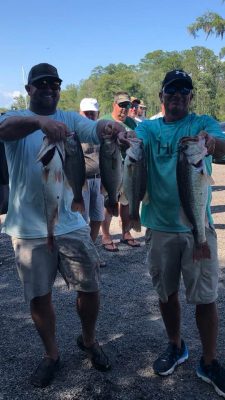 Kevin Edge & Carluss King finisihed 2nd with 17.02 lbs and took home $450.00!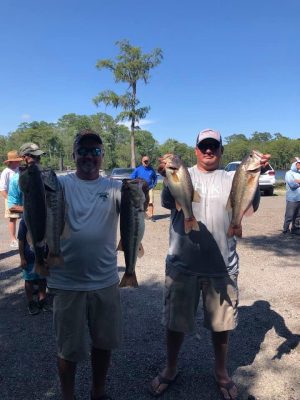 Steve & Jacob Martin 3rd with 16.03 lbs!
Danny Allen with the 1st Lews BF at 6.03 lbs!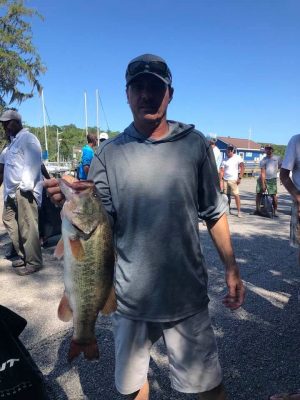 Tommy & Thomas Collins with some good ones!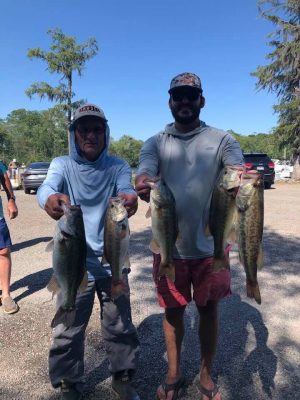 Andrew Vereen & Ron Cannon with their sack!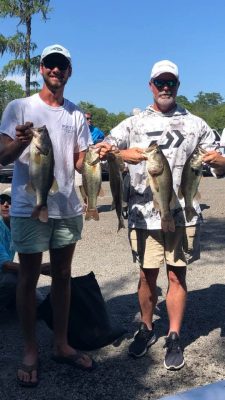 | | | | | |
| --- | --- | --- | --- | --- |
| Team | BF | Weight | Winnings | Points |
| Hunter Dickerson & Mark Curry | 5.84 | 18.55 | $1,773.00 | 110 |
| Kevin Edge & Carluss King | 4.44 | 17.02 | $450.00 | 109 |
| Steve & Jacob Martin | 4.97 | 16.03 | $325.00 | 108 |
| Mark Johnson & Gary Pope | 4.27 | 15.44 | $200.00 | 107 |
| Mike Gerald & Jesse Norris | 3.83 | 15.36 | $140.00 | 106 |
| Danny Allen & Reid McDowell | 6.03 | 15.35 | $110.00 | 105 |
| Danny Martin & Britt Brown | 3.50 | 14.92 | $100.00 | 104 |
| Andrew Vereen & Ron Cannon | 3.96 | 14.77 | $90.00 | 103 |
| Carlton Thompkins & Joel Barfield | 3.67 | 14.05 | | 102 |
| Danny & Kaleb McLain | 3.40 | 13.50 | | 101 |
| Scott & Andrew Mcllean | 5.21 | 13.23 | | 100 |
| Winston martin | 3.18 | 13.23 | | 99 |
| Nick Gant & Patrick Cook | 0.00 | 13.23 | | 98 |
| Tommy & Thomas Collins | 3.69 | 13.18 | | 97 |
| Cody & River Squirers | 3.87 | 12.48 | | 96 |
| Timmy Squirers & Noah Jones | 3.15 | 12.48 | | 95 |
| Chris Jones & Ed Owens | 0.00 | 12.13 | | 94 |
| Corey Singleton & Jesse Hopkins | 2.55 | 11.99 | | 93 |
| Jacob Barfield & Nicolas Nobels | 4.23 | 11.78 | | 92 |
| Jordan cook & Justin williams | 2.85 | 11.52 | | 91 |
| Brian Howard & Wade Cook | 2.67 | 11.40 | | 90 |
| Eric Lilly & TJ Hardee | 0.00 | 11.35 | | 89 |
| Kevin Brazen & Eric Freeman | 2.79 | 10.79 | | 88 |
| Chad Williams & Rodney Hardee | 0.00 | 10.22 | | 87 |
| Timmy Anderson & Ross Brazier | 2.85 | 9.67 | | 86 |
| Wesley & Ronnie Williamson | 0.00 | 9.62 | | 85 |
| Eric Cox & Robbie Byrum | 0.00 | 9.41 | | 84 |
| Wesley Howell & Johnny Johnson | 0.00 | 9.20 | | 83 |
| Robbie Evertt & Andrew Young | 2.62 | 8.50 | | 82 |
| Rickey Wood & Lukas Little | 2.05 | 8.48 | | 81 |
| Chris Alston | 1.77 | 7.13 | | 80 |
| Jamon Carroll & Freddy Mincey | 0.00 | 6.13 | | 79 |
| Charles Fryer & Danny Rabon | 0.00 | 0.00 | | 59 |
| Darren Cook & Peter Horne | 0.00 | 0.00 | | 59 |
| Lince Cook & Benny Carter | 0.00 | 0.00 | | 59 |
| Ron & Sonya Terwilliger | 0.00 | 0.00 | | 59 |
| John Proctor – Avery Williams | 0.00 | 0.00 | | 59 |
| Timmy Williamson & James Walters | 0.00 | 0.00 | | 59 |
| Josh Medlin & Dalton Warren | 0.00 | 0.00 | | 59 |
| Will Jones & Kent Brown | 0.00 | 0.00 | | 59 |
| JD Farrand & Jess White | 0.00 | 0.00 | | 59 |
| Total Entrys | | | $3,280.00 | |
| BONUS $ | | | $475.00 | |
| Total Paid At Ramp | | | $3,190.00 | |
| Waccamaw River 2021 Summer Final Fund | | | $455.00 | |
| 2021 CATT Championship Fund | | | $50.00 | |
| 2021 Waccamaw River Final Fund Total | | | $1,370.00 | |
| 2021 CATT Championship Fund Total | | | $0.00 | |