We had to move this one to Blacks Camp on Lake Moultrie. The Waccamaw River was too high! Next up is the Fall Final Dec 5th at Bucksport! This has been a tough year but at the conclusion of the Waccamaw River Fall Final the 2020 Waccamaw River Trail will have paid back over
$45,00.000!

Huge Thanks to Chris Jones and the other down there that make this Trail a success!

Kaleb Gerald & Adam Lewis are the Waccamaw Fall Points winners and will fish the Final Free plus blast off #1 on December 5th!

Mark Johnson & Gary Pope weigh in 5 bass at 16.88 lbs with the 2nd BF in the bag at 6.09 lbs! They collected $571.00!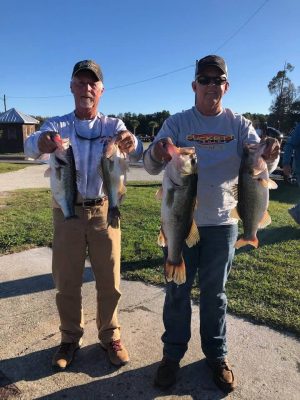 2nd Place Seth Rabon & Timmy Squires with 13.58 lbs!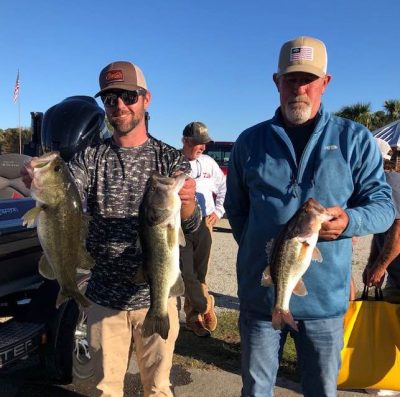 Charles Fryer & Danny Rabon finished 3rd with 11.99 lbs and brought in the BF at 7.90 lbs!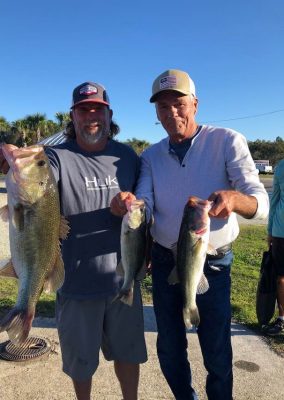 Ricky Wood & Connor Cartmel with some nice uns!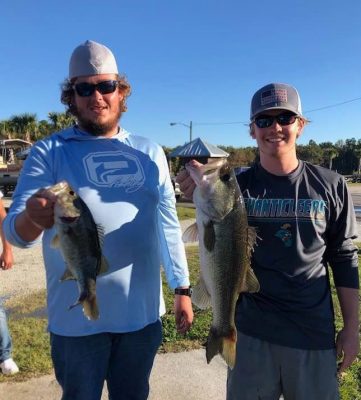 | | | | | |
| --- | --- | --- | --- | --- |
| 12 Teams | BF | Weight | Winnings | Points |
| Gary Pope & Mark Johnson | 6.09 | 16.88 | $571.00 | 110 |
| Timmy Squirers & Seth Rabon | 4.92 | 13.58 | $180.00 | 109 |
| Charles Fryer & Danny Rabon | 7.90 | 11.99 | $84.00 | 108 |
| Ryan Thompson | 2.95 | 11.58 | | 107 |
| Chris Jones & Ed Owens | 3.70 | 11.02 | | 106 |
| Ricky Wood & Connor Cartmel | 4.50 | 9.39 | | 105 |
| Stephen Smith & Brad Suggs | 2.50 | 9.06 | | 104 |
| Casey Warren | 0.00 | 8.33 | | 103 |
| Scott McCllean & Jamie Etheridge | 0.00 | 3.26 | | 102 |
| Kaleb Gerald & Adam Lewis | 0.00 | 2.48 | | 101 |
| Peter Horne & Darren Cook | 0.00 | 0.00 | | 100 |
|  Johnny Duarte & McKalay Logue | 0.00 | 0.00 | | 100 |
| Total Entrys | | | $960.00 | |
| BONUS $ | | | $175.00 | |
| Total Paid At Ramp | | | $835.00 | |
| 2020 Waccamaw River Fall Final Fund | | | $225.00 | |
| 2021 CATT Championship/Phantom Fund | | | $25.00 | |
| 2020 Waccamaw River Final Fund Total | | | $1,425.00 | |
| 2021 CATT Championship/Phantom Fund Total | | | $125.00 | |