Next Waccamaw River Open is Jan 25 at Bucksport!
The 1st tournament of the year saw a good crowd gather at Bucksport Saturday morning with 17 teams entering! Warm rain was in the area and that's a lot better than cold rain for sure! Come join us January 25 for round 2!
Ricky Bellamy & Chris Jones secured 1st Place with 5 bass weighing 14.89 lbs and anchored by the BF at 4.12 lbs! They took home $1,45.00!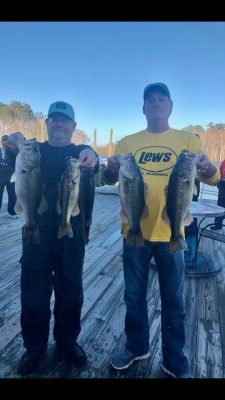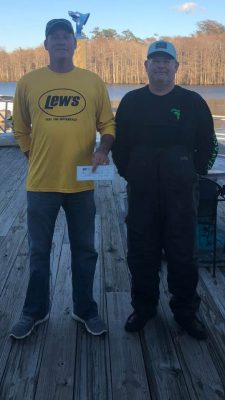 2nd went to RD Prince & Anthony Lee with 13.05 lbs worth $500.00!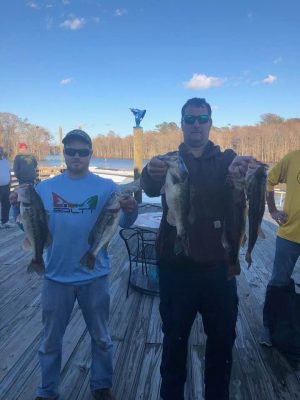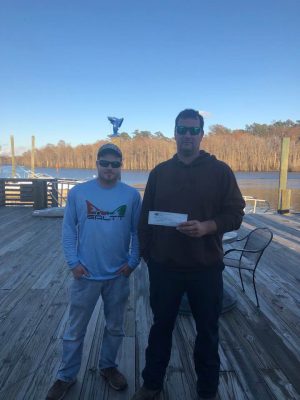 Casey  Warren with a nice un!
| | | | |
| --- | --- | --- | --- |
| 17 Teams | BF | Weight | Winnings |
| Chris Jones & Rickey Bellamy | 4.12 | 14.89 | $1,450.00 |
| Anthony Lee & R D Prince | 3.72 | 13.05 | $500.00 |
| Nick Gant & Casey Warren | 3.48 | 10.66 | |
| Cody Squires & Dillon Thompkins | 2.90 | 10.24 | |
| 5. Mitch Avant   10.16 | 0.00 | 10.16 | |
| John Egan & Chandler Roy | 2.40 | 10.03 | |
| Mark Johnson & Gary Pope | 2.00 | 9.93 | |
| Charles Fryer & David Crabill | 0.00 | 8.96 | |
| Ray Inman & Jennifer Floyd | 2.02 | 8.86 | |
| Casey & Charlene Leach | 0.00 | 8.84 | |
| Shawn Todd & Clay Lewis | 2.76 | 7.35 | |
| Corey Singleton & Jesse Hopkins | 0.00 | 7.03 | |
| Kevin Bazen | 0.00 | 0.00 | |
| Don McLaud & Shawn Tackett | 0.00 | 0.00 | |
| Timmy & River Squirers | 0.00 | 0.00 | |
| Robby Byrum & Eric Cox | 0.00 | 0.00 | |
| Michael & Johnny Duarte | 0.00 | 0.00 | |