We kicked off the Lake Wateree Spring CATT with 23 teams entered and plenty of room for more! The water is dirty and with the warm weather coming fishing should be excellent this coming weekend. Our 2nd Wateree Spring Qualifier is this coming Saturday at Clearwater Cove Marina!
Jacob & Jeff Norris took 1st Place Saturday with 5 bass weighing 18.72 lbs and they earned the BONUS $! All total Jacob & Jeff took home $905.00!
Donald & Paul Wells finished 2nd with a limit weighing 18.06 lbs and they weighed in the 1st BF at 5.64 lbs. They took home $461.00!
Sonny Beam & David Ethridge claimed 3rd with 5 bass weighing 15.72 lbs which was worth $200.00!
Last money paying place which was $120.00 went to Allen Fletcher & Donald Hinson with 15.31 lbs!
We have a new sponsor!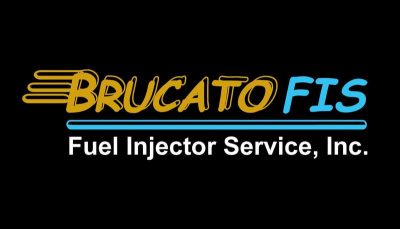 MARINE FUEL INJECTOR CLEANING AND CALIBRATION AT IT'S FINEST
919-367-6943
www.brucatofis.com
| | | | | | |
| --- | --- | --- | --- | --- | --- |
|   |   | Big   | Total |   |   |
| Place | Team | Fish | Weight | Winnings | Points |
| 1 | Jacob Norris – Jeff Norris  BONUS $ | 4.78 | 18.72 | $905.00 | 110 |
| 2 | Donald Wells – Paul Wells   1st BF | 5.64 | 18.06 | $461.00 | 109 |
| 3 | Sonny Beam – David Ethridge | 4.40 | 15.72 | $200.00 | 107 |
| 4 | Allen Fletcher – Donald Hinson | 4.30 | 15.31 | $120.00 | 108 |
| 5 | Mike King – Chris Crawford | 3.51 | 14.75 | | 106 |
| 6 | Lewis Thompson – Tripp Poplin | 4.40 | 14.70 | | 105 |
| 7 | Larry Hastings     2nd BF | 4.86 | 14.49 | $69.00 | 104 |
| 8 | Mike Ware – Bryan Holmes | 3.98 | 12.85 | | 103 |
| 9 | David F Canupp & David L Canupp | 3.38 | 12.10 | | 102 |
| 10 | Max Price – Hunter Denton | 3.01 | 11.08 | | 101 |
| 11 | Hunter Williams – Russell Morgan | 4.03 | 10.99 | | 100 |
| 12 | Greg Sigmon | 3.24 | 8.86 | | 99 |
| 13 | Scott Williams – Mike Jennings | 0.00 | 7.45 | | 98 |
| 14 | Matt Nettles – Jeff Hatfield | 0.00 | 6.10 | | 97 |
| 15 | Kevin Malone | 3.10 | 3.10 | | 96 |
| 16 | Chad Gainey – Zach Gainey | 0.00 | 0.00 | | 95 |
| 17 | Steve Phillips | 0.00 | 0.00 | | 95 |
| 18 | Mark Healon – Tony Truitt | 0.00 | 0.00 | | 95 |
| 19 | Brad Petway | 0.00 | 0.00 | | 95 |
| 20 | Rand Robeson | 0.00 | 0.00 | | 95 |
| 21 | Bob Weaver – Scott Floyd | 0.00 | 0.00 | | 95 |
| 22 | Wesley & Bo Jackson | 0.00 | 0.00 | | 95 |
| 23 | Jonathan Dailey – Jermaine Roach | 0.00 | 0.00 | | 95 |
| | | | | | |
| | Total Entrys |   |   | $1,840.00 | |
| | BONUS $ |   |   | $380.00 | |
| | Total Paid At Ramp |   |   | $1,755.00 | |
| | Wateree 2018 Spring Final Fund |   |   | $415.00 | |
| | 2018 CATT Championship Fund |   |   | $50.00 | |
| |   |   |   |   | |
| | 2018 Wateree Spring Final Fund Total |   |   |  $415.00 | |
| | 2018  CATT Championship Fund Total |   |   | $2,455.00 | |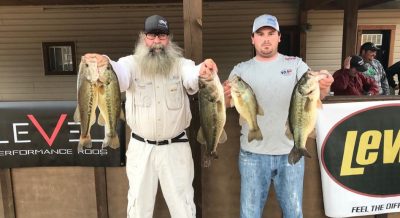 2nd Place Donald & Paul Wells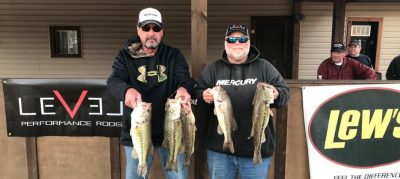 3rd Sonny Beam & David Ethridge