The bite is on at Wateree with multiple teams reporting catching numbers of bass and they're shallow! Next CATT on Wateree is this coming Saturday March 3rd at Clearwater Cove! Look for some good bags to be brought in!
Sam Dowey & Tommy Moak brought in 5 healthy Lake Wateree bass weighing 23.18 lbs! They also weighed in the 1st BF at 6.42 lbs! With the BONUS $ added in they took home $1,165.00!
2nd Place went to Chad Rabon & Walt Almond with 5 bass weighing 21.21 lbs and they received $300.00!
Mike Ware & Bryan Holmes came in 3rd with 17.00 lbs even and collected $200.00!
That's our top 3 teams! See you next week!
| | | | | | |
| --- | --- | --- | --- | --- | --- |
|   |   | Big   | Total |   |   |
| Place | Team | Fish | Weight | Winnings | Points |
| 1 | Sam Dowey – Tommy Moak   BONUS $ & 1st BF | 6.42 | 23.18 | $1,165.00 | 110 |
| 2 | Chad Rabon – Walt Almond | 4.84 | 21.21 | $300.00 | 109 |
| 3 | Mike Ware – Bryan Holmes | 3.60 | 17.00 | $200.00 | 108 |
| 4 | Donald Wells – Paul Wells | 4.72 | 16.98 | $110.00 | 107 |
| 5 | Butch Williams – David Ethridge | 3.69 | 16.32 | $100.00 | 106 |
| 6 | Chad Gainey – Mack Kitchens | 4.30 | 16.16 | | 105 |
| 7 | Chris Crawford & Austin Cromer   2nd BF | 5.81 | 16.09 | $75.00 | 104 |
| 8 | Scott Williams – Mike Jennings | 3.57 | 15.76 | | 103 |
| 9 | Allen Fletcher | 5.58 | 14.73 | | 102 |
| 10 | Thomas Richmond – Joel Wilkins | 3.90 | 13.87 | | 101 |
| 11 | Bob Weaver – Scott Floyd | 3.29 | 13.26 | | 100 |
| 12 | Brad Petway & Brett Collins | 4.56 | 13.03 | | 99 |
| 13 | Greg Sigmon | 5.47 | 12.95 | | 98 |
| 14 | Craig Haven | 3.38 | 12.79 | | 97 |
| 15 | Trent McLaughlin – Brett Neal | 5.12 | 12.58 | | 96 |
| 16 | Ricky Brown – Dustin Snipes | 2.65 | 6.73 | | 95 |
| 17 | Lewis Thompson – Jared Thompson | 2.40 | 2.40 | | 94 |
| 18 | David F Canupp & David L Canupp | 2.37 | 2.37 | | 93 |
| 19 | Jacob Norris – Jeff Norris | 0.00 | 0.00 | | 92 |
| 20 | Steve Borton | 0.00 | 0.00 | | 92 |
| 21 | Matt Nettles – Phillip Nettles | 0.00 | 0.00 | | 92 |
| 22 | Chad Johnson | 0.00 | 0.00 | | 92 |
| 23 | Wesley & Cole Jackson | 0.00 | 0.00 | | 92 |
| 24 | Phillip Anderson – Andy lake | 0.00 | 0.00 | | 92 |
| 25 | Mark Healon | 0.00 | 0.00 | | 92 |
| | Total Entrys |   |   | $2,000.00 |   |
| | BONUS $ |   |   | $440.00 |   |
| | Total Paid At Ramp |   |   | $1,950.00 |   |
| | Wateree 2018 Spring Final Fund |   |   | $440.00 |   |
| | 2018 CATT Championship Fund |   |   | $50.00 |   |
| |   |   |   |   |   |
| | 2018 Wateree Spring Final Fund Total |   |   | $855.00 |   |
| | 2018  CATT Championship Fund Total |   |   | $2,640.00 |   |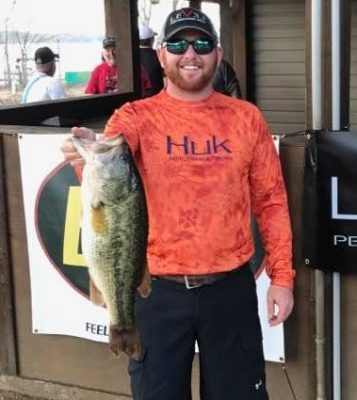 Chad Rabon & Walt Almond                                                         1st BF Shane Cantley & Michael Richardson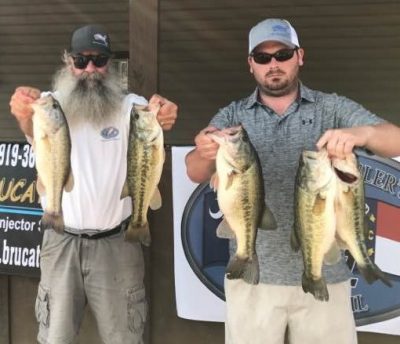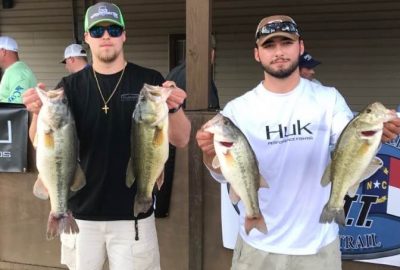 Donald & Paul Wells                                                           Austin Cromer & Chris Crawford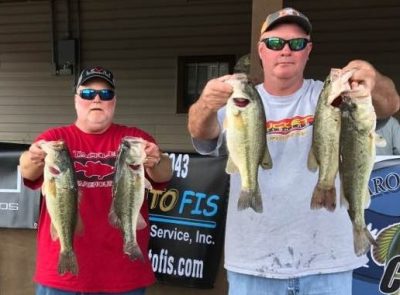 David Ethridge  Butch Williams