The Big Girls are starting to move at Wateree! Jim Davis & Mike Allman weighed in a 5 bass limit at 27.43 lbs with a 8.35 lb kicker! 1st Place & the BONUS plus the BF money Jim and Mike took home $1,842.00! They also received an Academy Gift Card!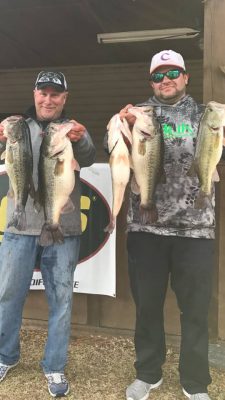 2nd with 20.57 lbs were Bob Weaver & Scott Floyd! They took home $560.00!
Lewis Thompson & Chis Holmes brought 17.23 lbs to the scale to secure 3rd and $300.00!
Dean Benfield & Keith Hargett claimed 3rd with 17.12 lbs and they took home $17.12 lbs!
The last money place went to Donald & Paul Wells with 16.32 lbs worth $125.00!
2nd BF weighed 5.95 lbs and she was brought in by Sonny Beam & Butch Williams. They collected $78.00!
Next Wateree CATT is this Sat Mar 17th at Clearwater and is a Gold! Remember you only have to enter 1 Wateree Spring Qualifier to be eligible to enter the Wateree Spring Final!
| | | | | | |
| --- | --- | --- | --- | --- | --- |
|   |   | Big   | Total |   |   |
| Place | Team | Fish | Weight | Winnings | Points |
| 1 | Jim Davis – Mike Allman 1st BF & BONUS $ | 8.35 | 27.43 | $1,842.00 | 110 |
| 2 | Bob Weaver – Scott Floyd | 5.22 | 20.57 | $560.00 | 109 |
| 3 | Lewis Thompson – Chris Holman | 4.80 | 17.23 | $300.00 | 107 |
| 4 | Dean Benfield – Keith Hargett | 5.37 | 17.12 | $200.00 | 108 |
| 5 | Donald Wells – Paul Wells | 5.48 | 16.32 | $125.00 | 106 |
| 6 | Mike King – Chris Crawford | 4.55 | 15.89 | | 105 |
| 7 | Butch Williams – Sonny Beam  2nd BF | 5.95 | 15.78 | $78.00 | 104 |
| 8 | David F Canupp & David L Canupp | 5.35 | 15.33 | | 103 |
| 9 | Jacob Norris – Jeff Norris | 3.23 | 14.07 | | 102 |
| 10 | Jerry Freezon – Kareem White | 3.51 | 13.49 | | 101 |
| 11 | Mike Ware – Bryan Holmes | 3.34 | 12.34 | | 100 |
| 12 | Matt Ross – David Skinner | 3.14 | 11.93 | | 99 |
| 13 | Craig Haven – Tim Haven | 2.91 | 11.85 | | 98 |
| 14 | Chad Gainey – Mack Kitchens | 2.98 | 11.65 | | 97 |
| 15 | Mike Stephens – Hunter Hicks | 4.81 | 11.47 | | 96 |
| 16 | Sam Dowey – Tommy Moak | 3.04 | 10.92 | | 95 |
| 17 | Mark Healon – Tony Truett | 2.28 | 9.97 | | 94 |
| 18 | Greg Atkinson – Ron Catoe | 5.25 | 9.00 | | 93 |
| 19 | Max Price | 0.00 | 0.00 | | 92 |
| 20 | Jimmy McFarland – Calvin Griggs | 0.00 | 0.00 | | 92 |
| 21 | Larry Hastings | 0.00 | 0.00 | | 92 |
| 22 | Phillip Anderson – Andy Lake | 0.00 | 0.00 | | 92 |
| 23 | Matt Nettles – RB Blackmon | 0.00 | 0.00 | | 92 |
| 24 | Ed Mathews | 0.00 | 0.00 | | 92 |
| 25 | Wesley & Cole Jackson | 0.00 | 0.00 | | 92 |
| 26 | Scott Williams | 0.00 | 0.00 | | 92 |
| | Total Entrys |   |   | $3,120.00 | |
| | BONUS $ |   |   | $460.00 | |
| | Total Paid At Ramp |   |   | $3,105.00 | |
| | Wateree 2018 Spring Final Fund |   |   | $400.00 | |
| | 2018 CATT Championship Fund |   |   | $75.00 | |
| |   |   |   |   | |
| | 2018 Wateree Spring Final Fund Total |   |   | $1,255.00 | |
| | 2018  CATT Championship Fund Total |   |   | $3,070.00 | |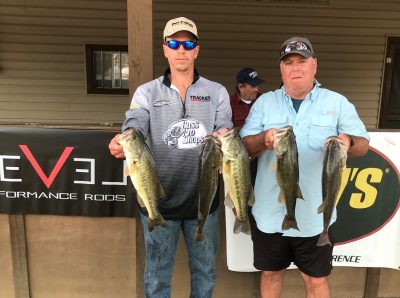 2nd Bob Weaver & Scott Floyd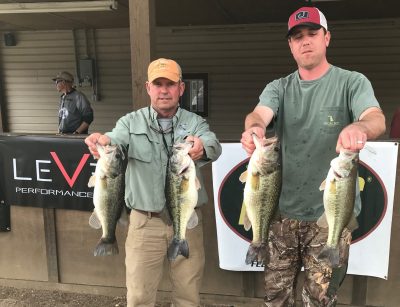 3rd Lewis Thompson & Chris Holman