We saw several bass over 5 pounds this past Saturday at Wateree and 5 of them were over 6 pounds! It's going to get even better with some warm weather finally coming! The next Wateree CATT is April 7th at Clearwater Cover Marina! This is a double point event and your last chance to be eligible to enter the Wateree Spring Final April 14th!
Bryan Holmes & Mike are bought in 5 bass weighing 22.24 lbs to take 1st Place and the BONUS $. Add in the 2nd BF at 6.47 lbs and they took home $1,088.00!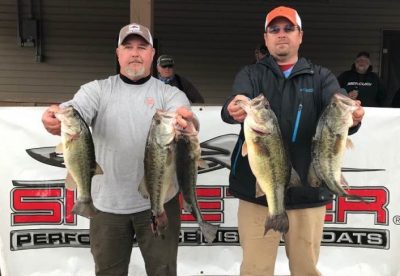 Bryan & Mike
2nd place went to Alan Fletcher & Donald Hinson with a limit weighing 21.60 lbs and they weighed in the 1st BF at 6.66 lbs. They took home $512.00 and an Academy Gift Card!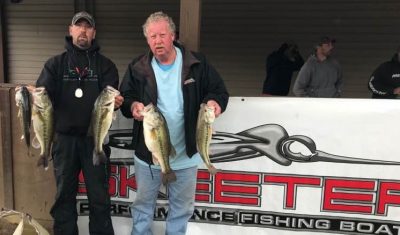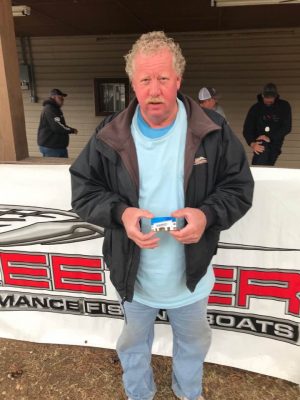 3rd went to David Ethridge & Butch Williams with 21.17 lbs and they took home $210.00!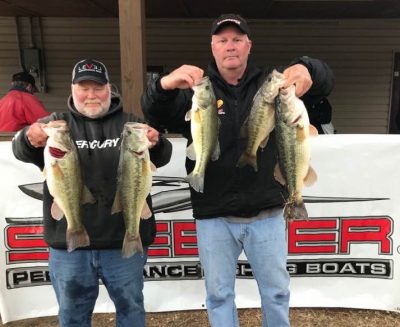 David & Butch
We paid back 5 place and a total of $2,020.000!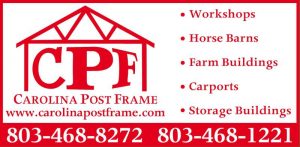 | | | | | |
| --- | --- | --- | --- | --- |
|  26 Teams | Big   | Total |   |   |
| Team | Fish | Weight | Winnings | Points |
| Mike Ware – Bryan Holmes  BONUS & 2nd BF | 6.47 | 22.24 | $1,088.00 | 110 |
| Alan Fletcher – Donald Hinson  1st BF | 6.66 | 21.60 | $512.00 | 109 |
| Butch Williams – David Ethridge | 5.83 | 21.17 | $210.00 | 108 |
| Gary Michaud – Dustin Compton | 5.31 | 18.49 | $110.00 | 107 |
| Mike King – Chris Crawford | 6.09 | 17.99 | $100.00 | 106 |
| Jay Adams – Tony Colacurcio | 4.74 | 17.42 | | 105 |
| Craig Haven – Tim Haven | 3.97 | 16.96 | | 104 |
| Bubba Jackson – Wesley Jackson | 4.30 | 16.79 | | 103 |
| Jimmy McFarland | 4.89 | 14.89 | | 102 |
| Andrew Boykin – Lee Amerson | 6.10 | 14.70 | | 101 |
| Chad Gainey – Mack Kitchens | 3.88 | 14.66 | | 100 |
| Donald Wells – Paul Wells | 4.87 | 13.78 | | 99 |
| Kyle Westerman – Amos Gainey | 4.88 | 13.22 | | 98 |
| Bob Weaver – Scott Floyd | 3.16 | 13.02 | | 97 |
| Kevin Marlone | 6.03 | 12.87 | | 96 |
| David F Canupp – David L Canupp | 4.03 | 12.68 | | 95 |
| Shane Cantley – DJ McEarchern | 3.05 | 11.72 | | 94 |
| Lewis Thompson | 5.58 | 10.40 | | 93 |
| Cleve Yarborough – David Pulling | 0.00 | 0.00 | | 92 |
| Daryl Watson – Wayne Stover | 0.00 | 0.00 | | 92 |
| Jerry Freezon | 0.00 | 0.00 | | 92 |
| Dean Benfield – Keith Hargett | 0.00 | 0.00 | | 92 |
| Max Price – Hunter Denton | 0.00 | 0.00 | | 92 |
| Mark Healon – Tony Truett | 0.00 | 0.00 | | 92 |
| Jim Davis – Mike Allman | 0.00 | 0.00 | | 92 |
| Tanner Fletcher – Kateland | 0.00 | 0.00 | | 92 |
| Total Entrys |   |   | $2,080.00 |   |
| BONUS $ |   |   | $460.00 |   |
| Total Paid At Ramp |   |   | $2,020.00 |   |
| Wateree 2018 Spring Final Fund |   |   | $470.00 |   |
| 2018 CATT Championship Fund |   |   | $50.00 |   |
|   |   |   |   |   |
| 2018 Wateree Spring Final Fund Total |   |   | $2,120.00 |   |
| 2018  CATT Championship Fund Total |   |   | $3,525.00 |   |