The fishing is improving at Wateree and as we get into march it should get even better! We had 5 bass over 6 lbs weighed in this past Saturday! Next Wateree CATT is March 10th and is a GOLD!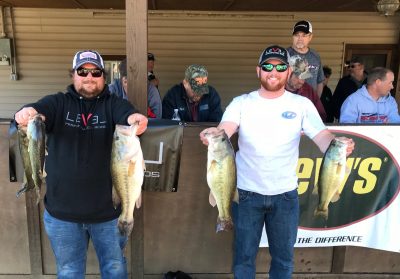 Shane Cantley & Michael Richardson brought in 5 bass weighing 20.44 lbs good enough for 1st Place and the BONUS $. They took home a total of $1,215.00!
Mike King & Chris Crawford took 2nd with 5 bass weighing 19.67 lbs and they collected $360.00!
Craig & Tim Haven claimed 3rd with a limit weighing 19.42 lbs and they received $260.00!
4th was Jerry Freezon with 17.95 lbs $140.00!
5th Butch & David Ethridge 17.92 lbs $110.00
Larry Hasting 17.20 lbs with the 2nd BF of 6.38 lbs $193.00!
1st BF went to Cleve Yarborough & Kyle McElveen with a 6.53 lbs bass worth $217.00! PLUS they took home a $25 Academy Sports Gift Card!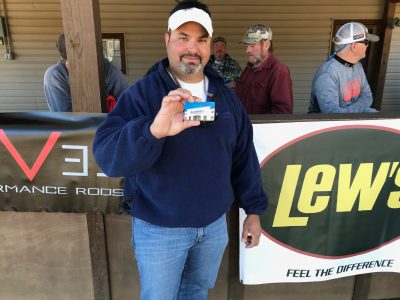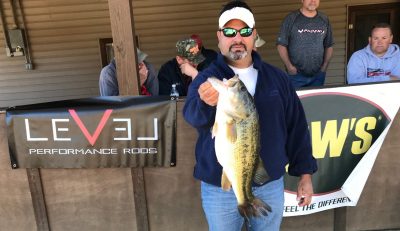 | | | | | | |
| --- | --- | --- | --- | --- | --- |
|   |   | Big   | Total |   |   |
| Place | Team | Fish | Weight | Winnings | Points |
| 1 | Shane Cantley – Michael Richardson   BONUS $ | 6.09 | 20.44 | $1,215.00 | 110 |
| 2 | Mike King – Chris Crawford | 5.12 | 19.67 | $360.00 | 109 |
| 3 | Craig Haven – Tim Haven | 6.07 | 19.42 | $260.00 | 107 |
| 4 | Jerry Freezon | 4.60 | 17.95 | $140.00 | 108 |
| 5 | Butch Williams – David Ethridge | 5.28 | 17.92 | $110.00 | 106 |
| 6 | Larry Hastings     2nd BF | 6.38 | 17.20 | $193.00 | 105 |
| 7 | Max Price – Hunter Denton | 3.48 | 17.11 |   | 104 |
| 8 | Bob Weaver – Scott Floyd | 4.60 | 16.32 |   | 103 |
| 9 | Jacob Norris – Jeff Norris   | 4.20 | 16.30 |   | 102 |
| 10 | Scott Williams – Robbie English | 4.62 | 15.56 |   | 101 |
| 11 | Mike Ware – Bryan Holmes | 5.83 | 14.93 |   | 100 |
| 12 | Dean Benfield – Keith Hargett | 3.45 | 14.51 |   | 99 |
| 13 | Bobby Purvis – Matt Ross | 4.08 | 14.38 |   | 98 |
| 14 | Trent McLaughlin – Brett Neal | 3.93 | 14.15 |   | 97 |
| 15 | Sam Dowey – Tommy Moak    | 3.77 | 13.89 |   | 96 |
| 16 | Cleve Yarborough – Kyle McElveen  1st BF | 6.53 | 13.76 | $217.00 | 95 |
| 17 | Jimmy McFarland – Calvin Griggs | 4.79 | 13.35 |   | 94 |
| 18 | Ryan Aaron – Scott Perrin | 3.04 | 13.33 |   | 93 |
| 19 | Daryl Watson – Ken McFarland | 3.80 | 13.11 |   | 92 |
| 20 | Tony Truett – Mark Healon | 2.87 | 12.43 |   | 92 |
| 21 | Chad Gainey – Zach Gainey | 4.20 | 11.02 |   | 91 |
| 22 | Donald Wells – Paul Wells   | 2.78 | 10.08 |   | 90 |
| 23 | Lewis Thompson – Tripp Poplin | 4.06 | 8.38 |   | 89 |
| 24 | Andrew Boykin | 0.00 | 6.91 |   | 88 |
| 25 | David F Canupp & David L Canupp | 0.00 | 0.00 |   | 87 |
| 26 | Matt Nettles – Pat Clark | 0.00 | 0.00 |   | 87 |
| 27 | Greg Sigmon | 0.00 | 0.00 |   | 87 |
| 28 | Randall Bock – Josh McCaskill | 0.00 | 0.00 |   | 87 |
| 29 | Logan McDaniels- Dustin Snipes | 0.00 | 0.00 |   | 87 |
| 30 | Greg Nettles – Paul Wilkins | 0.00 | 0.00 |   | 87 |
| 31 | Wesley & Cole Jackson | 0.00 | 0.00 |   | 87 |
|   | Total Entrys |   |   | $2,480.00 |   |
|   | BONUS $ |   |   | $540.00 |   |
|   | Total Paid At Ramp |   |   | $2,495.00 |   |
|   | Wateree 2018 Spring Final Fund |   |   | $475.00 |   |
|   | 2018 CATT Championship Fund |   |   | $50.00 |   |
|   |   |   |   |   |   |
|   | 2018 Wateree Spring Final Fund Total |   |   | $855.00 |   |
|   | 2018  CATT Championship Fund Total |   |   | $2,800.00 |   |
Chris Crawford & Mike King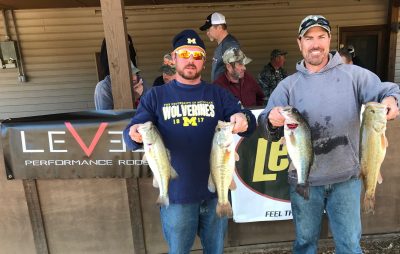 Tim & Craig Haven