Next Wateree CATT is March 30th and is a GOLD!
Dustin Compton & Johnathan Strickland took home $1,918.00 with a 5 bass limit weighing 21.49 lbs! They also weighed in the 1st BF and received a $25 Academy Gift Card! Wateree is still warming up so the best is coming up!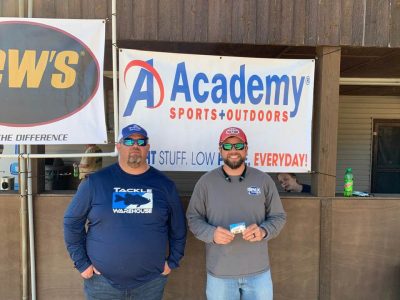 2nd Place went to Greg Atkinson & James Brinson with 16.22 lbs!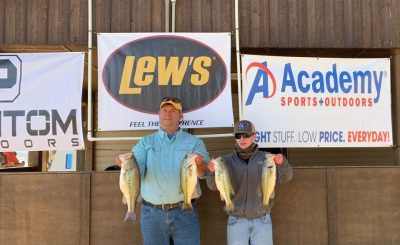 3rd went to Trent McLaughlin & Dearal Rodgers! 16.14 lbs!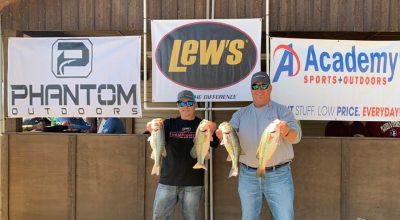 Mike Ware & Bryan Holmes finished 4th with 16.04 lbs!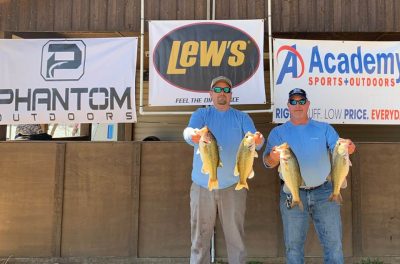 | | | | | |
| --- | --- | --- | --- | --- |
| | Big | Total | Total | |
| 25 Teams | Fish | Weight | Winnings | Points |
| Dustin Compton – Jonathan Strickland | 6.27 | 21.49 | $1,918.00 | 110 |
| Greg Atkinson – James Brinson | 5.06 | 16.22 | $550.00 | 109 |
| Trent McLaughlin – Dearal Rodgers | 3.74 | 16.14 | $250.00 | 108 |
| Mike Ware – Bryan Holmes | 4.03 | 16.04 | $190.00 | 107 |
| Max Price – Brent Neal | 4.03 | 15.32 | $140.00 | 106 |
| Chad Rabon – Walt Almond | 4.53 | 15.13 | | 105 |
| Chad Gainey – Jeffrey Furr | 4.04 | 14.14 | | 104 |
| Mark Healon – Ella Healon | 0.00 | 14.13 | | 103 |
| Jeff Reynolds – Lee Royson | 5.06 | 12.87 | | 102 |
| Dean Benfield – Sonny Beam | 5.51 | 12.55 | $72.00 | 101 |
| Jason Quinn – John Paul George | 4.85 | 11.95 | | 100 |
| Mike King – Lewis Thompson | 2.62 | 11.12 | | 99 |
| Greg Sigmon | 4.03 | 10.00 | | 98 |
| Bubba Jackson – Wesley Jackson | 0.00 | 9.67 | | 97 |
| Scott Williams – Robbie English | 3.92 | 9.12 | | 96 |
| Brad Petway – Jerry Freezon | 4.19 | 7.95 | | 95 |
| Donald Wells – Paul Wells | 2.99 | 7.66 | | 94 |
| Allan Fletcher – Tanner Fletcher | 0.00 | 7.21 | | 93 |
| Sam Dowey – Tommy Moak | 0.00 | 7.10 | | 92 |
| Skeebo Kelly – Zane Ross | 3.91 | 7.09 | | 91 |
| David L Canupp – David F Canupp | 0.00 | 6.45 | | 90 |
| David Ethridge – Butch Williams | 5.14 | 5.14 | | 89 |
| Scott Floyd – Greg Corvin | 2.66 | 2.66 | | 88 |
| Tim Haven – Craig Haven | 2.30 | 2.30 | | 87 |
| Johnny Allen | 0.00 | 0.00 | | 86 |
| Total Entrys | | | $3,000.00 | |
| BONUS $ | | | $575.00 | |
| Total Paid At Ramp | | | $3,120.00 | |
| Wateree 2019 Spring Final Fund | | | $370.00 | |
| 2019 CATT Championship Fund | | | $85.00 | |
| 2019 Wateree Spring Final Fund Total | | | $1,725.00 | |
| 2019  CATT Championship Fund Total | | | $3,945.00 | |