Next Wateree Summer CATT is June 2 at Clearwater Cove Marina!
Alan Fletcher & Donald Hinson weighed in 21.38 lbs along with the 2nd BF 5.07 lbs taking 1st Place and $1.163.00!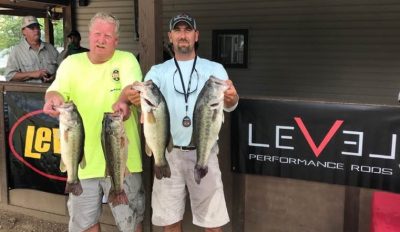 2nd went to Chad Rabon & Walt Almond with 20.32 lbs and they weighed in the 1st BF at 6.55 lbs. They took home $472.00!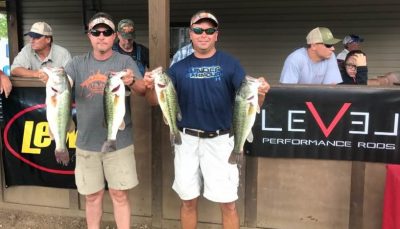 3rd Place Paul & Donald Wells 17.47 lbs!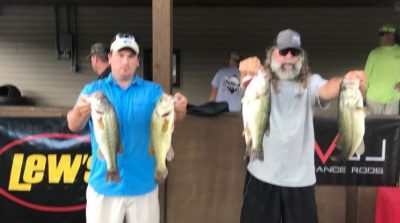 4th David L & David F Canupp 16.22 lbs!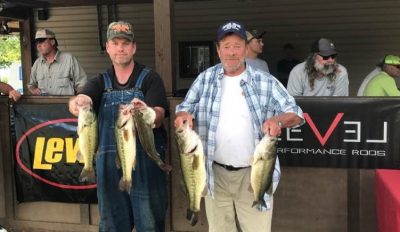 | | | | | |
| --- | --- | --- | --- | --- |
| 21 Teams | Big | | | |
| Team | Fish | Weight | Winnings | Points |
| Donald Hinson & Alan Fletcher BONUS $ & 2nd BF | 5.07 | 21.38 | $923.00 | 110 |
| Walt Almond – Chad Rabon   1st BF | 6.55 | 20.32 | $447.00 | 109 |
| Paul Wells – Donald Wells | 4.25 | 17.47 | $150.00 | 108 |
| David F Canupp – David L Canupp | 4.56 | 16.22 | $100.00 | 107 |
| Steve Phillips – Jason Bateman | 3.95 | 13.92 | | 106 |
| Max Price | 4.02 | 13.19 | | 105 |
| David Weatherfrod – Barry Brown | 3.69 | 13.18 | | 104 |
| Lee Morris – Robert Ross | 3.36 | 13.02 | | 103 |
| John Paul George – Jason Quinn | 3.54 | 12.84 | | 102 |
| Chad Gainey – Todd Butler | 3.79 | 12.69 | | 101 |
| David Ethridge – Sonny Beam | 3.18 | 12.38 | | 100 |
| Brett Collins | 4.10 | 11.79 | | 99 |
| Stevie Walker | 3.76 | 11.71 | | 98 |
| Craig Haven – Tim Haven | 3.11 | 11.47 | | 97 |
| Chad Sims – David Anderson | 3.47 | 11.10 | | 96 |
| Fred Clements – Kevin Alford | 3.19 | 10.27 | | 95 |
| Tanner Fletcher – Von McCoy | 2.59 | 10.13 | | 94 |
| Mike King – Lorne Marcildon | 3.97 | 7.74 | | 93 |
| Scott Floyd – Greg Corvin | 0.00 | 3.91 | | 92 |
| Tim Chapman – Marcus Leech | 0.00 | 0.00 | | 91 |
| Michael Dean – Beasley Kieth | 0.00 | 0.00 | | 90 |
| Total Entrys | | | $1,680.00 | |
| BONUS $ | | | $360.00 | |
| Total Paid At Ramp | | | $1,620.00 | |
| Wateree 2018 Summer Final Fund | | | $370.00 | |
| 2018 CATT Championship Fund | | | $50.00 | |
| | | | | |
| 2018 Wateree Summer Final Fund Total | | | $370.00 | |
| 2018 CATT Championship Fund Total | | | $4,840.00 | |