2018 Wateree Open Point Winners Fish the 2019 Wateree Opens Free
2nd Points – $500.00   3rd Points – $300.00  4th Points – $200.00
5th Points – $150.00     6th Points $100.00
Must Fish 6 Opens to be Eligible to Enter Wateree Open Final
Enter 10 Wateree Opens & Fish Wateree Open Final FREE!
Next Wateree Open is April 21st.—This Saturday at Clearwater Cove!
May 19th Open has been moved to June 2nd!
Barry Holloman weighed in 5 bass at 21.63 lbs to take 1st Place fishing the Wateree Open this past Saturday! Kick in the BONUS $ and Barry took home $1,040.00!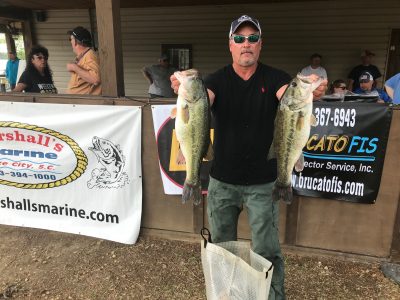 2nd went to Scott Williams & Robby English with 5 bass weighing 16.43 lbs and they took home $325.00!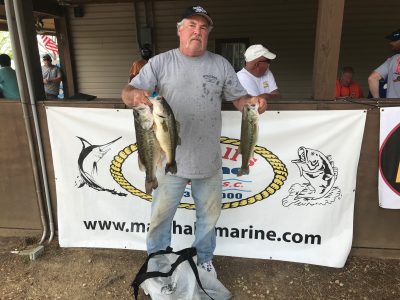 Chad Gainey & Mack Kitchens finished 3rd with 14.15 lbs and took home $175.00!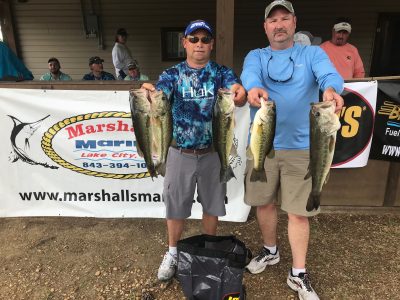 Lee Royson & Jeff Reynolds took 4th with 13.39 lbs. They collected $120.00!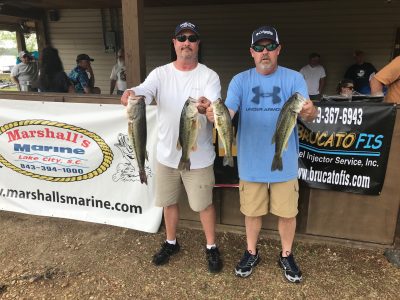 | | | | | |
| --- | --- | --- | --- | --- |
| 22 Teams | Big |   |   |   |
| Team | Fish | Weight | Winnings | Points |
| Barry Holloman | 5.21 | 21.63 | $1,040.00 | 110 |
| Scott Williams – Robbie English | 4.96 | 16.43 | $325.00 | 109 |
| Chad Gainey – Todd Butler | 4.14 | 14.15 | $175.00 | 108 |
| Lee Royson – Jeff Reynolds | 4.78 | 13.39 | $120.00 | 107 |
| Greg Sigmon – Jeff Segge | 3.91 | 13.13 | | 106 |
| Winkey Watford – Travis Gatlin | 3.73 | 13.11 | | 105 |
| Greg Atkinson – Ron Catoe | 4.57 | 12.72 | | 104 |
| Scott Floyd – Bob Weaver | 4.36 | 12.56 | | 103 |
| Donald Hinson – Alan Fletcher | 3.04 | 12.53 | | 102 |
| Craig Haven – Tim Haven | 3.64 | 12.20 | | 101 |
| David Ethridge – Butch Williams | 3.69 | 10.79 | | 100 |
| Shane Cantley – Michael Richardson | 3.93 | 10.73 | | 99 |
| Steve Phillips – Jason Bateman | 4.44 | 10.37 | | 98 |
| Mark Healon – Tony Truett | 5.77 | 10.36 | $147.00 | 97 |
| David F Canupp – David L Canupp | 3.91 | 9.95 | | 96 |
| Matt & Greg Nettles | 3.10 | 9.46 | | 95 |
| Tanner Fletcher – Kateland – Morrell | 5.60 | 5.60 | $63.00 | 94 |
| Mike Shumpert – Adam Henry | 5.08 | 5.08 | | 93 |
| Lewis Thompson | 3.25 | 4.61 | | 92 |
| Brad Petway | 1.68 | 1.68 | | 91 |
| Ricky Brown – Dustin Snipes | 0.00 | 0.00 | | 90 |
| Jerry Freezon – Kareem White | 0.00 | 0.00 | | 90 |
| 2018 Wateree Open Final Fund |   |   | $1,380.00 |   |
| 2018 Wateree Open Point Fund |   |   | $250.00 |   |
| **2017 Point Winners Free Entry |   |   |   |   |
|   |   |   |   |   |
| 2018 Point Winners Fish 2019 Opens FREE! |   |   |   |   |
| Teams 2-6 In Points Receive $$ |   |   |   |   |