Next Wateree Open is May 26th at Clearwater Cove Marina!
Barry Holloman & Joey Bramlett took the win this past Saturday at Clearwater Cove Marina with 5 bass weighing 22.33 lbs! They weighed the 1st BF at 5.11 lbs and took the BONUS for a total payday of $1,113.00!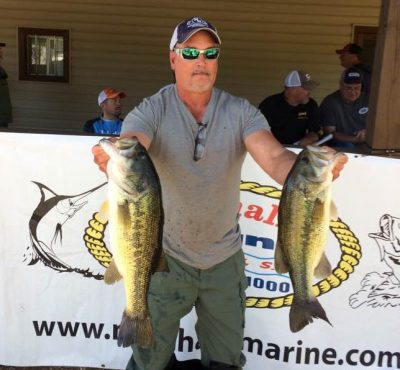 2nd went to Butch Williams & David Ethridge with a limit weighing 16.50 lbs worth $275.00!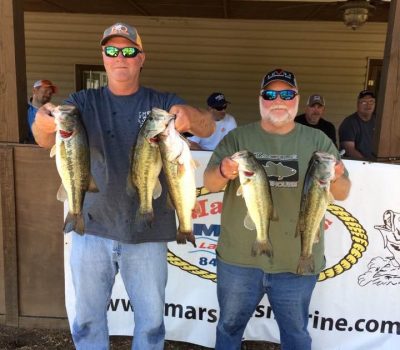 Chad Gainey took 3rd with 14.97 lbs!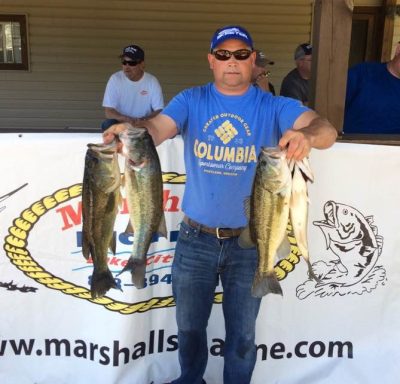 | | | | | |
| --- | --- | --- | --- | --- |
| 20 Teams | Big |   |   |   |
| Team | Fish | Weight | Winnings | Points |
| Barry Holloman – Joey Bramlett  BONUS $ & 1st BF | 5.11 | 22.33 | $1,113.00 | 110 |
| David Ethridge – Butch Williams | 3.94 | 16.50 | $275.00 | 109 |
| Chad Gainey | 3.37 | 14.97 | $135.00 | 108 |
| Mike King – Lorne Marcildon | 2.90 | 10.97 | $100.00 | 107 |
| Craig Haven – Tim Haven  2nd BF | 4.00 | 10.63 | $57.00 | 106 |
| Bryan Holmes – Mike Ware | 2.68 | 10.50 | | 105 |
| David F Canupp – David L Canupp | 2.86 | 9.79 | | 104 |
| Shane Cantley – Michael Richardson | 2.82 | 7.92 | | 103 |
| Steve Phillips – Jason Bateman | 2.69 | 7.90 | | 102 |
| Donald Wells | 3.72 | 6.63 | | 101 |
| Alan & Tanner Fletcher | 2.53 | 4.77 | | 100 |
| Scott Floyd – Greg Corvin | 2.20 | 3.83 | | 99 |
| Brad Petway** | 2.30 | 3.82 | | 98 |
| Greg Sigmon | 0.00 | 0.00 | | 97 |
| Mark Healon | 0.00 | 0.00 | | 97 |
| Wesley Jackson | 0.00 | 0.00 | | 97 |
| Greg & Abby Atkinson | 0.00 | 0.00 | | 97 |
| Lewis Thompson – Kyle Kelly | 0.00 | 0.00 | | 97 |
| Jeff Douglas – Jerry Freezon | 0.00 | 0.00 | | 97 |
| Lee Royson – Jeff Reynolds | 0.00 | 0.00 | | 97 |
| 2018 Wateree Open Final Fund |   |   | $1,690.00 |   |
| 2018 Wateree Open Point Fund |   |   | $350.00 |   |
| **2017 Point Winners Free Entry |   |   |   |   |
|   |   |   |   |   |
| 2018 Point Winners Fish 2019 Opens FREE! |   |   |   |   |
| Teams 2-6 In Points Receive $$ |   |   |   |   |