Next Wateree Open is April 13th at Clearwater Cove! No membership $100 Entry!
Greg Atkinson & Ron Catoe took 1st at the Wateree Open Saturday with 5 bass weighing 19.99 lbs! They also weighed in the BF at 7.04 lbs and took home a total of $1,297.00!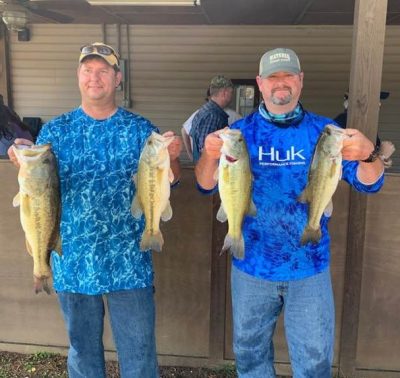 Chad Gainey & Mack Kitchens were 2nd with 18.55 lbs!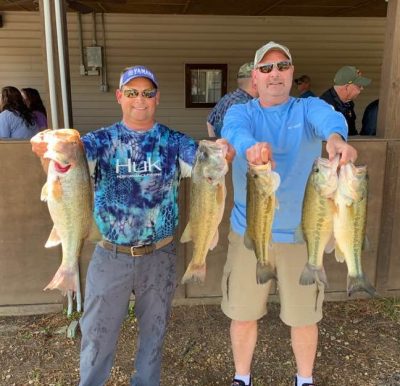 Donald Hinson & Alan Flecther 3rd 17.38 lbs!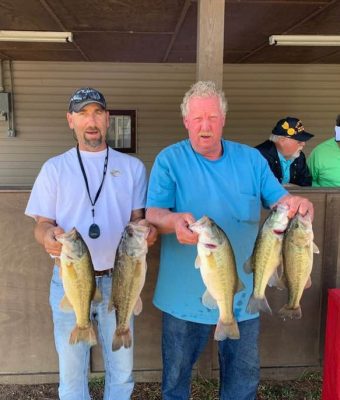 Mike King & Chris King 4th 17.03 lbs!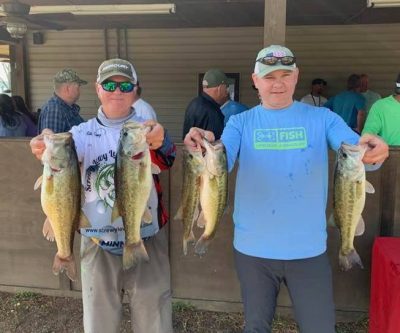 Brian Sweeney & Taylor Burris 5th with 17.02 lbs!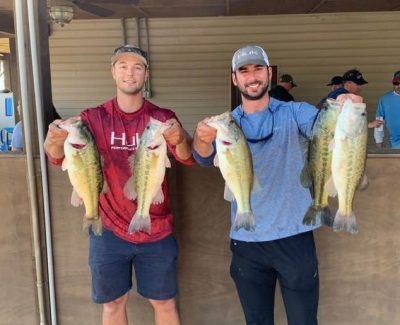 Robbie English with a couple of nice uns!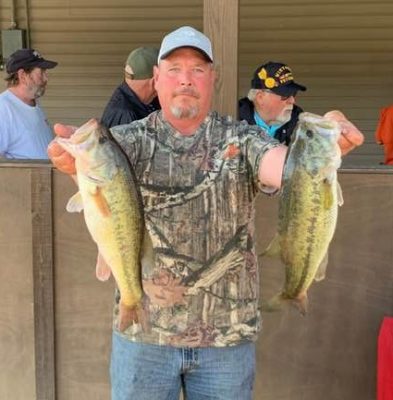 | | | | | |
| --- | --- | --- | --- | --- |
| | Big | Total | Total | |
| 21 Teams | Fish | Weight | Winnings | Points |
| Greg Atkinson – Ron Catoe | 7.04 | 19.99 | $1,297.00 | 110 |
| Chad Gainey – Mack Kitchens | 5.03 | 18.55 | $363.00 | 109 |
| Alan Fletcher – Donal Hinson ** | 4.68 | 17.38 | $175.00 | 108 |
| Mike King – Chris King | 4.73 | 17.03 | $130.00 | 107 |
| Brian Sweeney – Taylor Burris | 3.94 | 17.02 | | 106 |
| Scott Williams – Robbie English | 4.83 | 16.14 | | 105 |
| John Paul George – Jason Quinn | 3.53 | 15.41 | | 104 |
| Jeff Reynolds – Lee Royson | 4.25 | 15.40 | | 103 |
| Craig Haven – Tim Haven | 4.47 | 14.29 | | 102 |
| Scott Floyd – Bob Weaver | 3.46 | 13.69 | | 101 |
| David Canupp & David Canupp | 3.93 | 13.38 | | 100 |
| Brett Collins – Brad Petway | 3.54 | 13.14 | | 99 |
| Danny Gibson – Steve Funderburke | 3.32 | 11.98 | | 98 |
| Tony Truett – Mark Healon | 3.72 | 11.89 | | 97 |
| Jason Bateman – Steve Phillips | 4.18 | 8.78 | | 96 |
| Tim Kelly | 3.36 | 8.63 | | 95 |
| Jared Upchurch | 0.00 | 8.47 | | 94 |
| Dylan Locklear – Russ Williams | 4.15 | 6.19 | | 93 |
| Shane Cantley – Michael Smith | 0.00 | 2.83 | | 92 |
| Brent Neal – Austin Hightower | 0.00 | 0.00 | | 91 |
| Jerry Freezon – Kareem White | 0.00 | 0.00 | | 91 |
| 2019 Wateree Open Final Fund | | | $355.00 | |
| 2019 Wateree Open Final Fund Total | | | $1,190.00 | |
| 2019 Wateree Open Point Fund | | | $475.00 | |
| **2018 Point Winners Free Entry | | | | |
| 2019 Pt Winners Receive Free Entry 2019 | | | | |
| Teams 2-6 In Points Receive $$ | | | | |