** A team must fish 6 tournaments to qualify for the Wateree Open Final. A team that fishes 10 tournaments will receive FREE entry fee into the Opens Final! The team that finishes first in points in 2018 will fish the entire 2019 Wateree Open Schedule for FREE! There will be cash prizes for 2nd thru 6th in the point standings as well.
Next Wateree Open is August 11th!
Will Dewey & Brogan Moore made the trip down from Lake Wylie and boy was it worth it! Will & Brogan weighed in 5 bass at 12.84 lbs and also weighed in the 2nd BF at 4.37 lbs taking 1st Place and the BONUS $! They earned a total of $1,014.00!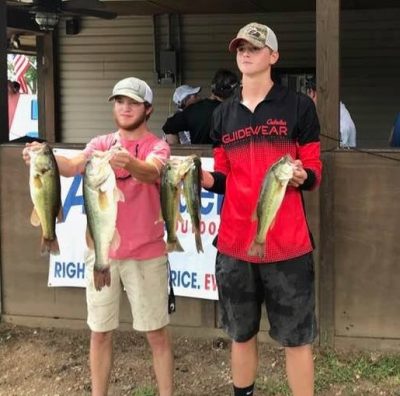 Bobby Purvis & Matt Ross took 2nd with 12.35 lbs!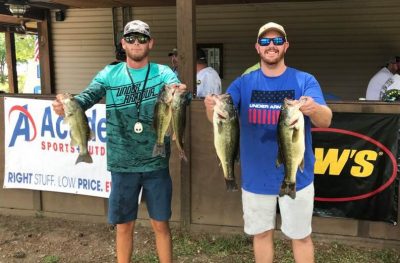 3rd wen to Brad Petway & Brett Collins with 110.60 lbs!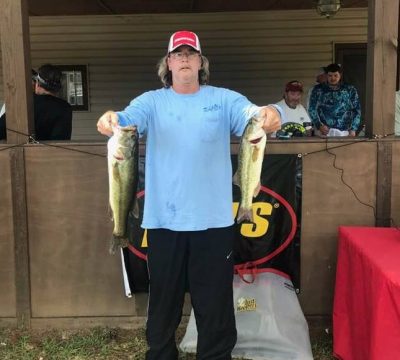 The BF of the day went to Jason Miles & Jerry Freezon   5.13 lbs!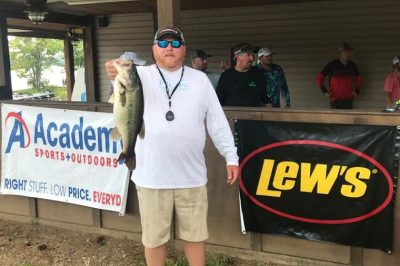 Come join us on the 11th! You can pay at the ramp! No membership! $100.00 entry! $25 Optional BONUS!
| | | | | |
| --- | --- | --- | --- | --- |
| 18 Teams | Big | | | |
| Team | Fish | Weight | Winnings | Points |
| Will Dewey – Brogan Moore  BONUS $  2nd BF | 4.37 | 12.84 | $1,014.00 | 110 |
| Bobby Purvis – Matt Ross | 3.89 | 12.35 | $300.00 | 109 |
| Brad Petway – Brett Collins | 3.73 | 11.60 | $125.00 | 108 |
| Craig Haven – Tim Haven | 2.80 | 11.48 | | 107 |
| Shane Cantley – Michael Richardson | 3.15 | 11.00 | | 106 |
| Jerry Freezon – Jason Miles   1st BF | 5.13 | 10.93 | $126.00 | 105 |
| Chad Gainey – Mack Kitchens | 2.73 | 10.11 | | 104 |
| Jason McCoy – Buddy Hartis | 2.89 | 9.64 | | 103 |
| Matt Nettles | 3.34 | 9.61 | | 102 |
| Freddie Gibbs – Marshall Gandy | 3.04 | 9.22 | | 101 |
| Tanner Fletcher – Katlyn | 2.36 | 8.22 | | 100 |
| David F Canupp – David L Canupp | 2.56 | 6.61 | | 99 |
| Steve Phillips – Jason Bateman | 0.00 | 4.27 | | 98 |
| Alan Fletcher & Donald Hinson | 0.00 | 0.00 | | 97 |
| Greg Corvin | 0.00 | 0.00 | | 97 |
| Randy Weddington – Ronnie Smith | 0.00 | 0.00 | | 97 |
| John Paul George – Jason Quinn | 0.00 | 0.00 | | 97 |
| Walt Almond – Chad Rabon | 0.00 | 0.00 | | 97 |
| 2018 Wateree Open Final Fund | | | $2,715.00 | |
| 2018 Wateree Open Point Fund | | | $1,145.00 | |
| **2017 Point Winners Free Entry | | | | |
| | | | | |
| 2018 Point Winners Fish 2019 Opens FREE! | | | | |
| Teams 2-6 In Points Receive $$ | | | | |