Next Wateree Open is June 8 at Clearwater!
Michael Richardson & Shane Cantley weigh in 20.54 lbs to take 1st Place and the 2nd BF at 5.69 lbs!
If you want to join us come on!
Must enter 6 Opens to be eligible to enter the Open Final
Enter 10 Opens and fish the Open Final Free
Safe Daylight – Weigh in Determined at Ramp
$100 Entry    Optional $25 side pot at each event!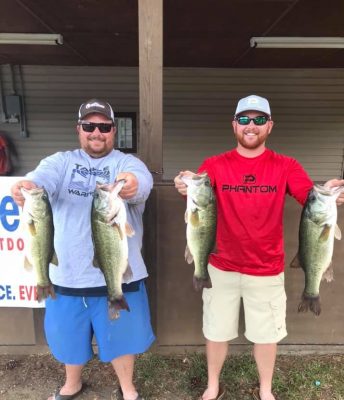 | | | | | |
| --- | --- | --- | --- | --- |
| Wateree Open June 1, 2019 | | | | |
| | | | | |
| | Big | Total | Total | |
| 18 Teams | Fish | Weight | Winnings | Points |
| Michael Richardson -Shane Cantley | 5.69 | 20.54 | $993.00 | 110 |
| Alan Fletcher – Donald Hinson | 4.48 | 17.91 | $270.00 | 109 |
| Bob Weaver – Scott Floyd | 5.72 | 16.49 | $232.00 | 108 |
| Chad Gainey – Mack Kitchens | 3.90 | 15.81 | | 107 |
| Jason Quinn – John Paul George | 4.80 | 15.33 | | 106 |
| Jeff Norris – Jacob Norris | 3.78 | 15.29 | | 105 |
| Lee Morris – Robert Ross | 4.05 | 14.96 | | 104 |
| Chad Rabon – Walt Almond | 3.99 | 14.52 | | 103 |
| Brian Jeffords – Gary Pope | 4.27 | 13.96 | | 102 |
| Kyle Arledge – Joey Arledge | 3.69 | 13.72 | | 101 |
| Max Price – Butch Williams | 3.39 | 13.08 | | 100 |
| Craig Haven – Tim Haven | 3.45 | 11.96 | | 99 |
| Chris Hopkins – Hunter Hoffmyer | 4.19 | 11.41 | | 98 |
| Bubba Baker – Colden Baker | 3.41 | 10.52 | | 97 |
| Jason Bateman – Steve Phillips | 3.44 | 7.85 | | 96 |
| Jay Adams | 0.00 | 4.74 | | 95 |
| David Canupp & David Canupp | 0.00 | 0.00 | | 94 |
| Ray Dowey – Jeffrey Dowey | 0.00 | 0.00 | | 94 |
| 2019 Wateree Open Final Fund | | | $400.00 | |
| 2019 Wateree Open Final Fund Total | | | $2,500.00 | |
| 2019 Wateree Open Point Fund | | | $865.00 | |
| **2018 Point Winners Free Entry | | | | |
| 2019 Pt Winners Receive Free Entry 2019 | | | | |
| Teams 2-6 In Points Receive $$ | | | | |