Next Wateree Open June 22 Clearwater Cove Marina!
Tanner & Alan Fletcher took 1st Place Saturday with 5 bass weighing 13.63 lbs! It was a tough day with the water above 100 when we started and was falling all day long!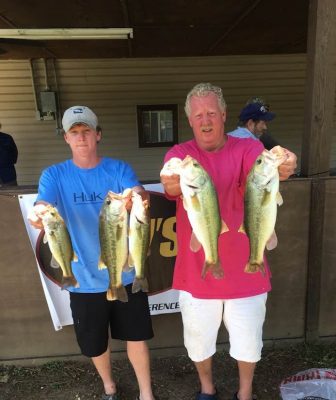 2nd Place Scott Floyd & Bob Weaver 13.55 lbs 1st BF 5.29 lbs!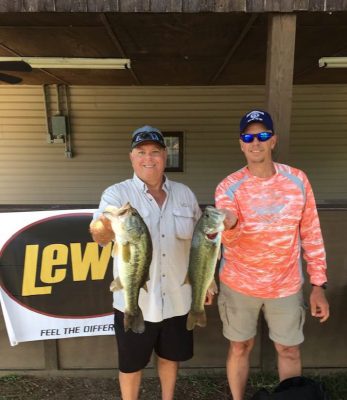 Piercen Lynch & Matt Brault with the 2nd BF 4.49 lbs!
| | | | | |
| --- | --- | --- | --- | --- |
| | Big | Total | Total | |
| 13 Teams | Fish | Weight | Winnings | Points |
| Alan Fletcher – Tanner Fletcher | 4.04 | 13.63 | $765.00 | 110 |
| Bob Weaver – Scott Floyd | 5.29 | 13.55 | $284.00 | 109 |
| Jeffrey Furr – Todd Butler | 3.79 | 12.35 | | 108 |
| Chad Rabon – Walt Almond | 2.96 | 12.19 | | 107 |
| Lee Morris – Robert Ross | 3.42 | 10.81 | | 106 |
| Butch Williams – David Ethridge | 3.16 | 10.66 | | 105 |
| Matt Brault – Piercen Lynch | 4.49 | 10.61 | $36.00 | 104 |
| David Canupp & David Canupp | 4.14 | 9.22 | | 103 |
| Craig Haven – Tim Haven | 2.35 | 9.18 | | 102 |
| Michael Richardson -DJ McEachern | 0.00 | 4.93 | | 101 |
| Jason Bateman – Steve Phillips | 0.00 | 0.00 | | 100 |
| Bubba Baker – Colden Baker | 0.00 | 0.00 | | 100 |
| Greg Sigmon | 0.00 | 0.00 | | 100 |
| 2019 Wateree Open Final Fund | | | $310.00 | |
| 2019 Wateree Open Final Fund Total | | | $2,910.00 | |
| 2019 Wateree Open Point Fund | | | $1,065.00 | |
| **2018 Point Winners Free Entry | | | | |
| 2019 Pt Winners Receive Free Entry 2019 | | | | |
| Teams 2-6 In Points Receive $$ | | | | |