Next Wateree Open is July 21st at Clearwater Cove Marina!
Chad Rabon & Walt Almond took 1st with 5 bass weighing 15.92 lbs! They also weighed in the 2nd BF at 4.84 lbs and took home a total of $915.00!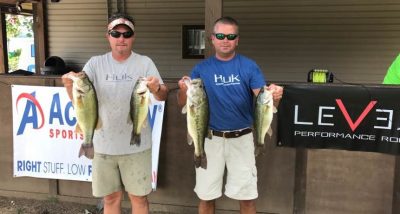 RB Blackmon & Matt Nettles finished 3rd with 14.92 lbs!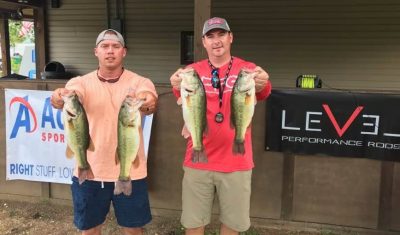 Tim Haven with the 1st BF fish!
| | | | | |
| --- | --- | --- | --- | --- |
| 18 Teams | Big | | | |
| Team | Fish | Weight | Winnings | Points |
| Walt Almond – Chad Rabon   BONUS & 2nd BF | 4.84 | 15.92 | $915.00 | 110 |
| Steve Phillips – Jason Bateman | 3.13 | 15.17 | $260.00 | 109 |
| Matt Nettles – RB Blackmon | 3.49 | 14.92 | $135.00 | 108 |
| David F Canupp – David L Canupp | 3.28 | 14.49 | | 107 |
| Craig Haven – Tim Haven   1st BF | 5.18 | 13.30 | $119.00 | 106 |
| John Paul George – Jason Quinn | 4.00 | 13.00 | | 105 |
| Jeffrey Furr – Todd Butler | 3.15 | 12.52 | | 104 |
| Mike King – Bucky Deberry | 2.84 | 11.72 | | 103 |
| Brad Petway – Brett Collins | 2.80 | 10.78 | | 102 |
| Alan Fletcher & Donald Hinson | 2.97 | 8.81 | | 101 |
| Gary Kirkbride – Ed Mathews | 3.02 | 7.66 | | 100 |
| Greg Corvin – Scott Floyd | 3.34 | 7.58 | | 99 |
| Ricky Brown – Dustin Snipes | 0.00 | 0.00 | | 98 |
| Johnnie Lawson – Chris Sullivan | 0.00 | 0.00 | | 98 |
| Jerry Freezon – Butch Dillon | 0.00 | 0.00 | | 98 |
| Johnny Allen – Scott Stallings | 0.00 | 0.00 | | 98 |
| Lewis Thompson – Greg Nettles | 0.00 | 0.00 | | 98 |
| Freddie Gibbs – Terry Odom | 0.00 | 0.00 | | 98 |
| 2018 Wateree Open Final Fund | | | $2,540.00 | |
| 2018 Wateree Open Point Fund | | | $1,045.00 | |
| **2017 Point Winners Free Entry | | | | |
| | | | | |
| 2018 Point Winners Fish 2019 Opens FREE! | | | | |
| Teams 2-6 In Points Receive $$ | | | | |