** A team must fish 6 tournaments to qualify for the Wateree Open Final. A team that fishes 10 tournaments will receive FREE entry fee into the Opens Final! The team that finishes first in points in 2018 will fish the entire 2019 Wateree Open Schedule for FREE! There will be cash prizes for 2nd thru 6th in the point standings as well.
Next Wateree Open is June 23rd!
John Paul George & Jason Quinn make it 2 in a row with 5 bass weighing 19.50 lbs! They weighed in the 1st BF at 5.10 lbs and took the BONUS $ for a total of $924.00!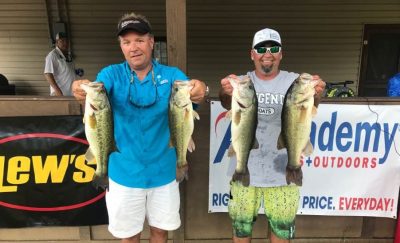 2nd Place Donald Hinson & Alan Fletcher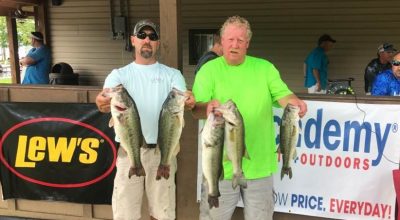 3rd Brett Collins & Brad Petway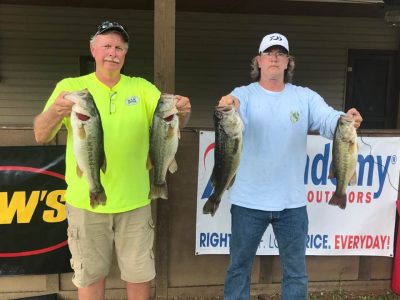 | | | | | |
| --- | --- | --- | --- | --- |
| 18 Teams | Big | | | |
| Team | Fish | Weight | Winnings | Points |
| John Paul George – Jason Quinn  BONUS $ | 5.10 | 19.50 | $924.00 | 110 |
| Alan Fletcher & Donald Hinson | 4.41 | 19.23 | $260.00 | 109 |
| Brad Petway – Brett Collins | 4.90 | 18.13 | $186.00 | 108 |
| David F Canupp – David L Canupp | 4.47 | 16.76 | | 107 |
| Steve Phillips – Jason Bateman | 4.83 | 16.53 | | 106 |
| Walt Almond – Chad Rabon | 4.13 | 14.11 | | 105 |
| Craig Haven – Tim Haven | 4.18 | 13.33 | | 104 |
| Chad Gainey – Todd Butler | 3.19 | 12.39 | | 103 |
| Jeremy Sessions – Dylan Locklear | 4.25 | 12.07 | | 102 |
| James Stevenson – Chris Hopkins | 3.08 | 11.93 | | 101 |
| Randy Therrialt – Michael Finney | 0.00 | 10.36 | | 100 |
| Tim Kelly – Adin Kelly | 3.45 | 8.50 | | 99 |
| Jerry Freezon | 0.00 | 7.14 | | 98 |
| Jimmy McFarland – Calvin Griggs | 0.00 | 0.00 | | 97 |
| Casey Stamey – Dylan Norton | 0.00 | 0.00 | | 97 |
| Greg Corvin – Kevin Boddecker | 0.00 | 0.00 | | 97 |
| Chad Simms | 0.00 | 0.00 | | 97 |
| Jeff Reynolds – Jamie Oliver | 0.00 | 0.00 | | 97 |
| 2018 Wateree Open Final Fund | | | $2,300.00 | |
| 2018 Wateree Open Point Fund | | | $945.00 | |
| **2017 Point Winners Free Entry | | | | |
| | | | | |
| 2018 Point Winners Fish 2019 Opens FREE! | | | | |
| Teams 2-6 In Points Receive $$ | | | | |