The Lake Wateree Open Final will be November 23rd at Lake Wateree! We have 16 teams eligible to enter! Remember you had to enter at least 6 Opens to be eligible to fish the Open Final! We have over $5,000.00 waiting to be handed out!
2019 Wateree Open Point Winners Alan Fletcher & Donald Hinson Receive FREE Entry in 2020!
2nd Place Wateree Open Points Shane Cantley & Michael Richardson $500.00
3rd Place Wateree Open Points Craig & Tim Haven  $350.00
4th Wateree Open Points Jason Bateman & Steve Phillips $200.00
5th Wateree Open Points Scott Floyd & Greg Corvin $150.00
After November 23rd The 2019 Wateree Opens will have paid back over $25,500.00!
Donald Hinson & Alan Fletcher won this past Saturday with a limit weighing 16.78 lbs!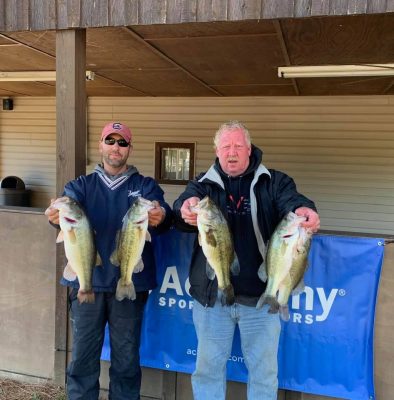 Tim & Craig Haven took 2nd with 13.85 lbs!
| | | | | |
| --- | --- | --- | --- | --- |
| 9 Teams | BF | Weight | Winnings | Points |
| Alan Fletcher – Donald Hinson | 4.73 | 16.78 | $581.00 | 110 |
| Tim Haven – Craig Haven | 3.08 | 13.85 | $140.00 | 109 |
| Shane Cantley – Michael Richardson | 3.56 | 12.88 | | 108 |
| Scott Williams – Robbie English | 3.61 | 11.92 | $24.00 | 107 |
| Steve Phillips – Jason Bateman | 2.63 | 10.51 | | 106 |
| Karem White – Jalen White | 0.00 | 7.28 | | 105 |
| Jared Upchurch | 0.00 | 4.04 | | 104 |
| Scott Floyd – Greg Corvin | 0.00 | 3.07 | | 103 |
| Josh Mitchell – Paul Haven | 0.00 | 0.00 | | 102 |
| 2019 Wateree Open Final Fund | | | $150.00 | |
| 2019 Wateree Open Final Fund Total | | | $4,380.00 | |
| 2019 Wateree Open Point Fund | | | $1,500.00 | |
| **2018 Point Winners Free Entry | | | | |
| 2019 Pt Winners Receive Free Entry 2020 | | | | |
| Teams 2-6 In Points Receive $$ | | | | |