Next Wateree Open is April 14th! Remember..no membership!

Mark & Rock Healon brought in the winning sack this past Saturday at Clearwater Cove weighing 19.36 lbs! They also weighed the 1st BF and took the BONUS $ worth a total of $1,543.00!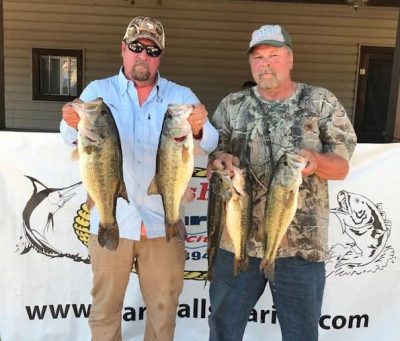 2nd went to Timmy & River Squires with a limit weighing 16.89 lbs! They received $430.00!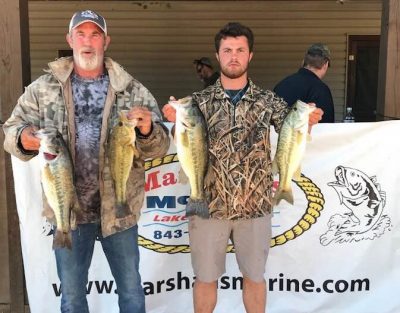 Tony Colocurcio finished 3rd with 16.26 lbs and collected $230.00!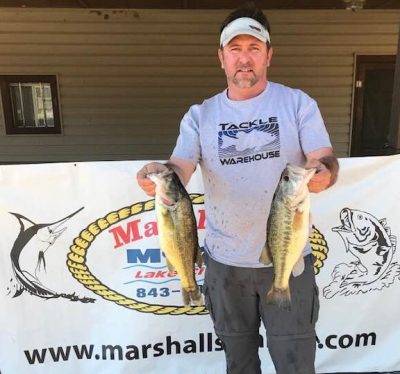 | | | | | |
| --- | --- | --- | --- | --- |
| 30 Teams | Big |   |   |   |
| Team | Fish | Weight | Winnings | Points |
| Mark Healon – Rock Healon  1st BF & BONUS $ | 6.18 | 19.36 | $1,543.00 | 110 |
| Timmy Squires – River Squires | 4.75 | 16.89 | $430.00 | 109 |
| Tony Colacurcio | 3.96 | 16.26 | $230.00 | 108 |
| Craig Haven – Tim Haven | 5.36 | 14.71 | $180.00 | 107 |
| Matt Purvis – Bobby Purvis | 5.89 | 14.36 | $130.00 | 106 |
| Dean Benfield – Keith Hargett | 3.99 | 14.35 | $100.00 | 105 |
| Donald Wells – Paul Wells | 4.63 | 14.31 | | 104 |
| Dustin Compton – Jaonathan Strickland  2nd BF | 6.02 | 14.18 | $87.00 | 103 |
| Mike Ware – Bryan Holmes | 4.09 | 13.99 | | 102 |
| Alan Fletcher | 3.71 | 13.97 | | 101 |
| Jared Upchurch – Brian Jeffords | 3.46 | 13.74 | | 100 |
| Jerry Freezon – Kareem White | 3.96 | 13.58 | | 99 |
| Chad Gainey – Todd Butler | 3.44 | 13.45 | | 98 |
| David Ethridge – Sonny Beam | 4.07 | 13.37 | | 97 |
| Steve Phillips – Jason Bateman | 4.79 | 12.23 | | 96 |
| Kyle McElveen | 4.00 | 11.07 | | 95 |
| David F Canupp – David L Canupp | 2.79 | 10.59 | | 94 |
| Shane Cantley – Michael Richardson | 5.02 | 10.42 | | 93 |
| Ricky Brown – Dustin Snipes | 2.63 | 6.42 | | 92 |
| **Brad Petway | 1.80 | 5.29 | | 91 |
| Greg Corvin – Scott Floyd | 2.58 | 4.58 | | 90 |
| Jimmy McFarland – Calvin Griggs | 0.00 | 0.00 | | 89 |
| Chris Wells | 0.00 | 0.00 | | 89 |
| Brian Cox | 0.00 | 0.00 | | 89 |
| Mike Clark – Chris Anderson | 0.00 | 0.00 | | 89 |
| Trent McLaughlin – Brent Neal | 0.00 | 0.00 | | 89 |
| Woody & Dustin Floyd | 0.00 | 0.00 | | 89 |
| Greg Sigmon | 0.00 | 0.00 | | 89 |
| Greg Atkinson – Randy Humphries | 0.00 | 0.00 | | 89 |
| Clay & Rodney Sisk | 0.00 | 0.00 | | 89 |
| 2018 Wateree Open Final Fund |   |   | $1,080.00 |   |
| 2018 Wateree Open Point Fund |   |   | $150.00 |   |
| **2017 Point Winners Free Entry |   |   |   |   |
|   |   |   |   |   |
| 2018 Point Winners Fish 2019 Opens FREE! |   |   |   |   |
| Teams 2-6 In Points Receive $$ |   |   |   |   |