Next Wateree Open is June 1st at Clearwater Cove Marina! Remember guys no membership for this one! Fishing is great at Wateree right now! Some teams reported catching 30 to 50 bass yesterday and you could catch them anyway you wanted…shallow, deep, grass docks and topwater was very good!
Lee Morris & Robert Ross weighed in 20,69 lbs and took 1st Place yesterday at Wateree! They earned a $1,000.00 check!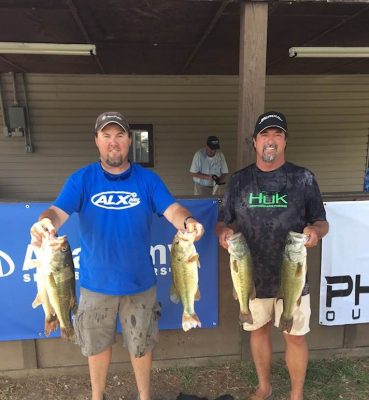 Jason Quinn & John Paul George weighed 5 at 19.28 lbs! 2nd BF 5.40 lbs!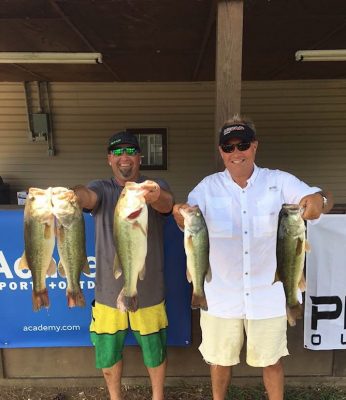 Michael Richardson & Shane Cantley claimed 3rd with 19.18 lbs and the 1st BF at 5.43 lbs!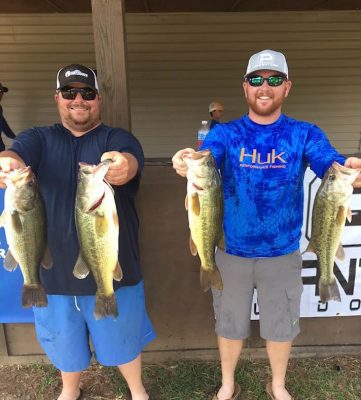 Chad Rabon & Walt Almond 4th with 18.97 lbs!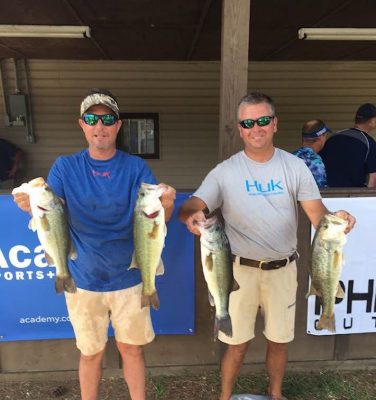 Shane Cantley with his $25 Academy Gift Card!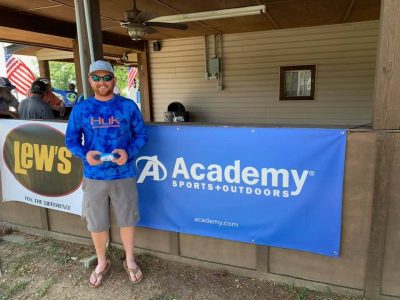 Bubba & Colden Baker with a nice un!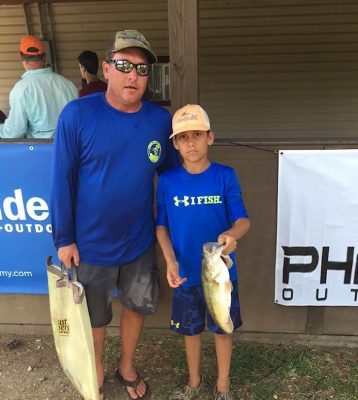 | | | | | |
| --- | --- | --- | --- | --- |
| Wateree Open May 25, 2019 | | | | |
| | | | | |
| | Big | Total | Total | |
| 18 Teams | Fish | Weight | Winnings | Points |
| Lee Morris – Robert Ross | 4.81 | 20.69 | $1,000.00 | 110 |
| Jason Quinn – John Paul George | 5.40 | 19.28 | $331.00 | 109 |
| Michael Richardson -Shane Cantley | 5.43 | 19.18 | $249.00 | 108 |
| Chad Rabon – Walt Almond | 4.75 | 18.97 | | 107 |
| Matt Nettles – RB Blackmon | 4.31 | 16.34 | | 106 |
| Chad Gainey – Todd Butler | 5.01 | 15.26 | | 105 |
| Michael Earnhardt – Danny Noles | 0.00 | 14.80 | | 104 |
| David Canupp & David Canupp | 3.26 | 14.73 | | 103 |
| Jason Bateman – Steve Phillips | 3.53 | 14.59 | | 102 |
| Bubba Baker – Colden Baker | 4.24 | 14.24 | | 101 |
| Max Price | 3.70 | 13.98 | | 100 |
| Mike King | 3.48 | 13.34 | | 99 |
| Jason McCoy – Buddy Hartis | 2.91 | 12.95 | | 98 |
| Ronnie Talbert – Kyle Arlidge | 3.38 | 12.95 | | 97 |
| Jeff Hatfield – Donald Hinson ** | 3.29 | 11.95 | | 96 |
| Craig Haven – Tim Haven | 2.39 | 11.06 | | 95 |
| Scott Floyd – Greg Corvin | 0.00 | 4.87 | | 94 |
| Jerry Freezon – Kareem White | 0.00 | 0.00 | | 93 |
| 2019 Wateree Open Final Fund | | | $400.00 | |
| 2019 Wateree Open Final Fund Total | | | $2,200.00 | |
| 2019 Wateree Open Point Fund | | | $765.00 | |
| **2018 Point Winners Free Entry | | | | |
| 2019 Pt Winners Receive Free Entry 2019 | | | | |
| Teams 2-6 In Points Receive $$ | | | | |