We wrapped up another great Spring Trail on Lake Wateree paying back over $25,000.00! The Summer Trail is next and starts up May 26th. There is an Open this coming Saturday at Clearwater Cove! $100 entry and Optional $25 Side Pot!
Scott Williams and Robbie English took the Final top spot with 5 bass weighing 16.43 lbs! With the BONUS $ added in they took home $3,100.00!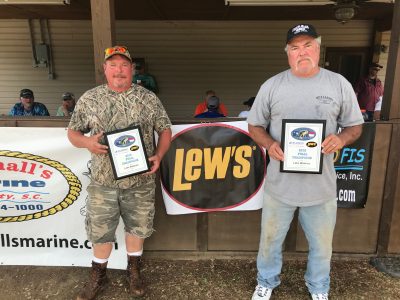 Robbie & Scott
2nd went to Brent Neal & Larry Taylor with 5 bass weighing 14.79 lbs and took home $1,500.00!
Mike Ware & Bryan Holmes earned 3rd with 5 bass weighing 14.28 lbs and took home $1,000.00!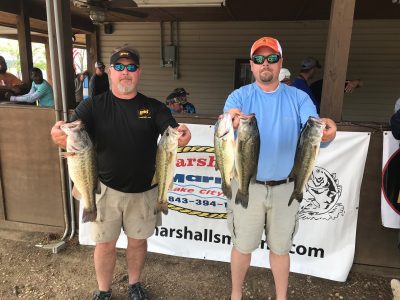 Bryan & Mike!
4th went to Chad Gainey and Mack Kitchens with 14.15 lbs and they earned $700.00!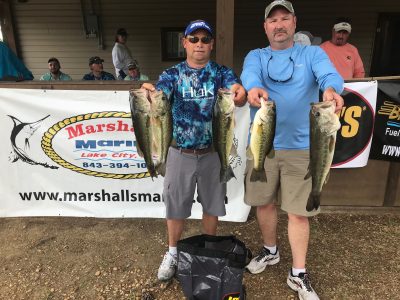 Larry Hasting weighed the 1st Lews BF at 5.85 lbs and took home $238.00 and a Lews Mach Speed Spool Baitcast Reel Plus an Academy Gift Card!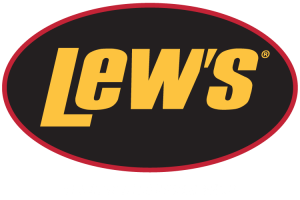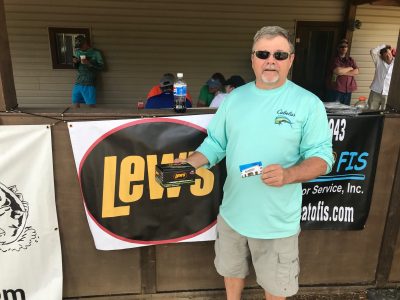 Mark Healon & Tony Truett brought in the 2nd BF at 5.77 lb and took home $102.00 plus a Lews Mach Speed Stick!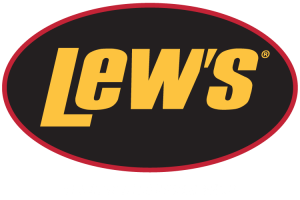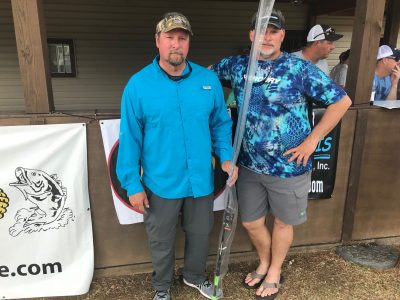 | | | | |
| --- | --- | --- | --- |
|  34 Teams | Big | Total | Total |
|                                    Team | Fish | Weight | Winnings |
| Scott Williams – Robbie English   BONUS $ | 4.96 | 16.43 | $3,100.00 |
| Brent Neal – Larry Taylor | 4.29 | 14.79 | $1,500.00 |
| Mike Ware – Bryan Holmes | 4.80 | 14.28 | $1,000.00 |
| Chad Gainey – Mack Kitchens | 4.14 | 14.15 | $700.00 |
| Joey Outlaw – Ray Dowey | 4.94 | 13.53 | $350.00 |
| Lee Royson – Jeff Reynolds | 4.78 | 13.39 | $200.00 |
| Sam Dowey – Tommy Moak | 2.64 | 13.37 | $120.00 |
| Greg Sigmon – Jeff Sigge | 3.91 | 13.13 | |
| Max Price – Hunter Denton | 4.42 | 13.07 | |
| Greg Atkinson – Ron Catoe | 4.57 | 12.72 | |
| Bob Weaver – Scott Floyd | 4.36 | 12.56 | |
| Donald Hinson – Alan Fletcher | 3.04 | 12.33 | |
| Craig Haven – Tim Haven | 3.64 | 12.20 | |
| Bobby Purvis | 3.95 | 12.12 | |
| Dean Benfield – Keith Hargett | 3.64 | 11.64 | |
| Dustin Compton – Johnathan Strickland | 4.09 | 11.40 | |
| Mike King – Chris Crawford | 2.18 | 10.88 | |
| David Ethridge – Butch Williams | 3.69 | 10.79 | |
| Shane Cantley – Michael Richardson | 3.93 | 10.73 | |
| Mark Healon – Tony Truett   2nd BF | 5.77 | 10.36 | $102.00 |
| Larry Hasting   1st BF | 5.85 | 10.10 | $238.00 |
| David L. Canupp – David F.Canupp | 3.91 | 9.92 | |
| Matt & Greg Nettles | 3.10 | 9.46 | |
| Tanner Fletcher – Kateland Morrell  2nd BF | 5.60 | 5.60 | |
| Lewis Thompson | 3.25 | 4.61 | |
| Brad Petway | 1.68 | 1.68 | |
| Paul Wells – Donald Wells | 0.00 | 0.00 | |
| Cleve Yarborough | 0.00 | 0.00 | |
| Steve Borton | 0.00 | 0.00 | |
| Jonathan Daliey – Jermaine Roach | 0.00 | 0.00 | |
| Jimmy McFarland – Calvin Griggs | 0.00 | 0.00 | |
| Wesley Jackson – Bubba Jackson | 0.00 | 0.00 | |
| Andrew Boykin – Lee Amerson | 0.00 | 0.00 | |
| Daryl Watson | 0.00 | 0.00 | |
| Total Entrys |   |   | $4,080.00 |
| BONUS $ |   |   | $600.00 |
| Wateree Spring Final Fund |   |   | $2,510.00 |
| Total Paid At Ramp Cash & Prizes |   |   | $7,710.00 |
| Total Paid Spring 2017 Lake Wateree |   |   | $25,525.00 |