We are on track for another great year on Wateree! We've paid back just over $42,000.00 with the Fall yet to come! The Fall schedule is posted and hope to see you there!!
Bobby Purvis & Matt Ross weighed in 12.35 lbs taking 1st Place and the BONUS $! All total they took home $2,510.00!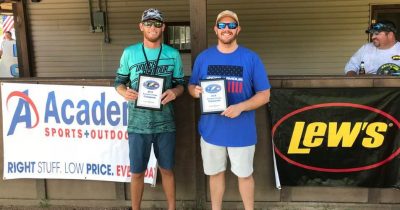 Brad Petway & Brett Collins took 2nd with 11.60 lbs!
Jason Miles & Jerry Freezon claimed 3rd with 10.93 lbs and weighed in the 1st Lews BF! All total they earned $869.00! They also received a Lews Mach Speed Spool Baitcast Reel!
Chad Ganey & Mack Kitchens finished 3rd with 10.11 lbs and collected $300.00!
Barry Brown weighed in the 2nd BF at 4.60 lbs and received a Lews Mach Speed Stick!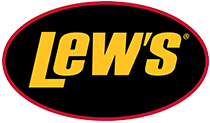 | | | | |
| --- | --- | --- | --- |
| 18 Teams | Big | Total | |
| Team | Fish | Weight | Winnings |
| Matt Ross – Bobby Purvis  BONUS $ | 3.89 | 12.35 | $2,510.00 |
| Brad Petway – Brett Collins | 3.73 | 11.60 | $1,135.00 |
| Jason Miles – Jerry Freezon  1st BF | 5.13 | 10.93 | $869.00 |
| Todd Butler – Mac Kitchen | 2.73 | 10.11 | $300.00 |
| Matt Nettles | 3.34 | 9.61 | |
| Freddie Gibbs – Marshall Gandy | 3.04 | 9.22 | |
| Max Price | 2.69 | 8.54 | |
| Tanner Fletcher – Katlyn | 2.36 | 8.22 | |
| Bob Weaver – Scott Floyd | 2.15 | 6.74 | |
| Chris Crawford – Mike King | 4.23 | 6.63 | |
| David F Canupp – David L Canupp | 2.56 | 6.61 | |
| Barry Brown          2nd BF | 4.60 | 4.60 | $51.00 |
| Steve Phillips – Jason Bateman | 0.00 | 4.27 | |
| Randy Weddington – Ronnie Smith | 0.00 | 0.00 | |
| Alan Fletcher & Donald Fletcher | 0.00 | 0.00 | |
| John Paul George – Jason Quinn | 0.00 | 0.00 | |
| Walt Almond – Chad Rabon | 0.00 | 0.00 | |
| Mike Byrd – Clint Byrd | 0.00 | 0.00 | |
| Total Entrys | | | $2,040.00 |
| BONUS $ | | | $360.00 |
| Wateree Summer Final Fund | | | $2,465.00 |
| Total Paid At Ramp | | | $4,865.00 |
| Total Paid Summer 2018 Lake Wateree | | | $16,505.00 |
| Grand Total as of July 21 | | | $42,030.00 |