We have 1 more Borderline Qualifier which is a double point event….April 14th! Guys we're already looking forward to next year! It's going to be a much larger field!
Jesse Smith & Patrick Houpe are our winners from this past Sat with 5 bass weighing 15.85 lbs! They also weighed in the BF at 5.05 lbs taking home $600.00!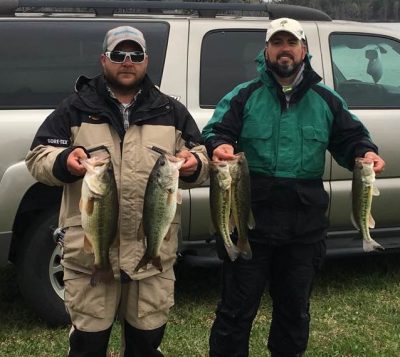 2nd went to Todd Garner & Shane Hartman with 15.76 lbs worth $250.00!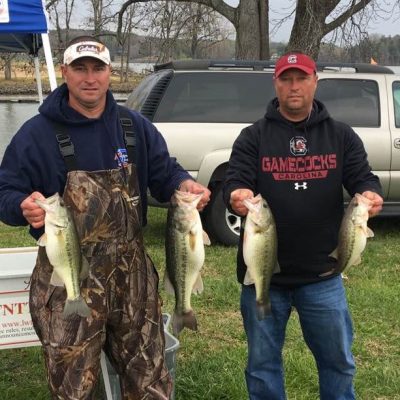 3rd went to Bucky Helms & Josh Warren with 13.54 lbs and they took home the BONUS pushing their winnings to $330.00!
| | | | | |
| --- | --- | --- | --- | --- |
|  18 Teams | Big | Total |   |   |
| Team | Fish | Weight | Winnings | Points |
| Patrick Houpe – Jesse Smith  BF | 5.05 | 15.85 | $600.00 | 110 |
| Todd Garner/Shane Hartman | 4.91 | 15.76 | $250.00 | 109 |
| Bucky Helms – Josh Warren  BONUS $ | 2.99 | 13.54 | $330.00 | 108 |
| Ted Geddis – Joe Hansil | 3.02 | 12.43 | | 107 |
| Tim Chapman – Marcus Leech | 3.80 | 11.47 | | 106 |
| Brent Kaukowski/Todd Farris | 3.72 | 10.61 | | 105 |
| Chris Ellis/Matt Frazier | 3.32 | 9.87 | | 104 |
| Will Dewey/Alex Dewey | 2.29 | 8.95 | | 103 |
| Greg Clayton/Travis Robinson | 4.09 | 7.66 | | 102 |
| David Calbert/Bill Carothers | 3.12 | 6.03 | | 101 |
| David Winters – Robin Carico | 0.00 | 5.26 | | 100 |
| Wayne Leonard | 2.94 | 4.12 | | 99 |
| Thomas Vickers – Brian Huskins | 0.00 | 1.89 | | 98 |
| Jonathan Peeler – Brooks Jones | 0.00 | 0.00 | | 97 |
| Aric Dwyer – Zach Bolick | 0.00 | 0.00 | | 97 |
| Glenn Sparrow/Chris Bumgardner | 0.00 | 0.00 | | 97 |
| Clay Williams/David Redman | 0.00 | 0.00 | | 97 |
| Tyler Bess/Chad Atchley | 0.00 | 0.00 | | 97 |