Guys we just completed our 2nd Wylie Borderline Qualifier and I've had several teams asked to join which I told them it's closed for this Spring but I think we will have a much larger crowd next Spring! Appreciate the 18 teams who got this going! Next Borderline is Mar 24th!
Todd Garner & Robert Fowler took 1st with 5 bass weighing 14.41 lbs! Add in the BONUS $ and they took home $780.00!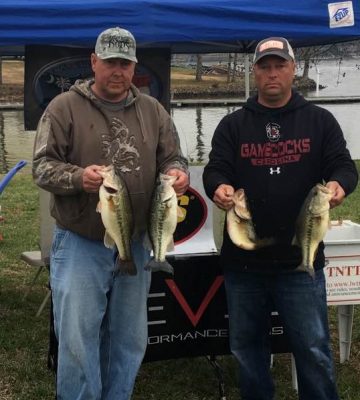 2nd went to David Winters & Robin Carico with 13.16 lbs worth $250.00!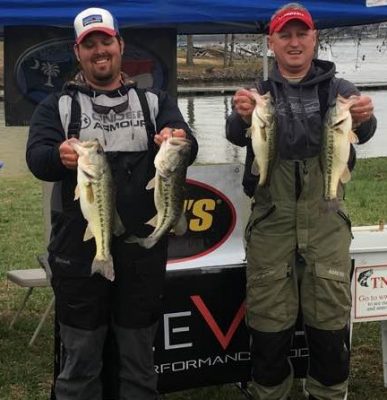 Clay Williams & David Redmon took 3rd with 12.85 lbs and earned $130.00!
The BF was weighed in by Greg Clayton & Travis Robinson at 4..02 lbs and they received $100.00!
| | | | | | |
| --- | --- | --- | --- | --- | --- |
|   |   | Big | Total |   |   |
| Place | Team | Fish | Weight | Winnings | Points |
| 1 | Todd Garner/Robert Fowler         Bonus $ | 3.44 | 14.41 | $780.00 | 110 |
| 2 | David Winters/Robin Carico | 3.39 | 13.16 | $250.00 | 109 |
| 3 | Clay Williams/David Redmon | 3.00 | 12.85 | $130.00 | 108 |
| 4 | Aric Dwyer/Zach Bolick. | 3.66 | 11.89 | | 107 |
| 5 | Ted Geddis/Joe Hansil. | 2.83 | 11.62 | | 106 |
| 6 | Bucky Helms/Josh Warren. | 3.42 | 11.59 | | 105 |
| 7 | Thomas Vickers/Cole Huskies | 2.74 | 11.06 | | 104 |
| 8 | Greg Clayton/ Travis Robinson    BF | 4.02 | 9.45 | $100.00 | 103 |
| 9 | Will Dewey/Alex Dewey. | 2.58 | 7.10 | | 102 |
| 10 | Brent Kaukawski/Todd Farris. | 3.30 | 6.41 | | 101 |
| 11 | Tim Chapman/Mark Leech. | 2.99 | 2.99 | | 100 |
| 12 | Jonathan Peeler/Colt Peeler. | 0.00 | 0.00 | | 99 |
| 13 | Wayne Leonard | 0.00 | 0.00 | | 99 |
| 14 | Patrick Hope/Jesse smith | 0.00 | 0.00 | | 99 |
| 15 | Chris Ellis/Matt Frazier | 0.00 | 0.00 | | 99 |
| 16 | Tyler Bess/Chad Atchley | 0.00 | 0.00 | | 99 |
| 17 | David Calbert/Bill Carothers | 0.00 | 0.00 | | 99 |
| | Total Entrys |   |   | $1,080.00 | |
| | BONUS $ |   |   | $280.00 | |
| | Total Paid At Ramp |   |   | $1,360.00 | |
| | Wylie Bordeline Final Fund |   |   | $100.00 | |
| | 2018 Wylie Borderline Final Fund Total |   |   | $200.00 | |